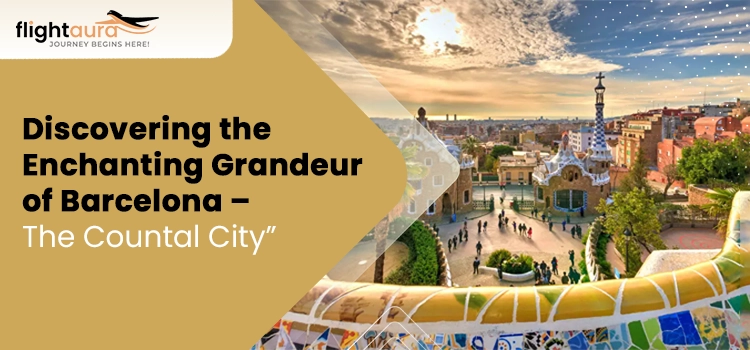 Discovering the Enchanting Grandeur of Barcelona – The Countal City"

Known for its splendors, cultural diversity, ancient architecture, Roman-style art, heart-warming churches, and vibrant environment of Barcelona. This Countal City surely will make its place in the list of every person when they make a list of top 10 places to visit in the world. 
Barcelona is loaded with panoramic scenic beauty that multiple spots witnessing are worth. You can't get bored while staying in Barcelona during your vacation as several activities take place every time here. Indulge yourself in the cultural flavor of Barcelona and pay a visit to the different places.
This place is a must for all the Art-Lovers as it can provide a thrust to your art. Take our advice and explore Barcelona without a plan, don't think of anything. Just wander without purpose; dwell that beauty in your eyes. 
Stop at every street as each one of them has something unique. Witness the serenity of every cafe in Barcelona and get lost in the melodies of the local artist they play through the Spanish Guitars.
Discover the Most Popular and Tourist Destination in Barcelona
As an epitome of the rich culture and architectural radiance, Barcelona is a place that can't get a sum up in some list or anything. But by trying harder, a list of some of the ideal places to visit in Barcelona is given here. You should visit these highlighted places as they all are a must.
1. Basilica of the Sagrada Familia (Basilica de la Sagrada Familia) :-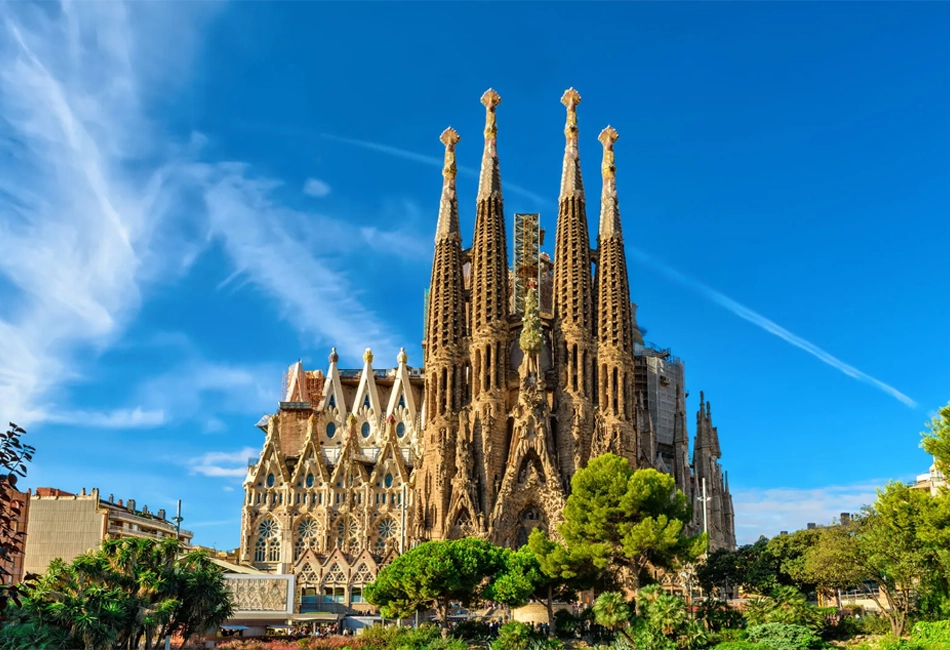 Indubitably, after seeing this wonder, no one can say that it shouldn't be included in the UNESCO World Heritage Sites list. It is the most unconventional Church in Europe, and the Basilica became famous among the people due to its 18 gangling towers that are high enough to beat any other building in Barcelona. 
Suppose you are passing by this place, and you have to stop automatically, your feet will stop, and you start to adore the astonished outer structure of the Church.
Magnificently, this whole Church limns the story of Jesus Christ, i.e., How He gets born, what is the pain and suffering He had to bear his whole life, the scenario of his death, and How He got resurrected. It is placed on the northern side of this Countal City and holds the beauty of the whole city. 
No words can entirely illustrate the splendor of this place. The place's interior is also quite fascinating and binds the tourists through their wall adorned with stunning decoration. The key attraction of this spot is the Crucifix, which is also strange but bewitching.
Antoni Gaudí is the man behind this classic example of Nouveau Architecture. He, along with his team, started to build this without a plan in hand but had done with what is nonetheless a wonder in Barcelona. 
The overall spot is indescribable in words, and no one can even dare to describe the complete gist of this Basilica except Gaudí. He delineates this paragon as "a work that is in the hands of God and the will of the people." 
2. Picasso Museum (Museu Picasso de Barcelona) :-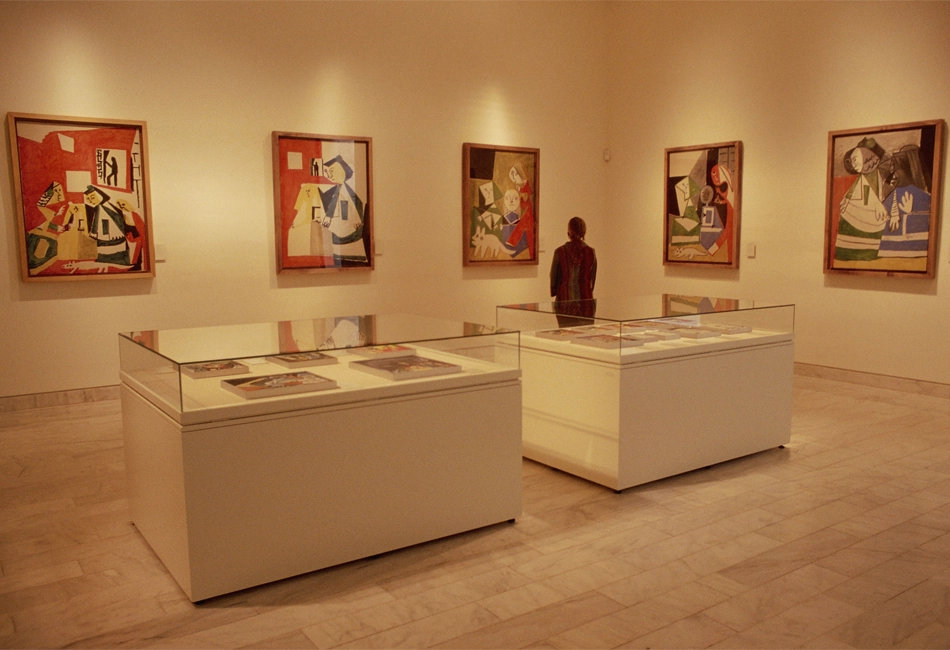 Everyone must be familiar with the name Pablo Picasso and his work, as his work earned him fame. He is well-known for his artistic brain and bizarre paintings, which certainly can be an elegant example of superb art. If you are fond of art and are eager to witness the work of Picasso, pay homage to this museum. Make your existence here and examine how a bond of an artist is created with a place. 
Came into existence in 1963, the Museu Picasso de Barcelona has more than 4000 works of the renowned Picasso. You can find the paintings of Picasso here from his early age till his Golden period when he was at its peak with his brushes. The name of some of his prime paintings are:
Arlequín (a model who was a dancer).

El Paseo de Colón (picture of Hotel Ranzini).

Blanquita Suárez (a popular singer of that time).

Las Meninas (one of the most serious paintings in the whole niche of artwork).
 3. Casa Milà (La Pedrera) :-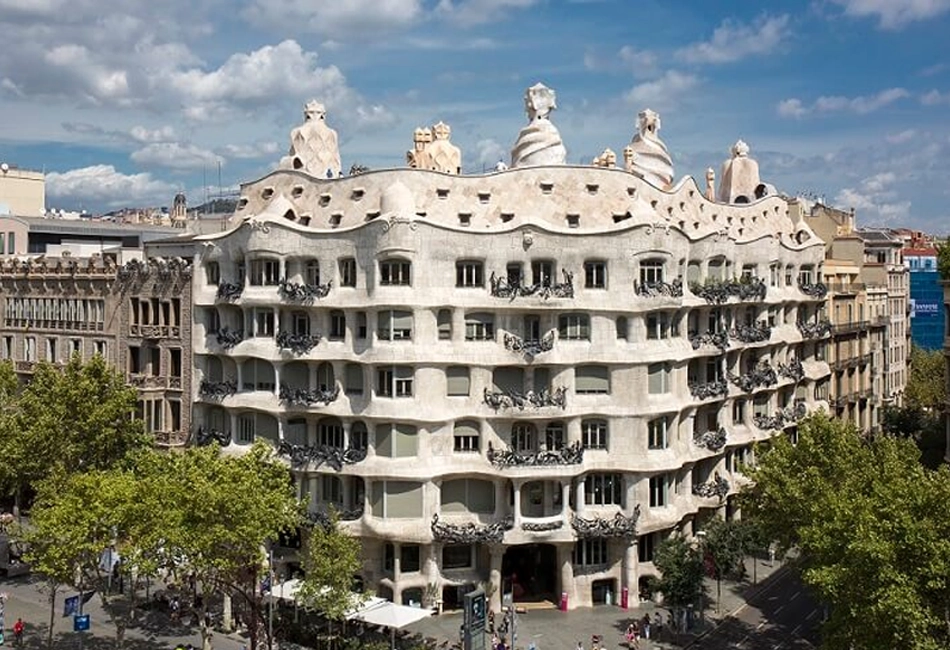 Created between the years 1906 to 1912, La Pedrera is another flamboyant architectural example of Barcelona that is notable for its curved frontage. The building seems very unusual, but the creation is quite exceptional. A master of this type's art can only possess the guts to originate this kind of thing. It is a feather in one's cap, accomplished by Antoni Gaudí. 
Most people wonder why it is esteemed as La Pedrera. The meaning of this word is "The Stone Quarry." It is suited to this Casa Milà because it looks identical to an open quarry. 
Ever heard of Fundacio Catalunya? The cultural center in Casa Milà hosts numerous cultural events every year. So if you are with kids, then paying a visit is the ideal option that you can do. Every line of this building is curved, all the windows are rounded, and all the balconies are made of metal, intermingling like a plant. 
Most visitors also walk on the rooftop to see the weird structure of the chimneys. The roof of this building also offers a panoramic view of the Gaudí exceptional masterpiece, Basilica de la Sagrada Familia. 
Casa Milà is a well-designed building that welcomes tourists worldwide. For them, a specially inbuilt boutique or a classic restaurant named Cafè de la Pedrera is here. The cafe offers the famous Catalan Cuisine for lunch and dinner. You can also have brunch and tapas here. 
4. Gothic Quarter (Barri Gòtic) :-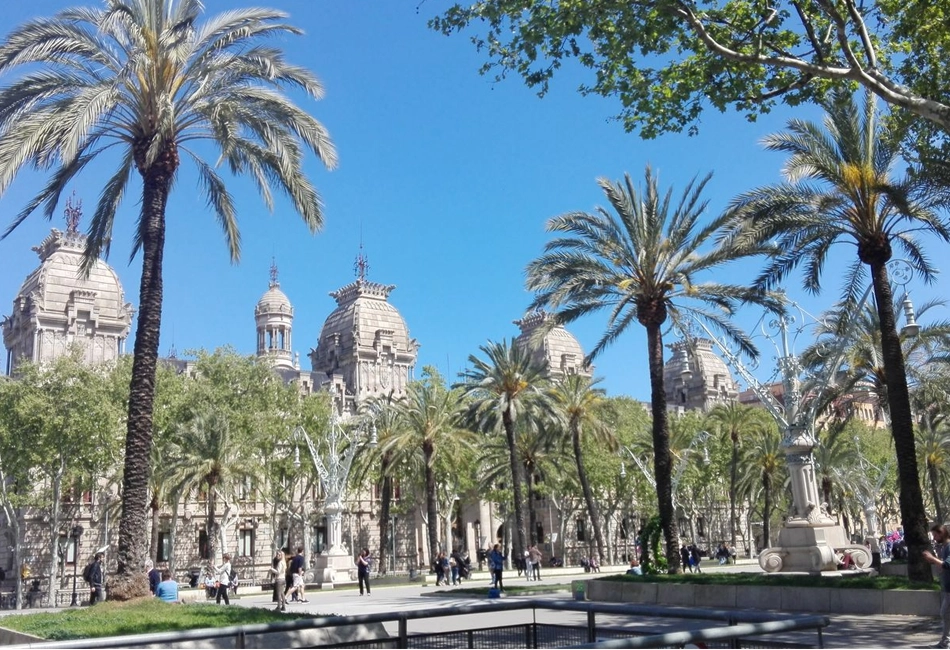 The Gothic Quarter is the oldest place; however, it is also vibrant. Paying a visit to this place makes you aware of Roman architecture's alluring beauty and charming plazas. This place is home to numerous elegant houses, amazing restaurants, and stunning cafes. Everything is here for which a tourist travels and visits multiple places. 
The Catedral de la Santa Cruz y Santa Eulalia is the heart of the Barri Gòtic. The surrounding area is filled up with a maze of cobblestone streets and calm alleys. Getting lost here is not a loss, but you can have the opportunity to merge with the aura of the traffic-free village where everyone lives peacefully.
All the corners of the Gothic Quarters are lively by the whispering sound of the chatting people with each other. They all are living life, laughing, and living peacefully. You can also spot people playing soccer in many of the streets, and other than that, all the locals of this Countal city socialize on the rooftop of the amazing cafes. Some of the local artists perform here to show people their talent, so you can always hear the sound of the strumming of the Guitar. 
5. Palace of Catalan Music (Palau de la Música Catalana) :-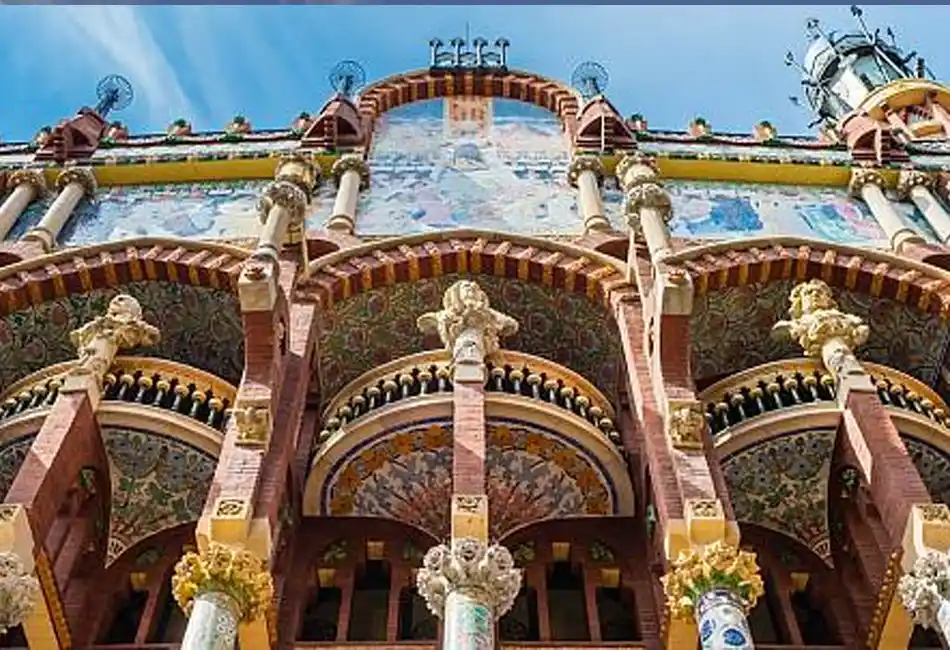 Lluis Domenech I Montaner is a Catalan artist & architect who is the person who is behind this stunning creation of Barcelona that came into existence in the 19th century. It is also making its place in the list of UNESCO-listed buildings and exemplifies the Nouveau Art decorative style that is too ornate. This palace combines uncanny mosaics, exceptional sculpture, and incredible ironwork. In contrast, the interior of this palace is so colorful and adorned with too many chandeliers, mainly in the concert Auditorium. 
A program or event takes place too often in this auditorium, primarily pop music, jazz, opera, flamenco, and opera. It takes place in the eye-soothing auditorium of Palau de la Música Catalana. There is a gift shop and cafe cum restaurant that serves breakfast, lunch, and dinner in a comfortable indoor space that allows you to enjoy the breathtaking beauty of this place and the mouth-watering food. 
6. Casa Batlló :-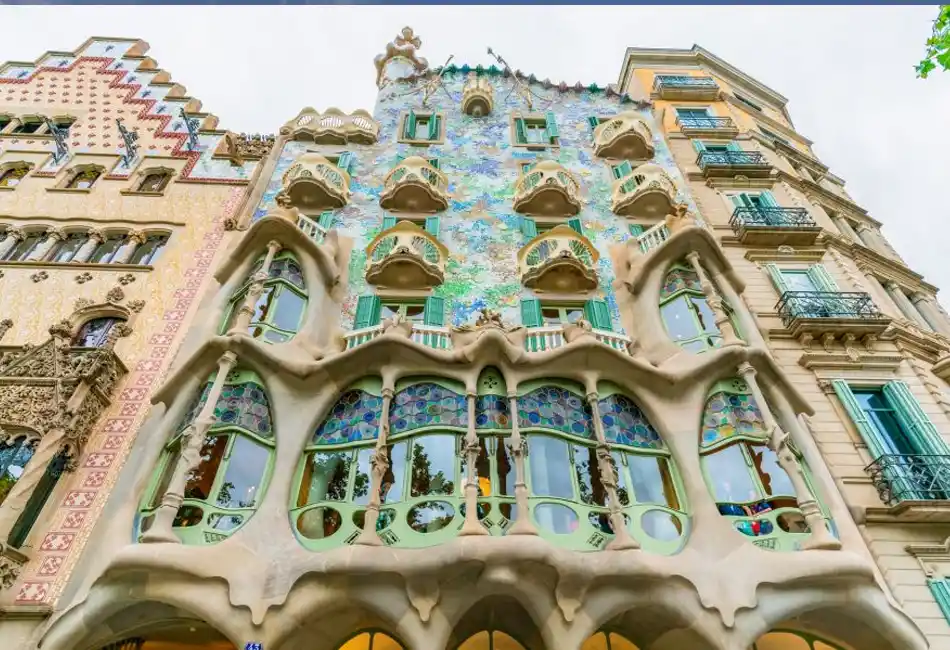 Another majestic creation by Antoni Gaudí is the previous townhouse of the Batlló family of Catalunya. Without this, Countal City's grandeur can't be witnessed by anyone. It has a front side that is enough to attract tourists to this place. 
Due to its charming exterior and enthralling structure, it looks like a castle of a fairy tale where one of the princesses resides. Because of its unearthly facade, it earned the nickname, i.e., the House of Dragons; in Spanish, it is called Casa del Drac. 
It is not incorrect if we say that it is the most imaginary place anyone can imagine living. The windows look like the plants swinging in the air, while all the other entrances give you the vibe that you are entering the cave. 
In case, you feel hungry while adoring the bewitching beauty of this place then you can walk to the nearest two Michelin star restaurants i.e., Moments Restaurant. It offers the most tempting Gourmet meal to fill up the greed of your taste buds. 
Ideal time to step into Barcelona
Some months considered ideal for visiting Barcelona are April to May and September to October. In these months, you can have the finest sightseeing of this locale, and you can't find too much crowd now. Hence, it decreases the accommodation price, you don't have to pay more for traveling, and you can have a hassle-free vacation in Barcelona. 
Thus, we will advice you to not waste any seconds; book your cheap flight ticket from Flightaura and pack your bags to leave to create an unforgettable moment.
Conclusion
Exploring new places can be an exciting adventure, and if you are considering traveling to other cities such as Paris, Saint Petersburg, or Amsterdam, you are sure to have a memorable experience."