Discover the Benefits and Comfort of Premium Economy Class for Your Next Flight
A Travelling Class between Economy & Business Class is the Premium Economy or Elite Economy Class. It is an easy and smart way to enjoy more comfort at less price. It includes all the special amenities along with a spacious cabin. If you want to know more about the benefits of Economy Class, then go through this article.

What do you know about Premium Economy Class?
In case you want to travel in comfort without paying any extra money, you can opt for Premium Economy Class for all the domestic and International destinations. Almost all the airlines have this Class for their Customers, where they can expect more than the Economy by paying less than the Business Class. 
What are the services you get in 

Premium Economy?

The advanced services that you get with Premium Economy are mentioned below:
Comfortable seats : Depending on the Airline, the passengers get extra legroom to get comfortable, extra wide seats, and a better recline to rest.

Priorities : While Boarding All the passengers of Premium Economy Class get priority while luggage Allowance or boarding. However, Business Class passengers have the most priority.

Extra Earned Miles : Whenever a passenger travels by air, they collect some airline miles, i.e., an airline's currency. One can redeem it while booking flight tickets, hotels, etc. So when you book a Premium Economy Class ticket, you earn extra miles.

Amenity Kits This kit is something that people consider luxury and expect to receive only in Business Class. But, when you book a Premium Economy, you get an Amenity kit from the Airline.

Premium Meals : Meals are a part of Amenities only, but this needs to be specially mentioned because, in Premium Economy, you get different meals offering that is much more than the main Class cabin.

Less Chaotic : Many Airline has 35 or fewer seats in Premium Economy Class, making it a bit less chaotic with a little bit of privacy.

No charges for Baggage : With Premium Economy Class, you also get the benefit of not paying any fee for your checked Baggage.
Difference between Premium Economy and Business Class
Below we have discussed the difference between Business Class and Premium Economy for your better understanding: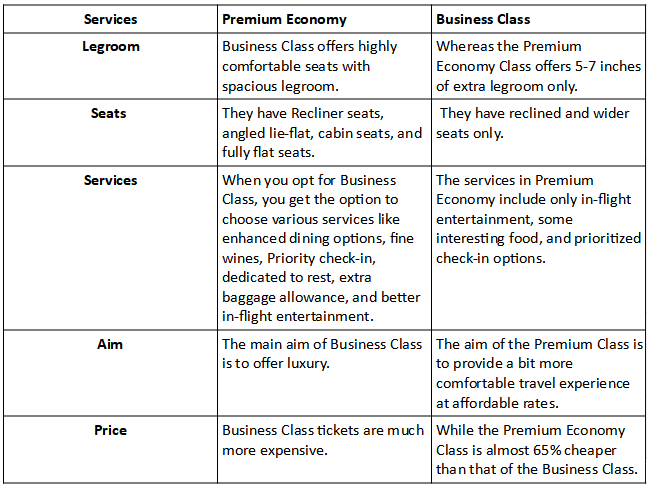 When we are doing Business Class vs. Premium Economy, we must have to understand each and every aspect and feature of both of them. The Premium Economy Class is much cheaper with all the extra features, like legroom and great meals. 
On the other hand, the Business Class gives you everything for the best and most comfortable journey but at a high price. Thus when we do the proper analysis of Premium Economy vs. Business Class, the Premium Economy seems to be more comfortable. 
However, when we do Economy Class vs. Premium Economy, the price of Economy Class is very less than that of Premium Economy, but the comfort you get in Premium Economy is unmatchable, that too by paying just a bit more. 
Difference Between 

Economy vs. Premium Economy Class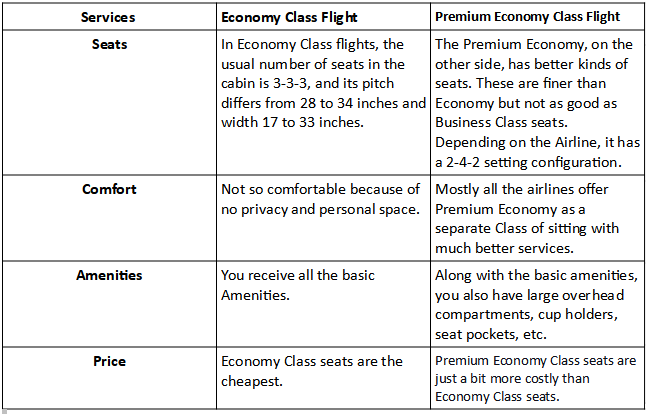 Here we can see that with the Economy Class, we have to pay very less, but the comfort is not so good. That's the reason people usually opt for Premium Economy, as they have better comfort at a very budget-friendly rate. 
After comparing all three Classes, it is said that the Premium Economy Class Airline Classes are the Best as they are comfortable with all the extra amenities as well not so expensive. 
Thus to book the best Premium Economy Class with Lufthansa, you can just visit Flightaura as most thousand of people. They choose us because we provide them with the best Discounts and deals. However, if you don't want to do it on your own, Call on 1-833-714-2120. A number of our travel representatives are available to help you out in getting the best deal possible at a very low rate.