Score Big Savings: How to Find the Best Business Class Flight Deals
Many differences have originated between the Business class flight and other flight sections. The differences are in fare, comfort, seating arrangement, and amenities onboard. The saying is truly justified here "Receive the stuff valued for the money you paid." Business class is the average class that a middle-class person can also afford. There is no loss when you travel in business class. 
When you read this write-up till the end and know the facilities you received in a Business class flight, you won't find the business class flight price that much. And if you think you should get a discount on business class flight costs, visit Flightaura. Flightaura surely makes it possible for you to grab a cheap business-class flight.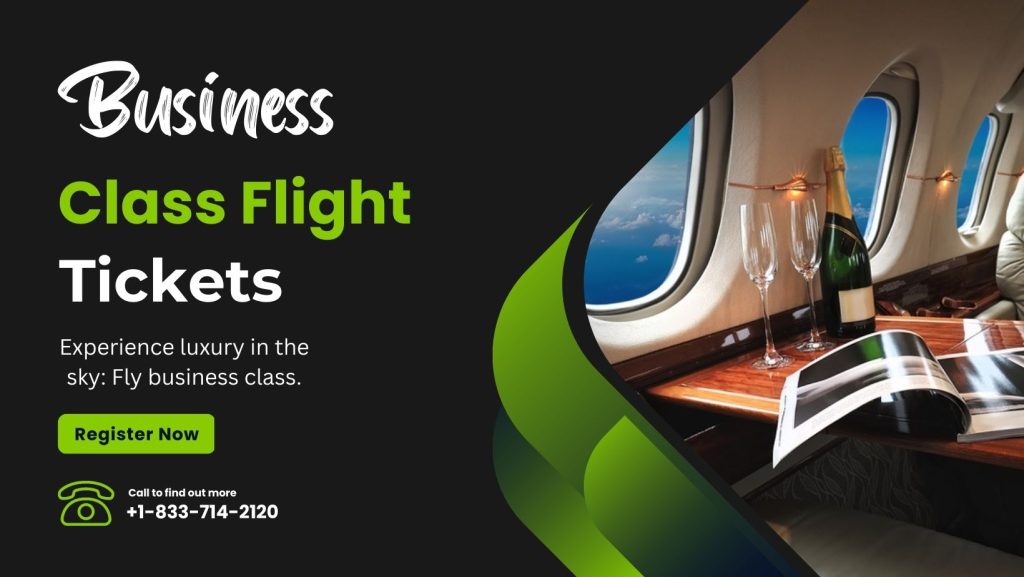 What is a Business Class Flight?
Business class is a class type in which people travel, and you can only understand it better after boarding the flight. On most carriers, it is the class that stands on top, while in some cases, it is counted as between the economy and First class. 
Business class offers too many special amenities to their passengers that they don't think they'll receive. In Europe, it is normal for people in the business class to look similar to the economy class. 
You can witness a variety of names for the Business class. While some airlines use slight variations in the same term, i.e., "Business Class", in contrast, others have different branding for this section. For instance, the name is Upper class on Virgin Atlanta, British Airways calls it Club World on the long haul flights, and Club Europe for the flights that have short and medium-haul flights. Some other airlines have their term for business class; these are:
Thai Airways – Royal Silk

Korean Air – Prestige class

Delta Airlines – Delta one

JetBlue – Mint
How to Get Cheap Business Class Flights?
Several ways exist due to which you can have cheap business class flight deals for yourself and at any time. These tips are as follows:
Flexibility is the key to grab a cheap business-class flight for yourself. If you bound yourself with the date, you can't take the better deal available on another date.

Keep a regular watch on the online auctions that take place regularly. Under this, passengers can bid freely for the upgrades on the seat posed by the airline.

Grave it in mind that the tickets for the Business class also go on sale. Airlines sometimes run some kind of discount on Business class flights as well, which can make your day by grabbing the deal of your life.

Always start your search with low-cost carriers as they open Business class flight deals at a reasonable price.

Frequent flier loyalty programs are the most common source for obtaining Business class upgrades.
The separation between the Business and the First class
Multiple differences can easily get spotted while comparing Business class on the one hand and First class on the other hand. The comfort, seating arrangement, facilities, and amenities you received in the first class are far better than the business class. But if you want luxury with average money, you should go with the Business class as first class is like the extreme lavishness a person can get on flights. 
How much is the Business class flight price?
If you fly Internationally from the United States, then the Business class flight price will range between $3,000 to $5,000 roundtrip on average in some of the prime national carriers. Some carriers that run discounts on their website offer lower business-class charges.
It is quite understandable that the prices are high on long flights. Several non-stop flights with long haul periods of more than 12 hours will cost you around $5,000 to $12,000 for a roundtrip.
The business class flight prices stated above are not fixed as they fluctuate too much depending on the business demand. All over the Atlantic, Northern winter is when travelers roam too much, so the price of Business class flights increases. It is not strange to witness when the business class gets packed with empty economy class in winter for all the transatlantic flights. 
You can see the contrasting view in summer as the economy class gets filled up, but no one steps up on the business class. Generally, there seems to be a downfall in the business class when the holiday period is coming. But, most airlines will compensate for the same by managing more low-price flights. 
What stuff is usually included in the Business class?
Many airlines include an allowance for checked baggage, airport lounge access, and flight facilities like food and entertainment. The arrangement of seating is quite normal on every flight. On the other hand, some airlines also regulate some arrival lounges for the passengers, offering breakfast, and maybe a shower suite so they'll get refreshed and clean.
Business class travelers can choose their main meal from the options available on the flight. But some carriers like Singapore Airlines and Thai Airways were allowed to choose the meal at the time of the booking. So, it is a pre-order meal type of service. In Business class, alcoholic beverages are completely free, and you have a wide variety of options from which you choose your favorite. The brands available in Business class are mainly of greater quality than the economy class. 
Amenity kits are the next big surprise you'll receive after entering Business class. And the airlines that provide it will try to use quality products that impress the passengers. For example, Air France uses a kit of Clarins, and ANA offers the kit from British Luggage brand Globe-trotter with items from the world-class brand Shiro.
Other benefits that Business class passengers acquire are:
A convenient check-in process.

Baggage handling.

Priority in line for the security check-up.
Airlines like Turkish and Emirates offer cab service for paid business class passengers. The cab will take and drop those people from and to the airport.
Ending words..!
Business class is like the value you receive for the money you pay. Sometimes, people get disappointed with the services available in the economy class; in contrast, they don't want to spend that much of the money required for the first class. Hence, Business class is the golden mean for everyone, and they tilt easily with this alternative. This article describes how the Business class will look alike or what it is. To book cheap Business class flights, you should visit Flightaura. 
FAQs (Frequently Asked Questions)
1. What kind of Business class flight deal can I obtain from Flightaura?
Flightaura has diverse options of business class flight deals. Whether you want a business, romantic, or solo trip, just search for our flights and get a business-class flight deal. We have it all, like direct or connecting flights and national or international.
2. Is there any option available on Flightaura through which I cancel my flight?
Yes, it's very easy to cancel flights through Flightaura. You have to navigate to the "My Trips" option and then follow the directions as stated. If you cancel your flight ticket within the period of 24 hours then you don't have to pay a single penny as the cancellation charge. 
3. Can I make the business class booking flexibly on Flightaura?
You can make the changes, as Flightaura offers full flexibility. You can opt for "no change fee" or " free cancellation" to save yourself from paying extra charges.