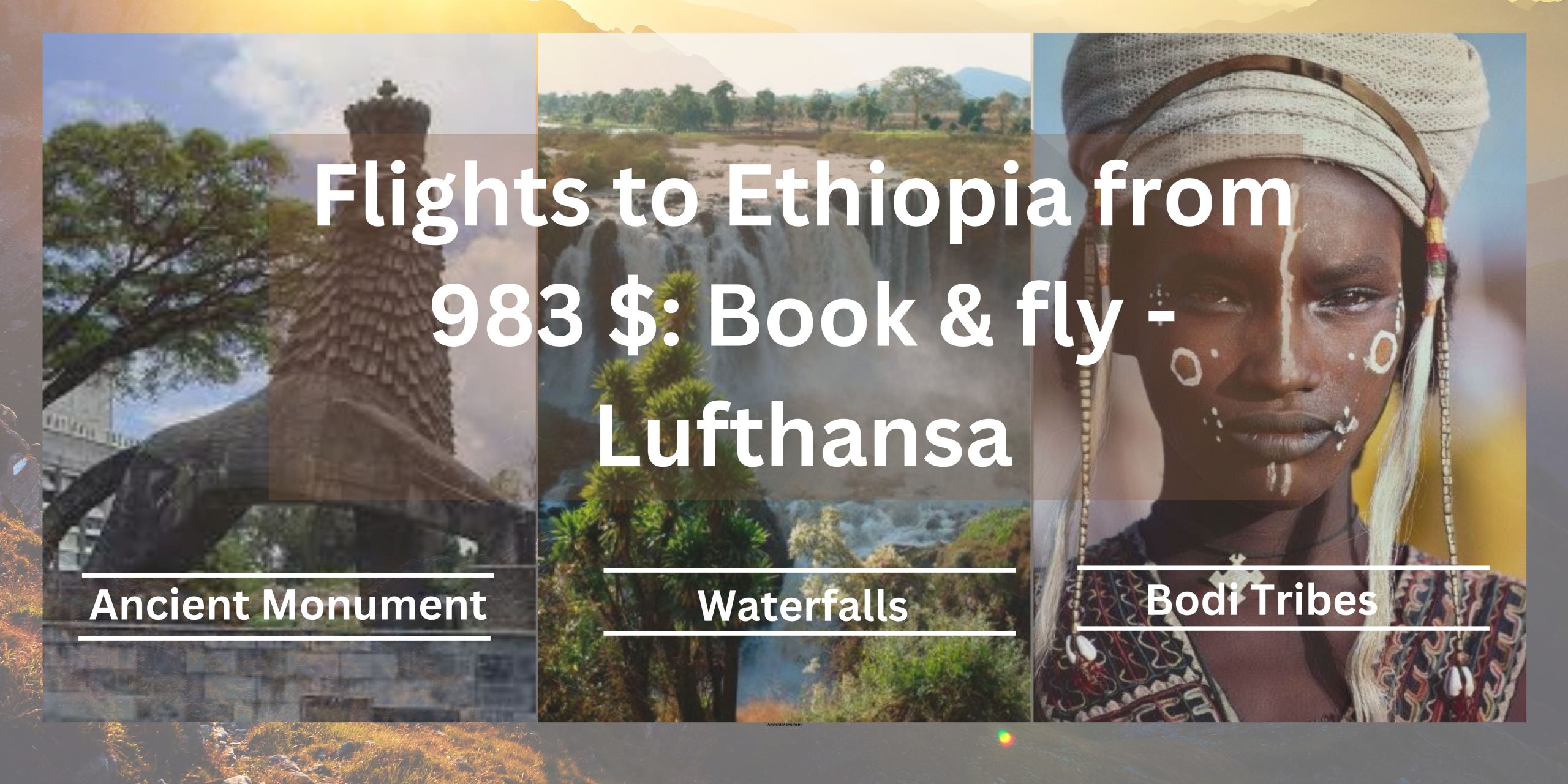 Ethiopia is quite known as a country where coffee was invented. Today, coffee has become a crucial part and parcel of everyone's daily routine. This country is the largest producer of honey and coffee in Africa. 
Ethiopia is a Greek term used for Black Skinned people. It comes in the 12th spot as the most populous country in the world and the second most populous in Africa after Nigeria. Most of the gold medallists of Africa in International tournaments or International games belong to this place. 
Apart from the presence of many cultural and heritage sites, it is also renowned for its sumptuous past and the astonishing beauty of nature. It is sometimes difficult to get a Flight to Ethiopia when you make a sudden plan to visit this splendid place, but Flight Aura can make arrangements for you without hampering your plan and comfort.
Ethiopia is situated in a region of Africa popular by the name "Horn of Africa". It is an ideal blend of culture and heritage and is undoubtedly a perfect place for watching several species of birds. If you are having any difficulty in placing a flight ticket to Ethiopia and prior that you can't find a flight as well, then you should visit Flightaura once. 
Plan your trip to Ethiopia with us, and don't have any related queries as everything is covered here regarding a memorable trip to Ethiopia. Follow the tips below and grab the best deal on your flight at Flight Aura. 
Cheap Flights to Ethiopia from $983

Traveling to Ethiopia is not a difficult task at all. You can find many flights from several airlines that serve both nationally and Internationally. To build good connectivity with the place when traveling Internationally, make sure to book a flight to Addis Ababa Bole International Airport in the capital city of Ethiopia, Addis Ababa. 
Some of the major airlines that provide ample flights to Ethiopia from different parts of the world are Qatar Airways, Lufthansa, Emirates, Air Djibouti and Turkish Airlines. Jet Airways, Air India, Emirates and Gulf Air provide connecting flights to Ethiopia, mainly from India. 
How to Book a Cheap Flight to Ethiopia
If you follow the given tips, then it is most probable that you can find a flight to Ethiopia at a cheap rate:
Always use the private browsing mode for searching the flights as saved cookies on your device sometimes create a fake deviation while repeatedly showing the same price for the flights of the destination you are searching for.

Make a habit of comparing flights. Always check for different airlines so you can choose the best.

Don't book a flight with some additional perks and benefits, as it can cost you more.

It is advised that you book a flight to Ethiopia three months before your departure date.

Always book a connecting flight rather than a direct one which will cost you cheap and gives you a chance to see any other place in your travel journey.

Book a flight in November, as January-April are the peak months.

Make your reservation for the flight in the daytime or at midnight as most people don't prefer to travel at those times.
Major attractions in Ethiopia
Addis Ababa is this Nation's capital and is one of the major attractions and shopping centers. Some ancient cities like Aksum, Harar, Gondar, Lalibela and Dire Dawa are some of the nearby tourist destinations which everyone should visit.

Lalibela's rock-based churches are a marvelous example of architectural excellence traced back to the 12th century. Most people become astonished by seeing these structures of ancient times.

The Simien Mountains in Ethiopia are a perfect blend of wildlife and ecstatic natural landscapes. It is also listed as a World Heritage site. If you visit this place, you will have a relaxing and indescribable experience you can attain.

The Rift valley (Home of tremendous lakes and a variety of wildlife), The Sof Omar Cave (the most popular underground cave in the world) and the Blue Nile Falls exist in this Nation. Ethiopia is also very rich in flora and fauna as many National parks are here, which attract tourists from all over the world. These parks are Omo National park, Gambella National park, Awash National park and Mago National park.
Food and Authentic cuisines
If you want to taste the delicacy of Ethiopia, then Addis Ababa is the right spot to explore, where you can find all the authentic food included in Ethiopian meals. Injera- a Sourdough, Kitfo, Shiro be Kibbe, and Fir Fir are some dishes that at least once in Ethiopia should be tasted at least even for once. 
You might consider yourself lucky if you are in Ethiopia and get the chance to taste the freshly brewed espresso of the local coffee beans, no matter what time it is, whether after breakfast or before dinner. 
Tikus Shiro, Yod Abyssinia and Chane's restaurants are fancy restaurants which serve the mouth-watering food of the Ethiopian meal. 
Shopping in Ethiopia
This country can be a surprise package and a paradise for those who love shopping. The country's capital, i.e. Addis Ababa, hosts Africa's largest open market, the Mercato, regarded as the prominent place for shopping in Ethiopia. 
Some of the items that, for sure, everyone should buy from this place are authentic coffee beans, handmade jewelry of gold & silver specifically, Drums, Wooden crafted material, leather shields, wood carvings and manuscripts of ancient times, which have a higher value now.
Transportation in Ethiopia
The taxi services are here and easily available so you can go anywhere. Trains and buses regularly run here to reach any nearby tourist place. There is well-maintained connectivity of roads and highways. 
All locals here use mostly blue-white mini buses or light rails, which run faster and cover most of the area in just a minimum of time. If you want to travel alone, rent a rental vehicle. 
Travel Policy in Ethiopia regarding Covid
You can land in Ethiopia only by air but not by land, as many of the border areas are still closed for entry into this country.

Quarantine requirement is not in the rule as it is not mandatory for any visitor coming to Ethiopia.

Every individual must have their negative RT-PCR test taken in under 72 hours and an antigen test within 24 hours.

If you are vaccinated and have proof of the same, you are allowed in the country without any restrictions.

It is necessarily imposed on everyone that they should wear a face mask while traveling locally in Ethiopia. Failing to do so might result in your arrest in this country.

All the restaurants, bars, and cafes are open and working normally. Still, some safety measures are taken by each place, so check them before reaching that place.
Summing up
If you love visiting places rich in culture, flora, and fauna, and architecture or heritage, then Ethiopia is one of the ideal places to visit. So pack your bags, book a flight with Flight Aura to get the best deal, and leave for your splendid sojourn. 
You can find many options on FlightAura for customizing your trip plan to Ethiopia without causing any delay. Book now for a pocket-friendly booking.