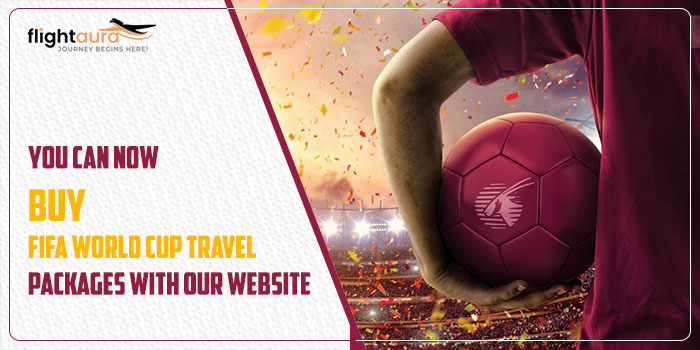 If you are looking for customizable packages for the 2022 FIFA World Cup Qatar, let us know, and we are all ears to listen to your travel needs. The most awaited quadrennial soccer tournament is all set to roll out in the month of November this year 2022. Fans who want to guarantee their experience are rushing to get their flight booking done. If you also want to get the first-hand experience of this illustrious tournament, then our luxury travel packages can help you to make the most out of your Qatar visit.
2022 fifa world cup Qatar Details
The fifa world cup 2022, which is going to be held in Qatar, is a dream for all football fans. Seeing their favorite teams contesting against each other can be a lifetime experience for the fans. It will be the 22nd edition of the FIFA world cup tournament, which will run from 21 November to 18 December 2022. This is the first time when Arab World is hosting any world cup tournament, so the host country will leave nothing untouched to make a memorable experience for the fans. Also, this is the last FIFA tournament having 32 teams that will qualify for the game. In the 2026 FIFA World Cup, 48 teams are scheduled for the tournament. The late-November to mid-December schedule is a great relief from the scorching summer heat of Qatar.
Qatar Tourist Places Attractions
Qatar offers gorgeous beaches, enticing markets, world-class museums, impressive architecture, and unique landscapes. These amazing tourist attractions can add a cherry on the cake when included in our travel packages along with the fifa world cup experience. Qatar, which is based in Western Asia and is known for being one of the world's busiest transit hubs for international visitors, is all about luxuries and happy moments. The country's hospitality is world-renowned, and it is one of the main reasons why tourists flock to Qatar for vacations. It is all set to host the biggest soccer tournament, so if you want to add memories to it, let us know. We will do it for you.
Related Article: Best Eco Luxury Hotels in the World
Why flightaura for the 2022 World Cup In Qatar?
There is not one but many reasons to buy the FIFA World Cup travel package with our website. We take care of every detail to make your trip perfect. By taking a personalized package, you can harvest the advantages of our expert's experience, recommendations, and reservations for the most amazing places and restaurants. Some of the main advantages of booking from us are described in the below-given points:
Great Selection of Hotels
You can choose from a great selection of the standard to luxurious hotels in the host cities suitable to your budget and travel plans. Our luxe accommodations can be an addition to your FIFA World Cup tour experience.
Custom-tailored Experience
You can get a customized travel package to include your stay, local sightseeing, match experience, transportation, and more. The plans are flexible so that you can make the most out of your visit in your budget and other specific preferences.
Assistance at Every Step
Once arrive, you can get assisted by the on-site hosts who will take care of your every step when you travel from one destination to another. The friendly team will make your travel.
Excellent Customer Reviews
We love to hear from our customers when they talk about their amazing experiences with us. They acknowledge our packages for their cost-effectiveness, well-organized executions, and more.
What can be included in the World Cup travel package?
When you book your travel package with us, we give you the freedom to get your package personalized based on your specific requirements:
• Great selection of hotels in the host city.
• Round trip booking from the home city.
• Transportation between host cities.
• Greeting and assistance at airports on your arrival.
• Guided city tour of the host cities.
• Transportation on the match days.
What are the other things to do in Qatar?
Qatar is a land that offers one-of-a-kind experiences and breathtaking scenery. With its unrivaled taste, rich cultural heritage, opulent pleasures, and cutting-edge architecture, it's a land that truly inspires. Besides, you can enjoy a desert safari, sandboarding, camel ride, and explore the inland sea. Additionally, you can also explore the traditional markets and buy a memento for your visit. However, when you book your flight with us flightaura.com to experience 2022 FIFA World Cup matches, our expert's recommendations can help you in covering what's unmissable at this place.
Matthew Baron is a seasoned travel consultant and writer, currently working with Flightaura to help travelers navigate the complexities of baggage policies, flight changes, and cancellation policies. With a deep understanding of the travel industry and a wealth of experience in travel planning, Matthew has become a trusted advisor to many travelers seeking to make the most of their trips.