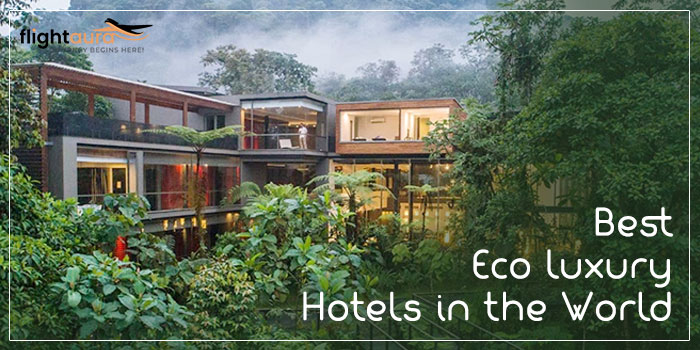 Responsible traveling is one that is friendly to the environment and does not add to the carbon footprint. Luxury accommodations often exploit valued resources such as water and electricity and leave adverse effects on the environment. Fortunately, there are many eco-friendly hotels that have taken the initiative to address this issue and implement green practices in their operations. Besides, you don't have to compromise with your luxury experience. Here is the list of the best eco-luxury hotels in the world that operate with sustainable practices. Let's explore!
What Is An Eco Hotel? 
An Eco Hotel, also known as a green hotel, is an environment-friendly accommodation that operates with sustainable practices to minimize the adverse impacts on the environment. They ensure environment-friendly lodging by following the practices of green living. These hotels were traditionally presented as ecolodges due to their location in green areas like a jungle and the use of the traditional building methods using local craftsmanship. However, they have to be certified green by the state authority of an independent third party.
1: SONEVA FUSHI, MALDIVES 
Soneva Fushi is an ideal example of an exquisite hotel that integrates luxury with sustainability. The hotel is located on the privately-owned tropical island of Kunfunadhoo in Baa Atoll, a UNESCO World Biosphere Reserve, and is a pioneer of luxury travel in the Maldives. The Resort's ideology emphasizes environmental and social obligations. Soneva Fushi has one of the Maldives' largest solar power plants; its food is farmed and supplied locally whenever feasible. Moreover, it recycles garbage and protects ecosystems.
2: SONEVA KIRI, THAILAND 
Soneva Kiri is located in the Gulf of Siam on the island of Koh Kood, Thailand's fourth-largest but least populated. It is far from the hustle and bustle of the continent. The Resort is perfectly incorporated into the scenery, skilfully fitting in with the magnificent natural beauty of the region, surrounded by luxuriant tropical vegetation of vibrant colors and shimmering white beaches, and nestled amid palm trees and crystal-clear water. The Soneva Kiri epitomizes the Soneva brand's philosophy of intelligent luxury and environment-friendliness. 
3: HOANIB SKELETON COAST LODGE, NAMIBIA 
Namibia's Hoanib Skeleton Coast Lodge is situated on the skeleton coast, a wild stretch of the Atlantic where the desert meets the sea. The eight pale olive luxury tented rooms at Hoanib rise like whitecaps on a sand beach. Hoanib is completely solar-powered and features a modern, fresh design with a color palette that reflects the surrounding desert. The camp (suites, common rooms, pool) overlooks a large, steep valley that slopes down to the Hoanib River, which is generally dry.
4: NORTH ISLAND, SEYCHELLES 
North Island is a remote tropical paradise that provides the utmost luxury and solitude. North Island is a destination of exceptional luxury amid a spectacular wilderness sanctuary, located in Seychelles' 'inner' islands, which are known for their awe-inspiring beauty. The island provides 11 luxurious hand-crafted homes that lap the pristine, powder-white dunes of the blue Indian Ocean for those wanting a quiet and unspoiled tropical hideaway. This environmentally conscious hotel respects the environment in which they live and work.
Related Article: Flight Booking, Flight Tickets Booking at Lowest Airfare
5: SIX SENSES BHUTAN 
The Six Senses Bhutan lodges were meticulously constructed to thoroughly immerse tourists in the Kingdom of Bhutan's natural beauty and culture while also delivering a contemporary spin on traditional Bhutanese architecture and form. The lodges, which differ in style from valley to valley, highlight the unique characteristics of each region. It is dedicated to long-term sustainability, with a strong responsibility to protect the environment, natural resources, and communities. Furthermore, it has one of its basic values to protect the world's sole carbon-negative country.
 6: NIHI SUMBA ISLAND, INDONESIA
In Watukarere, NIHI Sumba is an eco-friendly hotel with a restaurant, outdoor swimming pool, fitness center, and bar. It believes that economic development must be environmentally sustainable both today and in the future. A common lounge, a garden, and a private beach area are among the property's main amenities. Guests can take advantage of the property's 24-hour front desk, room service, and currency exchange. A kitchenette with a fridge, a minibar, and a burner is available in some rooms. Other amenities include a continental breakfast in the morning and a variety of sporting activities.
7: CAMP GLENORCHY, NEW ZEALAND
Camp Glenorchy is located in the middle of Glenorchy, a picturesque community. It includes a beautiful Homestead as well as a variety of lodging alternatives such as individual eco-cabins, luxury eco-cabins, multi-bed bunk huts, and powered RV/campervan sites. Camp Glenorchy is the first Net Positive energy visitor resort in New Zealand. All profits from Camp Glenorchy go to the Glenorchy Community Trust, which is run by local residents. The Glenorchy Community Trust's purpose is to improve the community's vibrancy and resilience. 
What Are The Salient Features Of Ecolodges? 
The main features of an ecolodge are stated in the below-given list:
It should utilize natural resources to generate power. For instance, a solar panel is installed on the property to produce clean and renewable electricity.
It should deploy the technologies and fixtures to save water and prevent unnecessary wastage.
Moreover, the recycling of natural resources is also an important obligation of the ecolodge.
The construction and maintenance of the property should include natural materials.
It serves naturally grown food locally, which is free from chemical fertilizers.
What Are The Benefits Of Staying In Ecolodge? 
Ecolodges have multi-faceted advantages as stated in the below-given list:
It brings you close to nature and understands the various aspects of your surroundings.
Ecolodges are based on the sustainable development of the society, wherein local producers get benefitted.
It ensures that tourism should be encouraged, but not at the cost of environmental disruption.
How to Choose an Eco-Friendly Lodge? 
Choosing an ecolodge can be a demanding task oftentimes. The reason behind the issue is that the false advertisements of the lodges that claim to be green and environment friendly often dupes the visitors. However, to make sure that you are booking an actual eco-friendly lodge, you need to do proper research about it.
Matthew Baron is a seasoned travel consultant and writer, currently working with Flightaura to help travelers navigate the complexities of baggage policies, flight changes, and cancellation policies. With a deep understanding of the travel industry and a wealth of experience in travel planning, Matthew has become a trusted advisor to many travelers seeking to make the most of their trips.