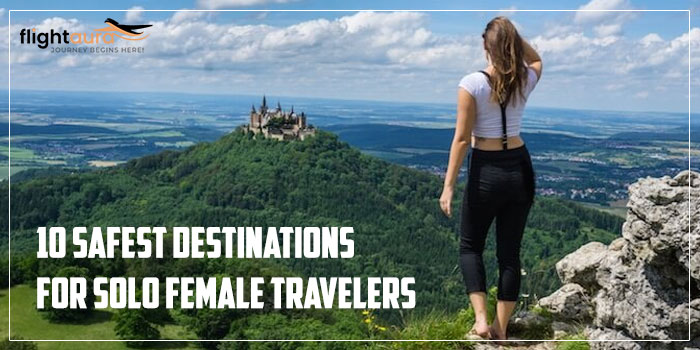 Solo traveling fascinates every travel-enthusiasts, be it a male or female traveler. However, safety is one of the main concerns for female travelers planning for a solo trip. Fret not! Flightaura has listed the 10 safest places in India where female solo travelers can feed their wanderlust with absolute peace of mind. The listed places are safer than the others. Keeping a positive mindset, you can make the most out of these places described in this post. Let's discover!
10 Safer Destinations for Female Solo Travelers
Below is the list of the safest travel destinations a female traveler can explore without any fret:
1: Nainital
The emerald, glassy, eye-shaped lake (tal) around which the town is built is credited for the nomenclature of the city, Nainital. It is one of the most popular hill resort towns. P. Baron, a British sugar trader, created the town in 1841, and thank goodness he did! There is no better place to get away from the rush and bustle of city life. It is an amazing tourist destination and a suitable place for female solo travelers.
2: Mysore
Mysore, the city of places, is a safe and awe-inspiring destination for everyone. This Karnataka cultural capital not only displays a beautiful amalgamation of historical splendor and scenic beauty of nature, strewn with lakes, waterfalls, and gardens, but it also presents a beautiful blending of historical splendor with the scenic beauty of nature. In Mysore, there are numerous renowned tourist attractions, each guaranteeing a distinct experience for visitors.
Related Article: Best Eco Luxury Hotels in the World
3: Shimla
Shimla, often known as the 'Queen of Hills,' is a scenic hill town located at an altitude of 2205 meters in Himachal Pradesh's lovely state. It has always been on the radar of travelers from all walks of life, which makes it a safe and preferred location for female solo travelers. The place is surrounded by an unspoiled landscape of majestic Himalayan peaks and magical forests of oak and pine.
4: Kaziranga
Kaziranga National Park is located in Assam's Golaghat District and Nagaon District. The scenery of Kaziranga is steep woodland, towering elephant grass, rough reeds, marshes, and tiny lakes, and it is a world heritage site known for the Great Indian one-horned rhinoceros. In 1974, it was designated as a national park.
5: Udaipur
Rajasthan has a lot more to offer than just exquisite jhumkas and jewelry. The majority of the kiosks are run by women who exude friendliness and kindness. Udaipur is one of the best destinations to visit if you're a solitary female traveler. While visiting this culturally rich city, indulge in shopping and sample their delectable gatthe ki sabzi and mouthwatering laal maas. Udaipur is one of the greatest solo female travel places in India because of the people's highly welcoming attitude and emotional kindness.
6: Pondicherry
Pondicherry is home to a number of attractions notable for preserving traces of French culture. It also preserves rich Indian culture while providing tourists with a wonderful time. Pondicherry is an important tourist destination in India, with beaches, historical sites, temples, and churches. When visiting the quaint French section of town, visitors will notice Pondicherry's laid-back appeal, while tourists will appreciate the city's real Indian atmosphere, which is reflected in its culture and people.
7: Sikkim
Sikkim is India's smallest state, located in the northeastern corner of the country. Sikkim is bordered by Nepal, Bhutan, and Tibet; thus, there are plenty of tourist attractions in the state. Sikkim is noted for its magnificent beauty, verdant meadows, crystalline lakes, and towering mountain ranges as the gateway to the Himalayas.
8: Munnar
Kerala, India's southwest state, is one of the country's most popular tourist attractions, with its silvery beaches, serpentine backwaters, swaying coconut groves, and the Western Ghats covered in aromatic spice and tea plantations. There are many sites to visit in Kerala, and Munnar is one of them.
9: Ladakh
Ladakh is the largest province in the state of Jammu and Kashmir, bordered by the Karakoram and Himalayan mountains.  High-altitude desert terrain is characterized by rugged, desolate cliffs and plateaus. Ladakh is a popular adventure sports destination for people of all ages.
10: Hampi
Hampi is a small yet enchanting temple town on the banks of the River Tungabhadra, flanked by the fascinating historical ruins of Vijayanagar city in the state of Karnataka. Hampi is a dream-world consisting of rocks, monoliths, and ruins of old edifices that is a thrill for travelers and is consequently considered one of the greatest locations to visit in Karnataka.
Final Words!
In this post, you can find some safer tourist places to explore as a female solo traveler. There are a few things that make a place safer for the tourists, such as road connectivity, round-the-clock availability of the transport, tourism crowd, and above all, a positive mindset. Add these places to your list and start exploring!
Matthew Baron is a seasoned travel consultant and writer, currently working with Flightaura to help travelers navigate the complexities of baggage policies, flight changes, and cancellation policies. With a deep understanding of the travel industry and a wealth of experience in travel planning, Matthew has become a trusted advisor to many travelers seeking to make the most of their trips.