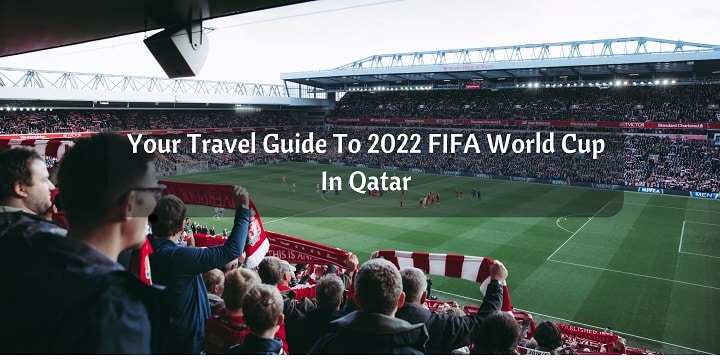 Watching a live FIFA match is still a dream for many football lovers. The FIFA fans will still be wondering how to Travel to Qatar to watch the live performance of their favorite players.
If you are also among those planning to visit Qatar for the first time to watch the FIFA World cup 2022, then you are in the right place. In this blog, we will give you complete information that will help you in planning your Qatar trip.
World Cup Stadiums for FIFA 2022 in Qatar 
There are Eight Stadiums in Qatar where the FIFA world cup will be conducted. Here is the complete list of the stadiums on the FIFA world cup 2022 schedule.
Entry Requirements for Qatar
Each country has a minimum set of requirements that the visitors must follow, and Qatar also has some standard requirements. If you are planning to visit Qatar from 1st November 2022 to 23rd January 2023, then it's mandatory to have an approved Hayya card, regardless of whether you will attend the world cup match. 
An Hayya Card is a form of Fan ID, which is required to get an entry to the country and for attending the world, cup live match during the world cup tournament duration. The major benefit of this card is that the visitors will get free access to public transport only on match days. For the latest information about the Hayya card, visit its official website  https://hayya.qatar2022.qa/. 
How to Get FIFA World Cup 2022 Match Tickets
Now, let's move on to understand the procedure of getting FIFA world cup 2022 match tickets.
FIFA fans can purchase World cup 2022 match tickets from the Official Website of FIFA. For that, fans have to register an account on FIFA's ticket portal. Already two rounds of ticket sales have been conducted, and almost 8,00,000 tickets have been sold so far. Most of the tickets have been purchased by fans from Qatar, the United States, England, Mexico, and United Arab Emirates.
Those fans who have missed the initial sales phase of tickets still have the option to get a FIFA match ticket through the third sales phase, which will be conducted later this year.
Restrictions on Qatar Travel
If you Plan to Travel to Qatar, you must know that the Government of Qatar does not require prior visa arrangements for visitors traveling on a U.S. tourist passport. Although to get a free visa waiver, you must have:
A passport with a validity of a minimum of 6 months.
A pre-confirmed return ticket.
Suppose your medical condition allows you to bring medicine to Qatar. In that case, you must carry the original medical prescription and ensure the medicine is in the original packaging.
IFA World Cup 2022 Tickets Pricing
So, here is the price chart list of all the matches of the FIFA world cup 2022.

Places to Visit in Qatar 2022
Apart from watching the FIFA world cup matches, you can also enjoy the beauty of Qatar. There are plenty of areas which you can visit to add beautiful memories to your journey. So, a few examples of the best places to visit in Qatar are as follows. 
Souq Waqif
Museum of Islamic Art
National Museum of Qatar
Katara Cultural Village
The Pearl Qatar
The Corniche
How to Travel to Qatar?
After understanding every aspect of Qatar and FIFA world cup 2022, the next thing is to book the flight tickets. A flight is the most important part of any trip, and getting the best flight at the cheapest rates is quite difficult. Although, we are here to help you in that situation. We at Flight Aura are known for premium airline tickets at the best pricing. You can visit our website to complete details about your next Qatar trip. From best deals to packages and flights, we are here to make your new Qatar trip beautiful and rememberable!!
admin is a subject matter specialist @flightaura.com Being a prolific content expert with a significant amount of experience, his writings on top directory categories in the United States are getting recognition among customers across the Globe. In addition to being a well-known writer, admin has expertise in SEO and SMO strategies.