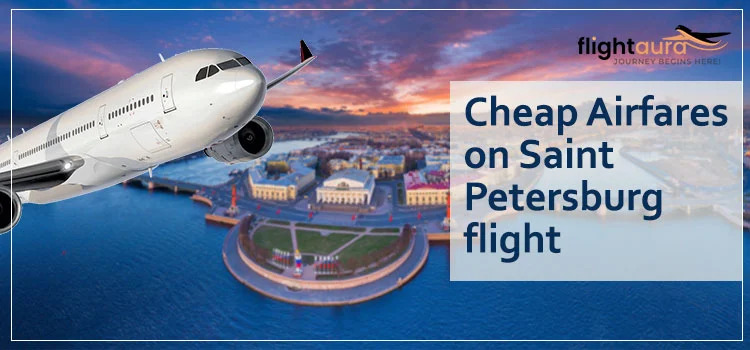 Have you ever, in the midst of a lazy afternoon weekend, considered taking a flight to Western Europe or discussed your backpacking plans in Russia with a friend at work? If you have, we assure you, you must go there. Why do we say that? Because if you are a travel enthusiast and visiting places is something that fascinates you, then Saint Petersburg should be definitely on your travel bucket list.
The Cheap airfares on Saint Petersburg flights can prove to be the icing on the cake. In this travel guide, we are going to provide you with an exhaustive list of things you can do while backpacking in Saint Petersburg, Russia. Read on to know how we can give you an inside scoop of the Best Prices to Saint Petersburg.
How to organize a trip to Saint Petersburg?
Saint Petersburg is one of the most brathtaking cities of Western Europe. Culturally and architecturraly, it is most European-Russian. It's called Northern Venice for its beautiful channels and rivers going through the city. A city with an abundant history and culture, Saint Petersburg has seen its share of political and social upheavals. While, organizing a trip to Saint Petersburg can seem Overwhelming, fret not. We are going to plan the entire itinerary for you. Here is a list of things that you can do while Backpacking in Russia.
How much time do I need to visit Saint Petersburg?
For a complete well-rounded experience, we would suggest you to go for at least 6-7 days. In a short weekend trip, you might visit central attractions but will miss out on a lot of attractions. Also, you would need to have a complete experience that is worth the costs incurred on plane tickets and visa. If you go for a week, you'll have ample time to visit all the tourist attractions of the city. Places to visit include Hermitage, Peter and Paul fortress, churches, Peterhof, Pushkin etc.
What are the most favourite destinations in the city?
The city is stunning and holds various beautiful attractions such as-:
The Hermitage Museum
St. Issac's Cathedral
Winter Palace
Church of the Saviour on Spilled Blood
Peterhof Palace
Catherine Palace
State Russian Museum
Mariinsky Theatre
Pater and Paul Fortress
Neva River
Palace Square
Kazan cathedral
Which is the berst time to visit Saint Petersburg, Russia?
The best season to visit Saint petersburg is the general summer season. The months of June, July, August is the best. With average temperatures ranging between 15-25 degree celsius, long walks and boat rides can be pretty enjoyable. September is also a better time to go for the visit. It's not too crowded at that time of the year and temperatures generally range between 8 to 12 degrees celsius.
How much does it cost to go to Saint Petersburg, Russia?
The amount of money you need depends on whether you are planning a backpacking trip or a luxurious one. You need to keep in mind the following costs before you make that much-awaited trip to Saint Petersburg.
Getting Visa:- From the year 2019, residents of 53 countries are allowed to visit Saint Petersburg on a free e-visa. You can check if your country is included in the list or not.
Reaching there:- Saint Petersburg can be reached by plane from most big cities in Europe. Most of the major airlines services operate to and from Saint Petersburg. Options for Cheap Airfares on Saint Petersburg flights available. Flights with best prices to Saint Petersburg are also available You can also reach Saint Petersburg via Helsinki. Helsinki is connected to Saint Petersburg by trains. There are also direct trains from Moscow to Saint Petersburg.
There are a number of flight options to and from the Saint Petersburg airport. Cheap Airfares on Saint Petersburg flight options are available with us. If you are looking for best prices to Saint Petersburg, FlightAura has you covered. Fill the form to search for your flights and compare the best deals for booking options.
Summary:- Backpacking in Saint Petersburg can be a trip to remember with breathtaking tourist destinations, affordable airfare and travel options, beautiful accommodation, and all-plying public transport. Go there for a time of your life!
Matthew Baron is a seasoned travel consultant and writer, currently working with Flightaura to help travelers navigate the complexities of baggage policies, flight changes, and cancellation policies. With a deep understanding of the travel industry and a wealth of experience in travel planning, Matthew has become a trusted advisor to many travelers seeking to make the most of their trips.