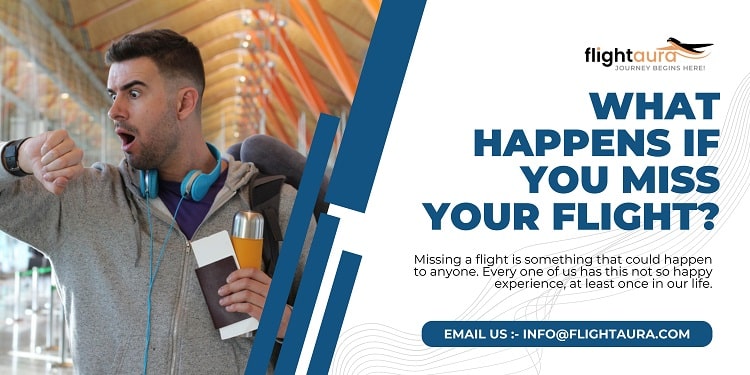 Missing a flight is something that could happen to anyone. Every one of us has this not-so-happy experience, at least once in our life.
What does one suppose to do if that occurs? How will you reach your destination? Or can you ask for a refund? There are a lot of questions running through your mind when you miss your flight.
The first thing you need to do is calm yourself down. After that, think about the steps you can take, to minimize the consequences. We have done our research with the industrial experts to know what you should do next.
So, let's find out, what are the things you can do to save your trip, if you miss a flight.
Read Also How Can I Change My Flight Without Paying a Fee on Spirit Airlines
When it's your fault
If you missed your flight because you overslept, were stuck in traffic or it's because of some other silly reason. You must be aware that it's your fault, and you are not going to get a refund or rebooking. 
However you don't need to panic, we are here to hold your back by suggesting you a few tips you can opt for after missing a flight.
The Flat Tire Rule
If you missed your flight, due to your mistakes the airline is not responsible for rebooking or refunding. 
Though some airlines have an informal policy named "Flat Tire Rule", which says if the customer missed a flight due to some circumstances which are out of their hand like an accident or medical emergency. 
They can take the next flight within the next two hours for the same destination without charge. This can be done by informing the airline about the situation before the aircraft takes off.
Fly standby
If you are in a hurry to reach the destination, and you are not able to get the confirmed seat, in the next flight, fly standby. It can be a great option to go with.
Although a lot of flights are overbooked, still you can't be the only one to miss their flight, right? Many passengers for the next flight also don't show up, making things easier for you.
If you miss your flight many airlines let you standby for free, for a later flight, so it's always a better option to explain your condition to the gate agent, and ask them if they can add you to the waitlist at least.
Book another budget friendly airline
You should not ruin your plans, just because you missed your flight. If the airline is not helping you by anyways, try to book another flight which is budget friendly. It may not be as luxurious as you planned it, but it can at least save your plan from being ruined.
Luckily, last minute one way flights are cheap and affordable, like one you can see in the case of Spirit flight from Chicago-O'Hare (ORD) to Los Angeles (LAX). It cost even less than $69 on the day of departure.
Use Rewards to Book the Last Minute Tickets
Most of us want to use our miles for some exotic vacation, but are you aware that we can use them at the time of emergencies to book our last minute tickets also? Yes, and there will be no financial penalty with last minute bookings, as many of the airlines eliminated the close-in booking fees.
There are even some scenarios where award prices are cheaper, otherwise the seats will fly empty. The programs like Loyalty program, utilizes the dynamic pricing and gives cheaper deals. For example Delta SkyMiles and MileagePlus programs.
If the Cancellation or Delay is Airlines Fault
If you missed a connecting flight, there are a set of rules depending on the airline which can help you in getting a rebooking, with no cost, on the next flight. This usually happens due to the airline's fault.
A flight could be canceled or delayed due to various reasons including technical issues, weather conditions or something else. This can lead you to missing your connecting flight. In those situations you need to follow a set of rules to cancel a flight or get another flight.
Call the Agent Immediately
If you have trouble catching your flights, speak to the airline representative first. Don't wait for a long time, just call the representative and ask them to help you with a rebooking, so that it will not ruin your plan.
If you wait for an announcement and other things, soon you will find yourself at the end of a long queue, because everyone is in a similar situation. This may lead to you losing your chance of getting a seat.
Use Benefits of Credit Card
Various travel credit cards have benefits related to trip delays and cancellation. When you get the idea of your flight being affected by anyways, contact the card issuer immediately, and make sure that they understand the whole scenario. 
Though the perks are available just for those flights, which are delayed by a couple of hours. 
Read Also How Can I Change My Flight Without Paying a Fee on Spirit Airlines
Try to Connect with International Customer Care
If you are stuck in a long queue, and want yourself to get the available seat, you can try contacting the international call centers. The hold time can be really long if you try to connect a local agent, it's because others will also try to do so. 
So, in that condition, you can try contacting the airline's customer service team in some other country. Their phone lines won't be busy as much as the local ones. You can try to contact them via Google voice, if you are concerned about the international calling rate.
Wrapping it Up!
Missing a flight is much more than just being annoying, but you can rescue your plans, right?
It all depends on what the scenario is, whether it's your fault or the airlines. In both the cases you have different options to get the seats, you just need to be calm but quick.
Matthew Baron is a seasoned travel consultant and writer, currently working with Flightaura to help travelers navigate the complexities of baggage policies, flight changes, and cancellation policies. With a deep understanding of the travel industry and a wealth of experience in travel planning, Matthew has become a trusted advisor to many travelers seeking to make the most of their trips.