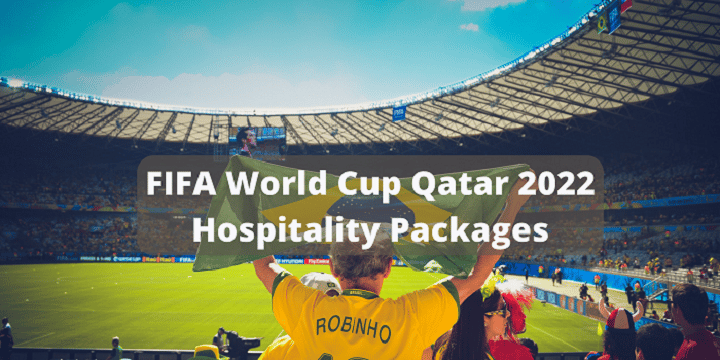 Are you as thrilled as much as we are? The most wonderful time of the year is back! Pop up some popcorn, call in your friends, and turn off your phones because FIFA World Cup is back! Doesn't it all sound amazing? Well, what if we tell you that instead of gluing to your television screens, you can cheer for your favorite team directly from the stadiums?
You heard that right! FIFA World Cup 2022 is happening in Qatar. A place with so many amazing places to visit after you are done with the match. From the Museum of Islamic Art to the gorgeous city of Doha, you have a lot to do, and FIFA is cheery on the cake.
So, what are you waiting for? Go grab your tickets with Flightaura, one of the top 5 flight bookings companies, before the seats are all booked, and you miss out.
FIFA World Cup Qatar 2022
Qatar is hosting FIFA World Cup 2022, and it welcomes all the fans out there to come and be a part of it. The World Cup this year is unique and more exciting this year. This is because this is the first time ever that the games are happening in a gulf country. In addition to that, this is going to be the last time that the matches will take place in 8 groups. From the next time, 48 teams will be going against each other.
As the first-time hosts, Qatar is all set and prepared to welcome football fans from all across the world. It has made all the arrangements for you, from hotels to staying in and stadiums to shout your lungs out; all is done! All that is left is for you all to land in their country.
Book Your Flights To Qatar
According to the reports, more than 1.8 million FIFA World Cup tickets are already sold. You can only imagine the excitement of the fans across the globe. If you are also thrilled and want to be in the stands, it is time for you to get your flight bookings before they are all sold out.
To get your Qatar flight bookings, go to the official website of FlightAura.
Now on the homepage, you will see the booking section.
Here, you need to fill in your details, such as departure and arrival locations, dates, the number of passengers, and more.
Thereafter, hit the Search Flight button.
Eventually, the site will direct you to the next page.
In this window, you will find a list of the available flights. Go through the details of each flight and select the one that fits you the best.
Moving forward, make the payment for your purchase and confirm the reservations.
You will receive a confirmation mail once we process your payment.
You will get the best in-flight experience with us!
Hotels to Stay in Qatar
Now that you have your flight bookings, it is time to make your stay arrangements. Qatar has a lot of hotels for you to stay in and have a marvelous time. Hereinafter, you will find a list of some of the best Qatar hotels.
InterContinental Doha
W Doha
Sheraton Grand Doha Resort & Convention Hotel
Premier Inn Doha Education City
Oryx Airport Hotel
Al Messila
Cielo Lusail Hotel
Souq Al Wakra Hotel Qatar by Tivoli
Hyatt Regency Oryx Doha
Mondrian Doha
Event Packages at FIFA World Cup 2022
Booking for every single event can be a whole lot of work, and FIFA organizers understand the same. This is why they have come up with a better option. There are various available packages for you. A visitor can purchase one of these packages or even get one customized as per their wish.
If you are also flying out to Qatar for FIFA World Cup 2022, here is a list of the available packages for you.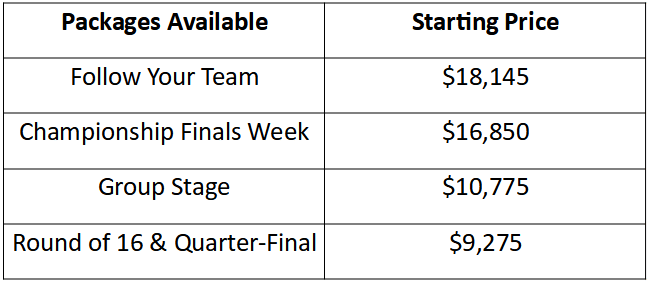 You can learn about these packages and even get one from the official website of FIFA World Cup 2022. One can also get in touch with the experts at Flightaura, and we will help you understand and book your package.
Hospitality Packages at FIFA World Cup 2022
Along with the event packages, there are several hospitality packages for the guests. These packages include everything from hotels, services, and more. You can even get one of these customized for you according to your needs. You can find these on the FIFA World Cup 2022 official website. There are only a few packages for you to choose from. Grab these before everything is sold out.
Final Statement
FIFA fan club is crazy all across the world. With games taking place in Qatar, this year it is more thrilling. It is a beautiful place for you to be at. Along with the matches, you can even take a few extra days to explore the wonders here. So, go get yourself a ticket to Qatar with Flightaura at the most affordable price, and make sure to take and post lots of pictures.
Matthew Baron is a seasoned travel consultant and writer, currently working with Flightaura to help travelers navigate the complexities of baggage policies, flight changes, and cancellation policies. With a deep understanding of the travel industry and a wealth of experience in travel planning, Matthew has become a trusted advisor to many travelers seeking to make the most of their trips.