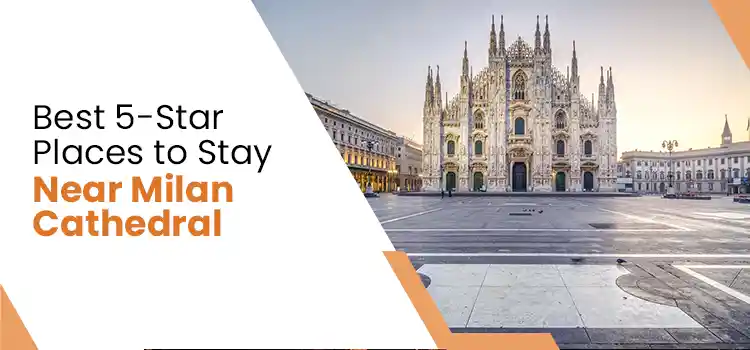 An Overview of Cathedral of Milan in Milan Centre
The Cathedral of Milan is the major city attraction that serves as the cultural centre of the city. With the Capacity of accommodating 40,000, the Milan Cathedral is one of the largest churches in the world. Being a major church in Europe, the Milan Cathedral is annually visited by millions of visitors. With so many visitors planning their trip to Milan, look out for Hotels near Milan Cathedral.
Book Your Flight to Milan, Italy
Choose Your Best Hotels Near Milan Catheral
Among them, a major portion lookout for 5-star accommodation in order to have a comfortable stay. While Cathedral is the major centre of attention, it is crucial for visitors to book accommodations closest to this place. Thus here we are going to list some of the major 5-star Hotels close to Milan Cathedral. Along with all the necessary information regarding the hotels will be listed. Thus read the article further to find the best hotels near Milan Cathedral and, based on the list, decide the best one for you.
Contact Our Travel Agent for Cheapest Travel Package
Dial Toll Free Number : +1-833-714-2120
Best 5-Star Places to Stay Near Milan Cathedral
Check out the seven best 5-star accommodations in the city of Milan from where you can reach the Cathedral easily. Also, through these hotels, you can easily reach other destinations in Milan City. All the details related to accommodation you need to know are available. So check out the list of some of the best Milan Cathedral Nearest Hotels.
1. Mandarin Oriental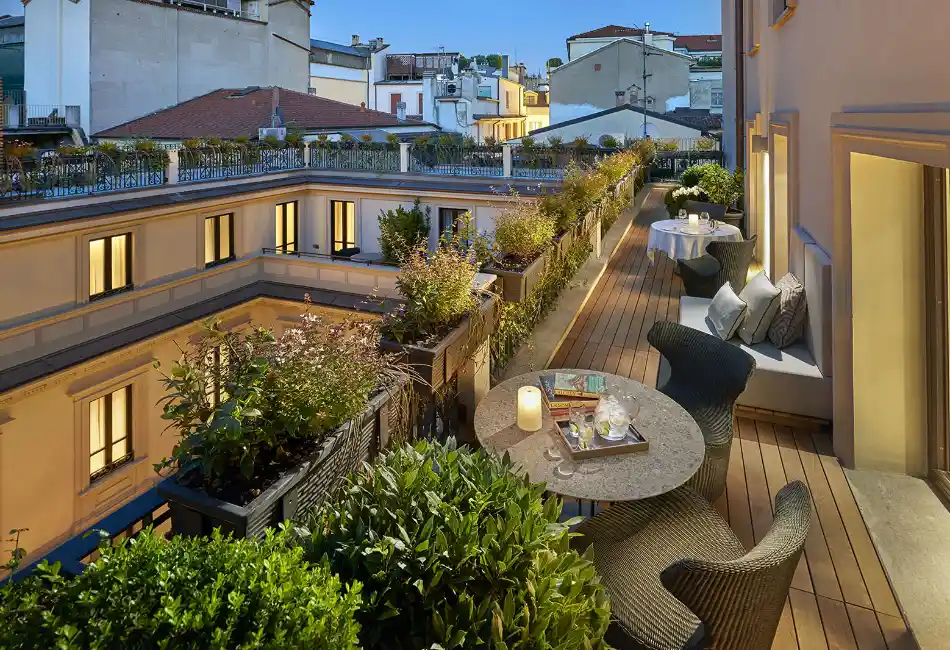 The Mandarin Oriental is a 5-star accommodation located within a mile radius of the Milan Cathedral, from which you can easily reach the tourist within 10-15 minutes. Depending on your budget and other preferences, you can find the perfect room suitable according to your requirement. Being a 5-star located closest to some of the major tourist destinations in the city of Milan, the Mandarin Oriental has all the mandatory facilities which a 5-star guest expects on holiday. Some of them include free internet connectivity, an indoor swimming pool, a fitness centre, an airport shuttle, a spa, and a bar. All these things contribute to your comfortable stay in the city of Milan.
The Major Attraction of Milan Located Nearby Mandarin Oriental Includes: 
Opera House La Scala
Church of Santa Maria
Galleria Vittorio Emanuele II
Poldi Pezzolli Museum
And many other tourist attractions can be easily reached through this hotel.
Basic Information Related to Accommodation is Given Below:
The number of rooms: 104
Accommodation charges: USD 1299-8999
Distance from the Milan Cathedral: 700 meter
2. Bulgari Hotel Milano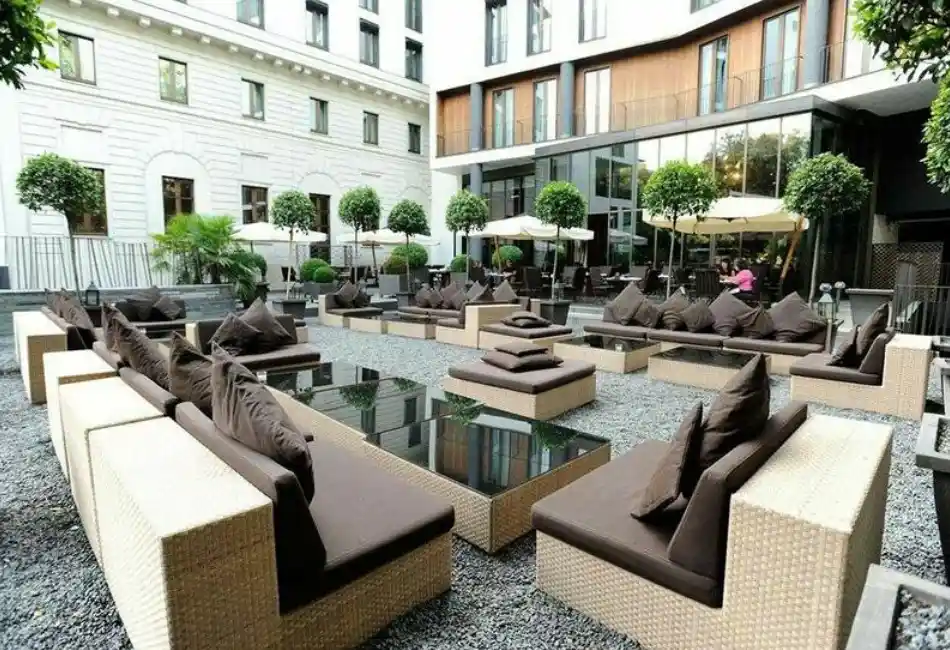 Another one on the list of the best hotels near Milan Cathedral is this 5-star extension of the Bulgari Hotel Chain. Like its other branches, this one is also among the list of top hotels in the city. Maintaining its 5-star status, the hotel offers all the amenities to its visitors, among which the highlighting ones include Spa, Wellness centre, fitness centre, indoor pool, and many others. Located on a private street in the heart of Milan, the Bulgari is located just a mile away from the Milan Cathederal. A major unique facility of this hotel is the luxurious visit to all major attractions of the city, like private museums, Vilas, Lakes, and other destinations through a limo, private plane, or yacht.
Italian food is famous all around the world, so the Italian Restaurants, some of which can be located inside the Bulgari Hotels Milano.
Below we have listed major restaurants where you can find the perfect dining Spots:
The Bulgari Bar
Niko Romito
The Bulgari Lounge
Giardino
Gazebo
Other mandatory information related to accommodation is given below:
Total number of rooms available inside Bulgari Hotel: 58
Price per night for accommodation in Bulgari Milan: USD 1099-2299
Distance from the Milan Cathedral:Less than a mile
3. Palazzo Parigi Hotel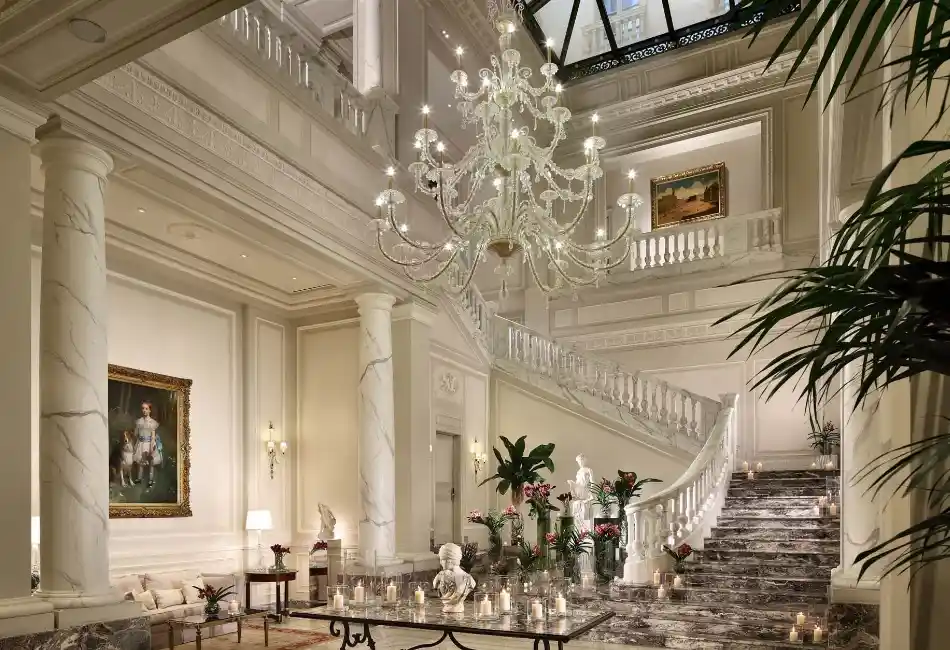 Located in the heart of Milan city, The Palazzo Parigi is a luxurious 5-star hotel close to Milan Cathedral from where visitors can easily reach the Milan Cathedral, Fashion district, and many other hotspots of the city. The hotels have a total of 54 rooms and 41 suites, each of which is decorated either in a Pasisian or Milanian style. Every room comprises a terrace and balcony that provides an awesome of the major city attractions like Duomo, Sforzesco Castle, and the Porta Nuova Skyline. Along with accommodation, this hotel can be a suitable spot for major social gatherings and events like marriage, scientific meetings, and many others.
The major hospitality of the hotel includes a Spa which is open 12 hours a day (from 9 AM to 9 PM). Different facilities that are available in the Spa include a swimming pool, Jacuzzi, steam bath, shower, relaxation room, Hammam, Oasis Restaurant, and the ice fall. Talking about accommodation details, refer to the pointers below before confirming a room in this hotel:
The total number of rooms and Suites inside the Palazzo Parigi Hotel: 98
The price budget range for a one-night stay in this hotel is USD 1199-7599
Distance from the Cathedral: Around 1 mile
For Dining Spots, You can Make Reservations in the Following Restaurants:
Gastronomic Restaurants
Bistrot Lounge
Papazzo Parigi Private Garden
Other amenities provided by the hotels include free Wi-Fi, a fitness centre, a wellness centre, 24-hour service, an airport shuttle, and many others.
4. NH Collection Milano President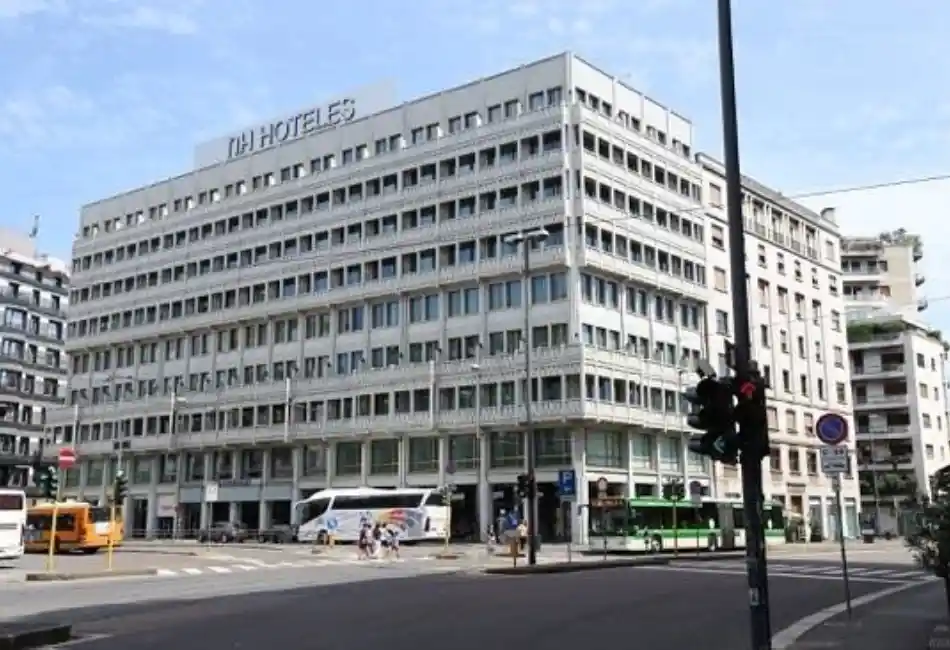 Located within a 2-mile radius, the NH Collection President is a 5-star hotel that provides accommodation in more than 250 rooms. Talking about hospitality that is unique to this hotel is the Guest Relation Team comprising of a dedicated team to assist you in order to make your stay comfortable. Also, rental bikes are available, and exploring Milan is kind of its own fun.
Along with that, you can get travel-related information regarding nearby localities like major restaurants, places to visit, and others. Mandatory facilities are available here, which need to be present in every hotel, including internet connectivity, a fitness centre, 24-hour room service, free kid breakfast, concierge, laundry, airport shuttle, and many others. All these facilities make the NH collection a perfect accommodation for families, especially new parents.
For dining, you can make reservations in the following restaurants:
Verziere Restaurants
Bar Le Colonne
Along with that, you can enjoy a fresh breakfast of organic yogurt, jams, and other Italian specialities. Each room comprises a terrace, bathroom, free internet, flat-screen TV, and many others. All the major attractions, including the Milan cathedral, are within a radius of 1 mile with the accessibility of public transport and a shopping centre.
Accommodation-related details regarding this hotel are listed below:
The total number of rooms available inside NH Collection Milano: 274
Price per night for accommodation: USD 399-1099
Distance from the Destination (Milan Cathedral): Half a mile
5. Four Seasons Hotels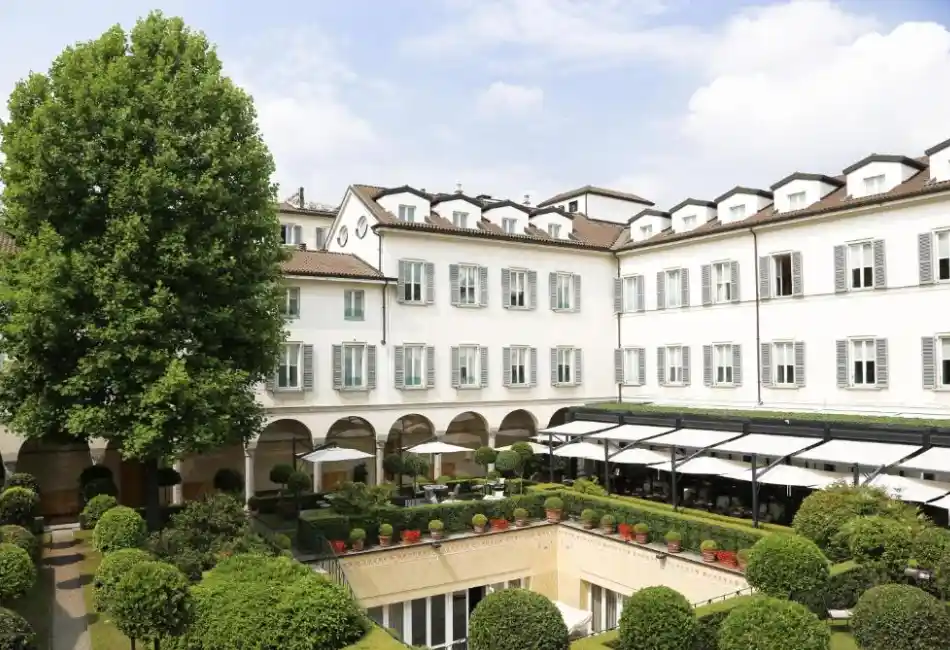 Another major 5-star accommodation available within a 2-mile radius is the Four Seasons Hotel. This luxury hotel is located in Via Gesu, which is just 2 miles away from the Cathedral Centre Milan. The Four Seasons Milan comprises 118 luxurious rooms, which can be classified into various categories, particularly the Family rooms, suites, and non-smoking rooms. Based on your budget and other preferences, you can find suitable accommodation inside this hotel. In all of the 118 rooms of this hotel, you will be provided with free internet connectivity, a minibar, flat-screen TV, a refrigerator, a safe deposit box, a fireplace, and many others.
More than 50 city attractions and 150 restaurants can be located inside the hotel. Nearby places for the tourist include Castello Sforzesco, Teatro alla Scala, Via Montenapoleone Fashion District, Pinacoteca di Brera, Galleria Vittorio Emanuele II, and many others.
Basic information you need to know before booking accommodation is listed below:
Total rooms available: 118
Accommodation prices: USD 1099-8999
Distance from the Milan Cathedral: Less than a mile
6. Galleria Vik Milano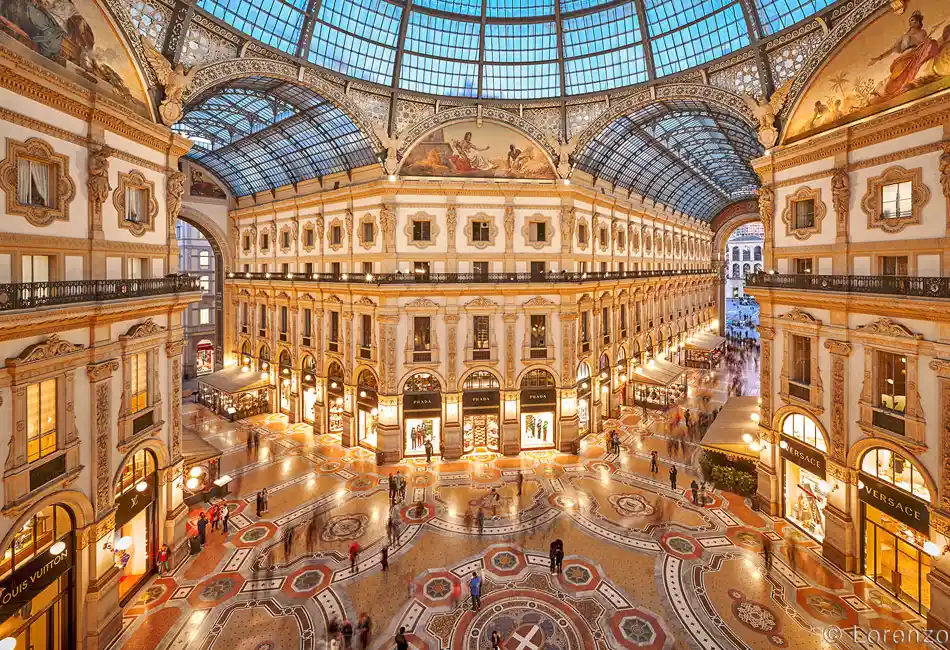 Located near the Galleria Vittorio Emanuele II, this 5-star is also the centre of the circle which comprises many tourist attractions within its radius. The Galleria is among the best places to stay near Milan Cathedral. From each and every room, you can enjoy an amazing view of the city. Although being a 5-star, the accommodation here can easily be afforded by any other.
For dining, you can find two restaurants which are:
Gatti Pizzeria
Vik Pellico Otto
Talking about the major amenities of this hotel, each and every visitor here can utilize the availability of free internet, baggage storage, concierge, meeting rooms, and many others. Every room of the Galleria Milano comprises of Hair dryer, bathrobes, bidet, minibar, etc. Also, for family stays, interconnected rooms are also available for accommodations. Mandatory details before booking any stay in this hotel are given below:
The total number of rooms inside this Galleria Vik Milano: 86
Price budget for accommodation in this hotel: USD 399-1199
Distance from the Milan Cathedral: 290 meters
7. Radisson Collection Palazzo Touring Club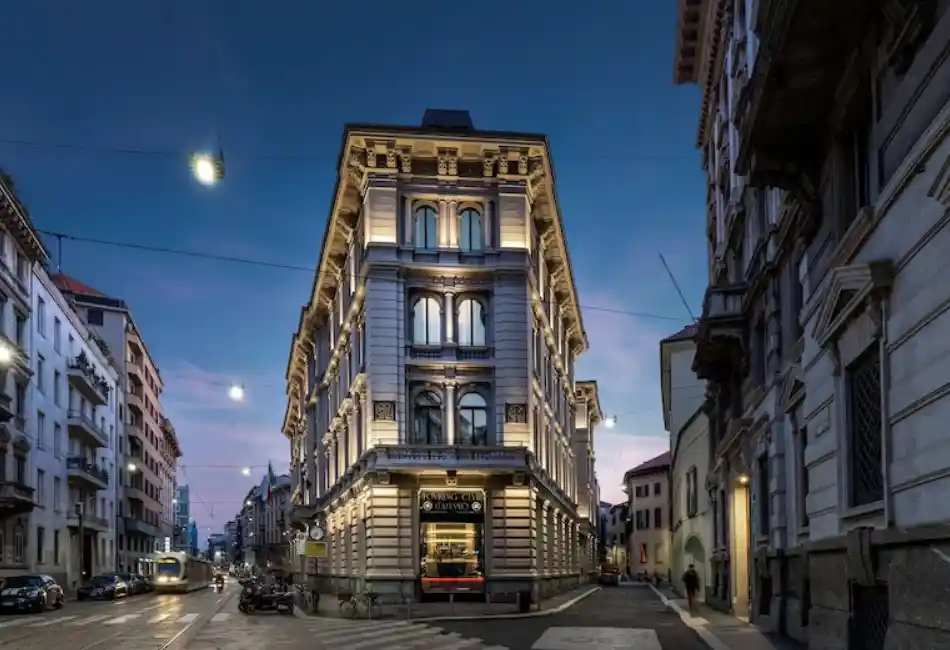 Last but not least on the list of 5-star Hotels near the Milan Cathedral is the Radisson Collection. The hotel comprises 89 rooms which are well suited to match the needs of any kind of traveller, be it leisure or business travellers. Located in the heart of Italy's Fashion capital, the Radisson Collection Palazzo is equidistant from various tourist attractions of Milan; to reach there will require a 5-minute walk only. Considering the number of business travellers, the hotel has well spacious meeting halls that can become a perfect spot for hosting scientific meetings or other social gatherings.
Nearby attraction includes some major cultural spot and landmark of the city, some of which are listed below:
Castello Sforzesco
Navigli
Montenapoleone
Cenacolo Vinciano (The Last Supper)
Teatro alla Scala
Porta Nuova District
Lake Como
Connect with Flight Aura
The first and foremost thing to look out for before planning any trip is the travel arrangement. The major travel route to reach the city of Milan is the air route for which different airlines provide a safe passage from the States to the city of Milan. However, considering the major priorities of the passengers, which are travel budget and a comfortable flight, they look out for various flights from different airlines. That can be hectic, which, in order to make it easy, requires a single platform where you can find the list of all the available flights from which you can decide the right one for you after comparing.
The Flight Aura is a platform that provides the details of all the available from one place to another.
All you need to do is to provide the following details on the home page search box:
Origin
Destination
Date of Travel
Type of seats
On an Ending note
In the above blog post, we have listed some of the best hotels near Milan Cathedral. Along with that, we have listed all the mandatory information related to accommodation, like the number of rooms, prices per night, and distance from the destination. That will be enough for you to decide which one to choose to make your stay in Milan memorable. Although some of the top hotels have been left out, the ones listed here fulfil all the parameters like budget, location, amenities, facilities, and many others. For further assistance or information, connect flight aura from the helpline number or the live chat option given below.
Matthew Baron is a seasoned travel consultant and writer, currently working with Flightaura to help travelers navigate the complexities of baggage policies, flight changes, and cancellation policies. With a deep understanding of the travel industry and a wealth of experience in travel planning, Matthew has become a trusted advisor to many travelers seeking to make the most of their trips.