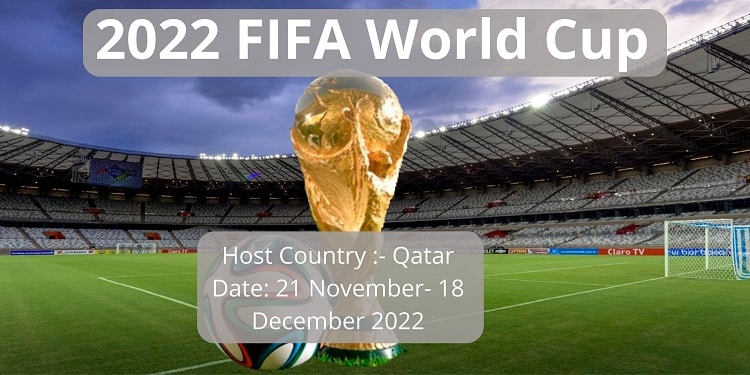 The world's most anticipated sporting spectacle is all set to bewilder its audience. The stage is set for the mega football event and the participating sporting nations are all in the fray. The world's most prestigious and widely-accepted football game is on. FIFA World Cup 2022. 
Such is the craze that almost half of the world's population is going to attend at least one of the matches. If like us, you also have cherished this long-awaited dream of watching the FIFA World Cup, then here is your chance. 
Let 2022 be that year when in the exotic country of Qatar, you get to fulfill that holy grail. In this blog, we are going to explain to you the various packages out of which you can choose the one that suits you the best. 
How long will the event be?
Given the extreme heat in the summer season in Qatar, the FIFA world cup 2022 is scheduled to be played in the winter to provide some relief to visitors and players.
The event is slated to begin on the 21st of November 2022 and will end on the 18th of December 2022. The quarter-finals will be played on Dec 9 and Dec 10, whereas the semi-finals would occur on Dec 13 and Dec 14. The finals would be played on the 18th of December 2022.

Why Book a Qatar World Cup Travel Package?
Having to visit Qatar during this most entertaining sporting event would be a once-in-a-lifetime opportunity. For the first time, an Arab country would be hosting a FIFA World Cup, surging the expectations at an all-time high. 
Booking a Travel Package will make sure that you enjoy the FIFA world cup as well as explore this breathtakingly beautiful city. Read on to know the Best Travel Packages for you in Qatar during the FIFA world cup 2022. 
2022 Qatar World Cup Travel Packages
A jolly good travel package for your Qatar World Cup would bring forth the following conveniences for you:
1.) Premium Accommodation– The first and foremost thing that any traveler looks for is a neat and pleasant stay. Booking a travel package during FIFA 2022 would mean that you would get to stay in the swankiest of places.
2.) Desert Safari– One of the most sought-after things in Qatar is the desert safari in the mesmerizing sands. Even if you are not an adventure freak, it is almost customary that you take part in a desert Safari while being in Qatar.
3.) FIFA World Cup– Even if you are not a FIFA fan, how can you ignore this multi-million dollar event while being in Qatar? With your tour package, it is a given that you will get to see at least one match.
4.) City Tour– The city is open to all who want to experience the taste of unique Arabic culture, dine off the most delectable Arabic cuisine and view the most picturesque locations. This City Tour would also invite die-hard FIFA fans to take part in a varied range of tours, activities and excursions.
5.) Scouting Doha in Shuttle– Right after you land in Qatar, your travel package will cover all the rides. From picking you up at the airport to reaching all the destinations easily, your travel agency will ensure that you make most of the time in Qatar.
6.) Metro Pass– Qatar has one of the world's cleanest metros. Through Metro, you will be able to reach the various tourist spots, hotel and stadiums hosting the matches. You will also have access to the luxurious Golf Club Car either at the end or beginning of each train.
How much does World Cup Qatar Package Cost?
The cost of the Qatar World Cup 2022 Package would depend on the services and facilities you choose. The prices can range anywhere between 9000 and 30000 dollars. Read on further to know about the prices of the packages in detail. 
All-inclusive Qatar World Cup Packages Services:
An all-inclusive travel package for Qatar World Cup 2022 would include the following features-
1.) Professional help for choosing an ideal tour package
2.) Lodging at a hotel of your choice
3.) Flight timings and specifications according to your needs
4.) Touring options and making arrangements for private travel
5.) Complete on-site assistance by the hosts
6.) Round-trips in and around the city 
Qatar World Cup Travel Packages – Travel Agencies
1.) Hospitality Packages- Hospitality Packages in FIFA World Cup Qatar 2022  guarantee world-class hospitality and provides fans from outside the country with to engage with the rich culture of Qatar. The starting cost of such packages is 950 US dollars. Learn about these hospitality packages by logging on to the official website of the FIFA world cup. 
2.) Qatar Airways- You can also make reservations at Qatar Airways to make the most of the FIFA 2022 Qatar World Cup. 
3.) Bucket List Events- A known name in the travel industry, Bucket List Events is a name to reckon with, proffering tailor-made packages according to the personal preferences of the traveler. This agency gives you the luxury of making the bookings in a hassle-free manner from anywhere, anytime. 
4.) Flight Aura- Flight Aura covers everything from flight bookings to accommodation to sightseeing to booking world cup matches. It also covers commuting in the city. Flight Aura is the only website that provides such cost-effective travel solutions. A renowned name in the travel industry has created its niche in the market. 
5.) Thomas Cook- Thomas Cook is another biggie when it comes to international trips. Committed to providing travel enthusiasts with the best travel experience in a foreign land, Thomas Cook is quite a reliable name.
How to book a Qatar World Cup Travel Package?
It is extremely simple to book a Qatar 2022 World Cup Package suited to your requirements. You might get confused as a first-timer as a number of options are available. Just follow these simple steps to book your world cup package in a hassle-free manner. 
1.) Select the package and the travel agency- Firstly, you should take your own time researching and selecting the package that will be best for a remarkable touring and sporting experience.
2.) Select the Hotels and Flights- Choose from a range of the flights and hotels according to a budget that suits your pocket. 
3.) Review the package one final time- After you have made all your choices, you need to check one last time in case you have missed anything. The important thing to remember here is you should be satisfied with the package you are choosing.
4.) Complete the Booking- Finally, you must update your card details and finish the payment. Voila! You have just understood how to book a Qatar World cup 2022 Package Online. With a host of multiple tour and travel companies, and their flexible packages, you can choose from them and create your own dream package for the Qatar 2022 World Cup Tour. Now, what are you waiting for? Plan your itinerary and get ready to make the most memorable trip of your life.
Conclusion
In this blog, we have tried to elaborate upon the various Qatar 2022 World Cup packages from which you can choose the one that suits your requirements. You must have also understood the ways which can be helpful for an unforgettable and memorable travel experience. So, why wait? Get on to picking the best travel package for you. 
Flightaura makes your travel experience a never-before phenomenon. You can book cost-effective travel packages and the cheapest accommodation with Flight Aura. So, feel free to contact us immediately and get your vacation going. Our team of quick and proficient agents will provide custom-made travel solutions designed to best meet your needs.
Do visit our website www.flightaura.com or send us a mail at info@flightaura.com Hurry! Offers limited.
Matthew Baron is a seasoned travel consultant and writer, currently working with Flightaura to help travelers navigate the complexities of baggage policies, flight changes, and cancellation policies. With a deep understanding of the travel industry and a wealth of experience in travel planning, Matthew has become a trusted advisor to many travelers seeking to make the most of their trips.