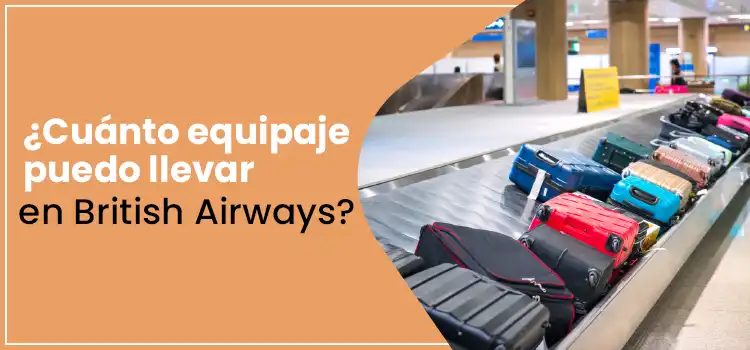 Si planifica viajar con British Airways pero no conoce su franquicia de equipaje. Entonces primero necesita conocer la política de equipaje de British airways y después podrá volar con su aerolínea favorita. Además, los pasajeros encontrarán problemas a la hora de facturar el equipaje. Por lo tanto, le recomendamos que disponga de la información necesaria y disfrute de su viaje.
Siga la política de equipajes de British airways
British Airways aplica una política clara y detallada en relación con el equipaje permitido en sus vuelos. Esto es aplicable tanto al equipaje de mano como al facturado.
1. British Airways' política de equipaje de mano:
En British Airways se permite llevar tamaño del equipaje de mano de british airways, una maleta de mano además de un artículo personal, como un bolsito de mano o una mochila. La franquicia máxima de equipaje de mano es de 56 cm x 45 cm x 25 cm (incluidas ruedas y asas). Por otra parte, el peso máximo permitido varía según la clase de viaje: 23 kg en clase económica y 32 kg en clase preferente o primera clase. Hay que tener en cuenta que estos límites pueden variar según el tipo de vuelo y la ruta, así que siempre es aconsejable comprobar la política actualizada antes de viajar.
2. Política de equipaje facturado de British Airways:
El equipaje facturado permitido en cuanto a tamaño y peso varía en dependencia de la clase de viaje. En general, las dimensiones máximas permitidas son 90 cm x 75 cm x 43 cm y el peso máximo oscila entre 23 kg y 32 kg, en función de la clase y la tarifa. Sin embargo, es importante saber que British Airways ha introducido cambios recientes en su política de equipaje, de modo que es aconsejable consultar la más actualizada en el sitio web de la aerolínea o contactar directamente con la aerolínea antes del vuelo.
3. Precio del equipaje adicional de British Airways:
Para llevar equipaje adicional al permitido, la compañía British Airways propone diferentes opciones y tarifas. Los precios varían en función del tamaño del equipaje de British airways, el peso y la ruta del vuelo. Esta aerolínea brinda la posibilidad de adquirir por adelantado franquicias de equipaje adicionales, lo cual puede suponer un coste más económico en lugar de pagar el exceso de equipaje en el aeropuerto.
Para consultar el precio del equipaje adicional de British Airways y las opciones disponibles, le aconsejamos que consulte directamente con British Airways.
Más información sobre la política de equipajes de British Airways:
Compruebe la política de equipaje actualizada de British Airways antes de su vuelo, pues los límites pueden cambiar.
No olvide pesar y medir su equipaje de cabina y facturado antes de dirigirse al aeropuerto para ahorrarse sorpresas desagradables.
Utiliza maletas resistentes y de buena duración para proteger tus pertenencias durante el viaje.
Marque siempre su equipaje con su nombre y domicilio para facilitar su identificación en caso de pérdida o extravío.
Piense en utilizar el servicio de seguimiento de equipajes que ofrece la aerolínea para tener un mayor control sobre sus pertenencias.
¿Cuántas maletas se pueden llevar sin facturar?
Generalmente, los pasajeros pueden llevar una maleta de mano sin facturar en la cabina del avión. No obstante, la política de equipajes puede variar según la aerolínea y el tipo de billete que haya adquirido.
Also Read: ¿Cómo Se Puede Hacer El Check-in Online de Vueling Airlines?
Conclusión
En conclusión, es esencial conocer la política de equipaje de British Airways con la que se vuela para evitar disgustos y costes adicionales. La política de British Airways es clara y está bien establecida en lo que respecta al tamaño y peso del equipaje de mano y facturado, y las opciones de equipaje adicional. Consulte siempre la información actualizada y siga los sencillos consejos antes mencionados para viajar con total tranquilidad.
Matthew Baron is a seasoned travel consultant and writer, currently working with Flightaura to help travelers navigate the complexities of baggage policies, flight changes, and cancellation policies. With a deep understanding of the travel industry and a wealth of experience in travel planning, Matthew has become a trusted advisor to many travelers seeking to make the most of their trips.