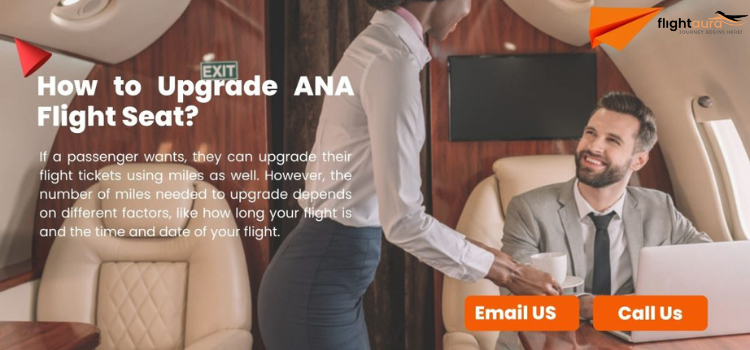 All Nippon Airways, or ANA, is considered one of the finest Airways. The airline is popular among travelers for the kind of facilities it provides. They have different classes for different types of passengers, like First, business, premium, and economy class. 
The Higher the class, the more advantages you get. Business class seats are luxurious with a lot of additional benefits, whereas Economy class is budget-friendly. A passenger can select any of them according to their comfort.
At times passengers want to switch or upgrade their travel class because of their comfort and budget. Keeping this point in mind, Airlines also allow you to change or upgrade your travel class just by following a few instructions. 
These instructions are available in the ANA Flight Policy. A passenger can be upgraded from economy class or premium class to business class very easily. Read out this blog to acquire knowledge on How to Upgrade your ANA Flight Seat?
Terms and Conditions for ANA Ticket Upgrade
There are a few important points you must take care of when trying to upgrade your ANA tickets to business class:
The passenger must be a member of the Mileage program.

Passengers can pay with a credit card, or they even have the option to redeem their earned points.

One can simply upgrade their seats to business class two days prior to the departure date.

You must have a flight ticket to upgrade.

A passenger who has an economy class ticket can't upgrade to business class directly. They first need to upgrade to Premium economy from economy and then business class.

Passengers can't use earned points for domestic flights, but only International ones.
How can you Upgrade All Nippon Airways Tickets?
The passengers traveling with ANA have a few options available to upgrade their seats to business class, which are mentioned below:
Buy an Upgrade to Business Class
You can buy another ticket for Business class and pay the additional fee. This process depends on the availability of seats, and anyone from premium economy or economy class can opt for the upgrading option. 
Note: The degradation of the first class to premium or economy is not available. 
ANA Upgrade with Miles
If a passenger wants, they can upgrade their flight tickets using miles as well. However, the number of miles needed to upgrade depends on different factors, like how long your flight is and the time and date of your flight. 
Below we have mentioned the number of miles required to upgrade to business class between Tokyo and Sydney:

ANA Airlines bid for an Upgrade
You can simply upgrade from Economy class to premium economy using a bid. If your bid is higher, you have more chances to ANA upgrade.
Who are eligible customers?
Look at the given list to learn about the Eligibility Criteria:
Passengers who have Economy class paid tickets.

Passengers whose Itineraries start in Japan, Europe, Canada, Malaysia, Thailand, Indonesia, the U.S., Singapore, or the Philippines.
Routes that are eligible for ANA upgrade
Passengers flying internationally, between  Japan and the U.S., Australia, Singapore, Thailand, Indonesia, Vietnam, Canada, Europe, and the Philippines, are eligible to upgrade their flights. 
Note 1: Japan domestic flights are included in this list.
Note 2: Minor passengers need to ask for their parent's or guardian permission to use the program. 
What are the steps to follow to use this service?
To Upgrade ANA Flight Seat using bid, you first need to check your email system. If there are specified domain reception options available, then set it up to get email easily from the "BidMyPrice@bid.ana.co.jp" email address.
Moreover, make sure that you are following the terms & conditions.
Stage 1: Get the Invitation email 
All eligible passengers will get an email at least seven days prior to the departure date of their flight. 
Stage 2: Create an Offer
To Create an offer, follow the procedure given below.
Check the bidding screen; you can find the eligible flights out of your complete itinerary. A gauge is connected to the bid prices of each flight. You can select the price range according to your budget from the option available.
Bids are allowed only in these currencies:
U.S. dollars

British pounds

Euros

Malaysian Ringgit

Vietnamesische Dong

Japanese yen

Canadian dollars

Thai baht

 Indonesian rupiah
The bidding stops 48 hours before your flight departure time. (2 days)
Stage 3: Fill in all the Payments details
Follow all the instructions available on your screen to register the payment details.

The payment will only be accepted if it is done using credit cards. The card credits that can be used are JCB, Diners, American Express, VISA, and MasterCard.
Note: You are not supposed to pay anything until your upgrade is confirmed. 
Stage 4: Upgrade Alert
Once your offer is successful, your tickets will be ungraded, and you will get an EMD Passenger receipt 24 hours before departure. 
In case different offers are made for the same flight; the airline accepts the offer in a bid price order.
However, suppose the offer is of the same bid price. In that case, the prioritization of the offer depends upon multiple factors like ANA Mileage Club customer status, order of ticketed booking class, or the time when the bid offer was submitted.
At times, upgrades may not be available due to the booking status of Premium Economy at the time of the offer deadline.
If the bid-offer is not successful
You will get the result of the bid-offer at least 24 hours before the departure time.

The payment deduction will be canceled in case your offer is unsuccessful.

Note: If the offer fails in such cases, you have to board Economy class only.
Upgrade ANA flight through the contact center 
If you want to make the process of upgrading to business class easier, you can simply call on the official number 1-833-714-2120  and ask the experts to assist you with the process. The experts will help you in the best way possible to upgrade your flight ticket.
Want to learn more? Email us your Queries at info@flightaura.com
Frequently Asked Questions
1. Can I upgrade my seat from economy to business?
ANA airlines have a policy according to which one can upgrade by only one level. So if you want to upgrade a business class ticket, you must have an original ticket of a grade below that, i.e., Premium economy. 
2. Can you upgrade seats after booking?
You can simply pay at the time you make your tickets and upgrade your ticket. Moreover, you have the option to do so at the time of check-in at the airport as well, but if you are doing so at the time of purchase of your ticket, you might get higher discounts. 
3. Is it possible to Upgrade ANA Flight Seats via Phone calls?
OffCourse, you can upgrade your Flight seats using the official contact center. Dial 1-833-714-2120, and get instant assistance.