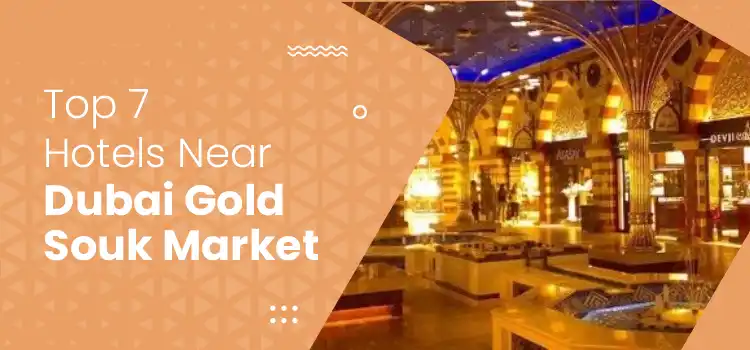 Located in the commercial district of Deira, the Gold Souk is the major traditional market in Dubai. The market comprises more than 350 majority of them are retailers. The fact of availability of unique jewellery, which visitors can find nowhere else in the world, makes this place a major tourist attraction for people around the world.  While some tourists occasionally visit this market, some holiday planner comes to Dubai especially to visit this place. However, they sometimes have difficulty finding the right accommodation spot which matches their preference or fulfils their criteria. Thus, for that, we are here going to discuss some of the best hotels near Dubai Gold Souk Market which can be suitable for accommodation.
List of Best Hotels Near Dubai Gold Souk Market
Here we are going to list some of the hotels close to Dubai Gold Souk market. From numerous options for accommodation available in the locality of Gold Souk, we have selected a few which fulfil all the requirement and matches some major criteria of the people like budget, availability of rooms, major facilities required accommodation, and many others. Not all of the best hotels are mentioned; some of them might have been left out. However, the ones that are mentioned here fit each and every criterion of the tourist and fulfil all the parameters to become the suitable choice for accommodation. Thus, check out the list of major places to stay near Dubai Gold Souk.
Dial Toll Free Number: +1-833-714-2120
Contact Our Travel Agent for Cheapest Travel Package to Dubai
1. Hyatt Place Dubai Baniyas Square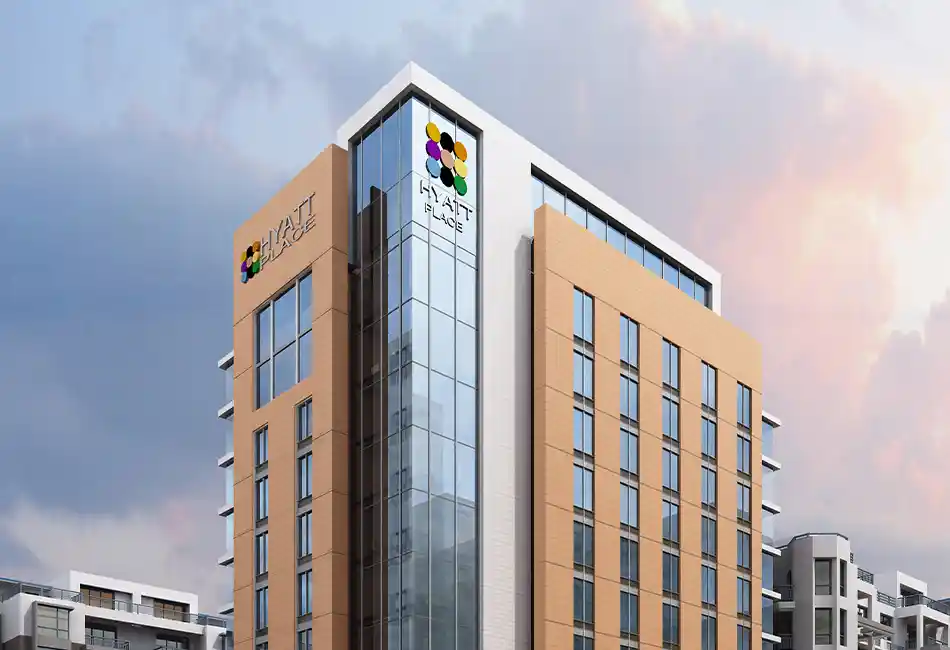 The first option among the list of best hotels near Dubai Gold Souk is this 4-star extension of Hyatt. Although not a top 5-star accommodation like other Hyatt Regency located in Dubai, this hotel fulfils all the major facilities. Some of them include Free Internet, fitness centres, an indoor pool, and many others. Along with that, each and every room in this 4-star hotel comprises a flat-screen TV, coffee/tea maker, working desk, and many others.  Not only the Gold Souk but major tourist destinations in the state of Dubai can be spotted near these hotels at walking distance. Major information which you need to know before booking accommodation in this hotel is listed below:
Total number of rooms: 127
Accommodation Prices: USD 49-999
Distance from the Gold Market Dubai: 800 meter
2. Riviera Hotel Dubai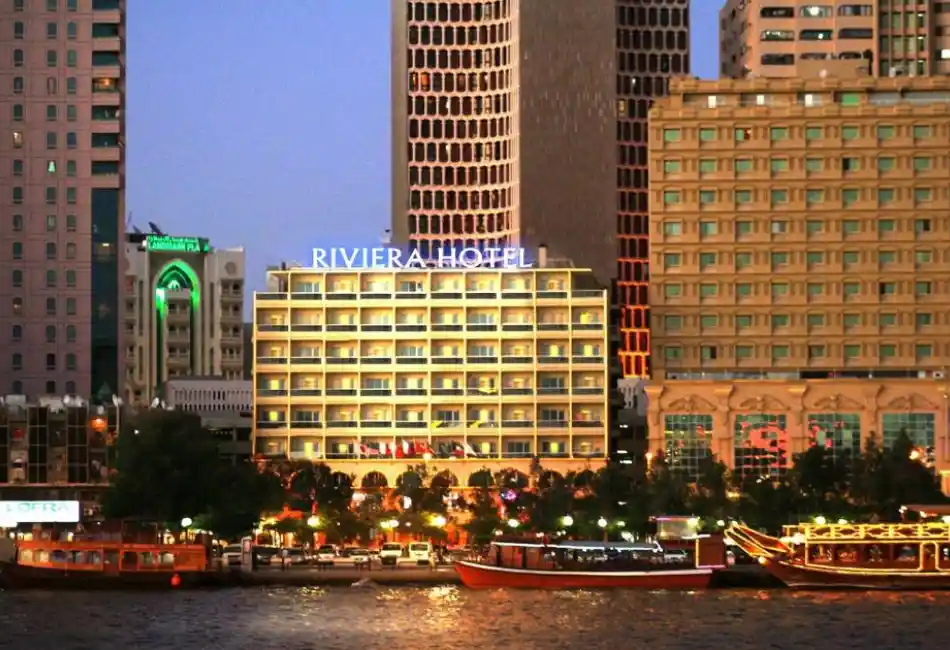 Another major 4-star Dubai Gold Souk nearest hotel is the Riviera. One major preference for choosing this as your accommodation spot is its location from where major other tourist attractions and public transport can be reached easily. Basic amenities available in this hotel include free Wi-Fi, laundry service, 24/7 room service, satellite TV, and many others. The Riviera Hotel comprises 2 major restaurants, which can be a perfect dining spot for you to enjoy a romantic evening or any peaceful family gathering. Other useful information regarding Reviera is listed below:
Total Number of Rooms: 109
Accommodation Budget to get a room in this hotel: USD 99-1299
Distance from the Gold Souk Market Dubai:  Half a mile
3. Carlton Hotel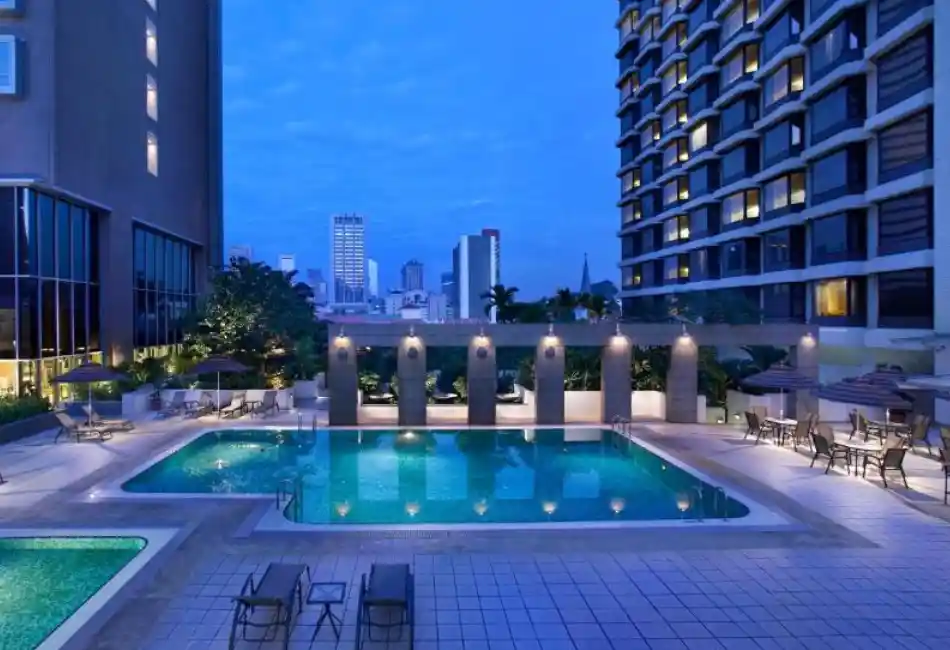 Also known as Carlton Al Barsha, this 4-star is present in the search for each and every visitor who has visited Dubai earlier. Various amenities you can find in this hotel includes free Wi-Fi, currency exchange, a hot tub in the bathroom, a 24-hour front desk, and facilities for airport transport. Along with that, you can find a fitness centre, swimming pool, shuttle service to major spots in Dubai, check-in/out of the shuttle, and many others. Another highlighting feature of this hotel is the availability of different rooms that people can prefer based on their budget. Accommodation-related details for this hotel are listed below:
Total number of rooms: 299
Accommodation prices: NA
Distance from the Souk Market: 7-8 miles
Inside each and every accommodation in this hotel, you can find a minibar, refrigerator, plasma TV, and full air conditioning. Along with that, you can locate major restaurants of Dubai inside this hotel which are Spice and Mezz, where you can enjoy Indian cuisines and Arab Delicacies.
4. Wyndham Dubai Deira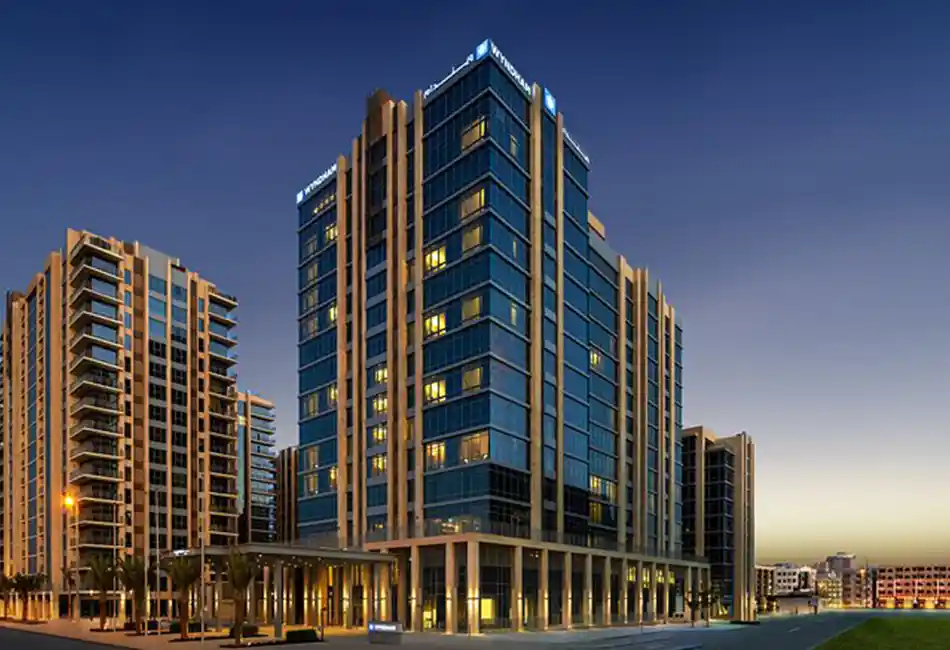 The Wyndham Dubai Deira is a 4-star hotel located within a 2-mile of the Gold Souk Market, Dubai. Along with the accommodation, the hotel is a perfect spot for organizing meetings and other major social gatherings. Be it a social event or a corporate meeting, anything can be easily organized in these six meeting halls, which are very spacious and can accommodate more than 500 people at once. Along with Gold Souk, major tourist attractions that can be located nearby to this one of the best hotels closest to the Dubai Gold Souk are:
Shindagha Heritage District
Al Sindagha Museum
Traditional Spice Market
Dubai Creek
The Wyndham Dubai Deira Hotel provides all the major amenities. Here, you can find free internet, a rooftop pool, a fitness centre, a relaxing spa treatment, sports lounge.
Major Information Regarding this Hotel Includes:
Accommodation space available in this hotel: 131 rooms
Budget range for staying in Wyndham Dubai Deira per night: USD 99-399
Distance from the Gold Souk Market: 1 mile
Based on the view that you can enjoy from any room, they are differentiated into different categories. Major restaurants you can find inside these hotels are:
The Spicery Restaurants
Pavilion Sports Lounge
Jade's Restaurant
Aqua Pool Bar
5. Montreal Naif Hotel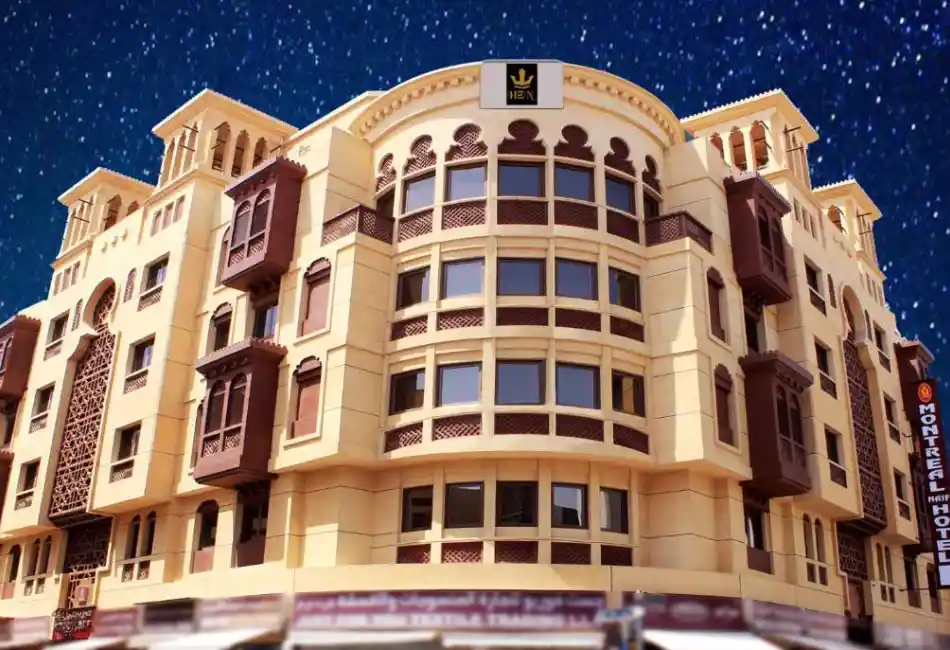 Located within a mile radius, the Montreal Naif is a major 4-star accommodation in Dubai that provide all the basic and mandatory amenities like free internet, spa, restaurants, 24/7 room service, front desk, and many others. Along with that, the hotel also provides babysitting facilities, which makes it a perfect spot for a new family. Other major tourist destination located nearby this hotel includes Al Ghurair Centre, Dubai Creek, and Grand Mosque. Dubai Mall, Al Maktoum Stadium, and the Dubai Tennis Stadium. Below, you can find some of the mandatory information regarding the Montreal Naif Hotel for making accommodations:
Total number of rooms: 90 rooms
Budget Range for per night stay: USD 399-449
Distance from the Market: 600 meters
Other Perks Which You can Get While Staying at Any Room Are:
Free Newspaper
Concierge Services
Luggage Storage
TV with free cable channels
Free Toiletries
6. Hyatt Regency Dubai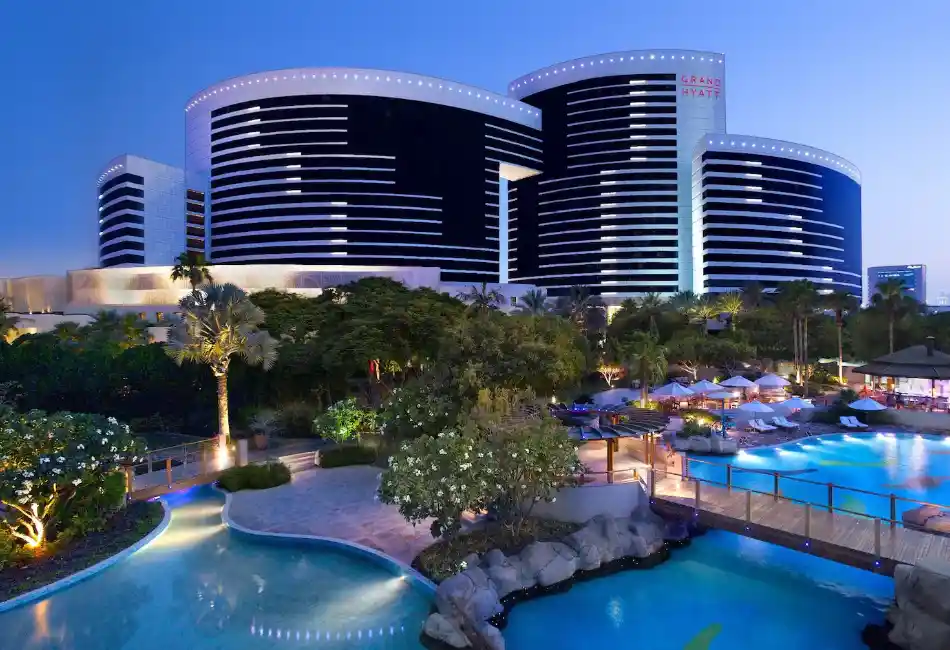 This 5-star accommodation present in Dubai is the perfect place to stay near the Dubai Gold Souk Market. Inside the hotel, you can find all the major amenities and facilities that are provided by any other 5-star hotel around the world. These facilities include free parking, internet, pool, fitness centre, kids stay free, and many others. Some of the major locations of Dubai are located nearby these hotels some of which include Wafi Mall, Dubai International Financial Centre, and Dubai Creek Heights. Public transport located within walking distance includes Dubai Healthcare metro station and the Dubai International Airport. Travel-related information regarding this is listed below:
Room available for accommodation: 421
The price range for all the rooms per night stay is USD 99-599
Distance from the Dubai Gold Market: 1 mile
Accommodation facilities that you can find in each room include air conditioning, a coffee/tea maker, flat-screen TV, allergy-free rooms, blackout curtains, additional bathrooms, and many others. Outside the hotel, you can locate up to 100 first-class restaurants and around 15 tourist attractions in Dubai.
7. Emirates Hotel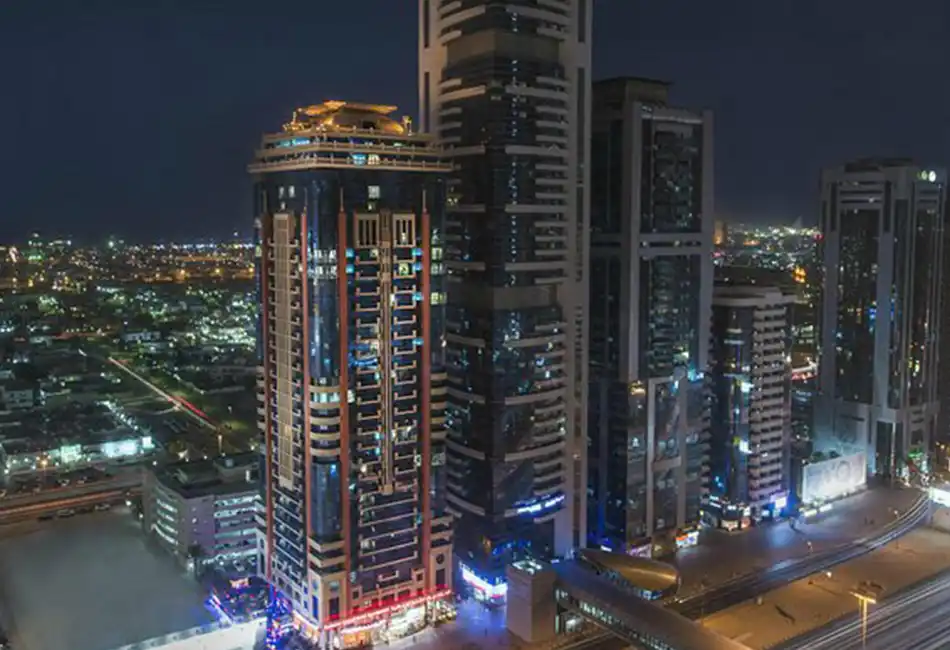 Another major Dubai Gold Souk Nearest Hotel that falls within the budget of the majority of travellers is the Emirates Hotel. The hotel is just  .3 miles away from the market that can be covered by any traveller without the requirement of any means of transport. Now, talking major facilities provided by this 5-star hotel includes free internet, valet parking, a swimming pool, a fitness centre, business rooms for conferences, and a spa. The hotel also provides babysitting facilities, along with a free shuttle and taxi service, which makes this place a perfect accommodation place for a family stay. Each room of the Emirates Hotel is allergy-free and comprises cable/satellite TV, a coffee/tea maker, a working desk, and blackout curtains. Below is some of useful information regarding Emirates Hotel:
The total number of rooms for accommodation:
Charges to stay one night: USD 99-499
Distance from the Gold Souk Market, Dubai: 7-8 mile
With all these facilities, the Emirates is the perfect place for accommodation. Here, you can find a peaceful stay and spend your holiday without any worry.
Connect with Flight Aura
Users, in case they have any trouble, can connect with Flight Aura, where we provide all the necessary information regarding accommodation and travel. In the blog section of flight aura, you can find the required information, particularly travel-related policies like baggage, check-in/check-out, name correction, or any kind of details. Through Flight Aura, you can easily make flight bookings where we list all the available flights from the state to Dubai of different airlines. Follow the given steps to make a travel reservation through Flight Aura:
On the official homepage of Flight Aura, you can find the section where you need to provide your travel details like:

Origin Station
Destination
Date of travel
Class Type
Fill out all these details, after which you can find the list of all available flights.
You need to create an account on Flight Aura or log in if you already have one.
Choose a suitable flight and confirm it by making the required payment.
Once your flight has been confirmed, you will receive notifications on your contact details.
On an Ending Note
We have listed all the best hotels near the Dubai Gold Souk Market, where you can make accommodations. Along with that, we have listed all the required details like accommodation, charges, distance from the market and other tourist attractions nearby. Now in case you require any further information, refer to the blog section where you can find all travel and accommodation details in order to plan a holiday in Dubai. In case of any direct assistance, you can connect with Flight Aura through the given option of calling and live chat. Through these services, you can connect with us instantly and can get immediate assistance.
Matthew Baron is a seasoned travel consultant and writer, currently working with Flightaura to help travelers navigate the complexities of baggage policies, flight changes, and cancellation policies. With a deep understanding of the travel industry and a wealth of experience in travel planning, Matthew has become a trusted advisor to many travelers seeking to make the most of their trips.