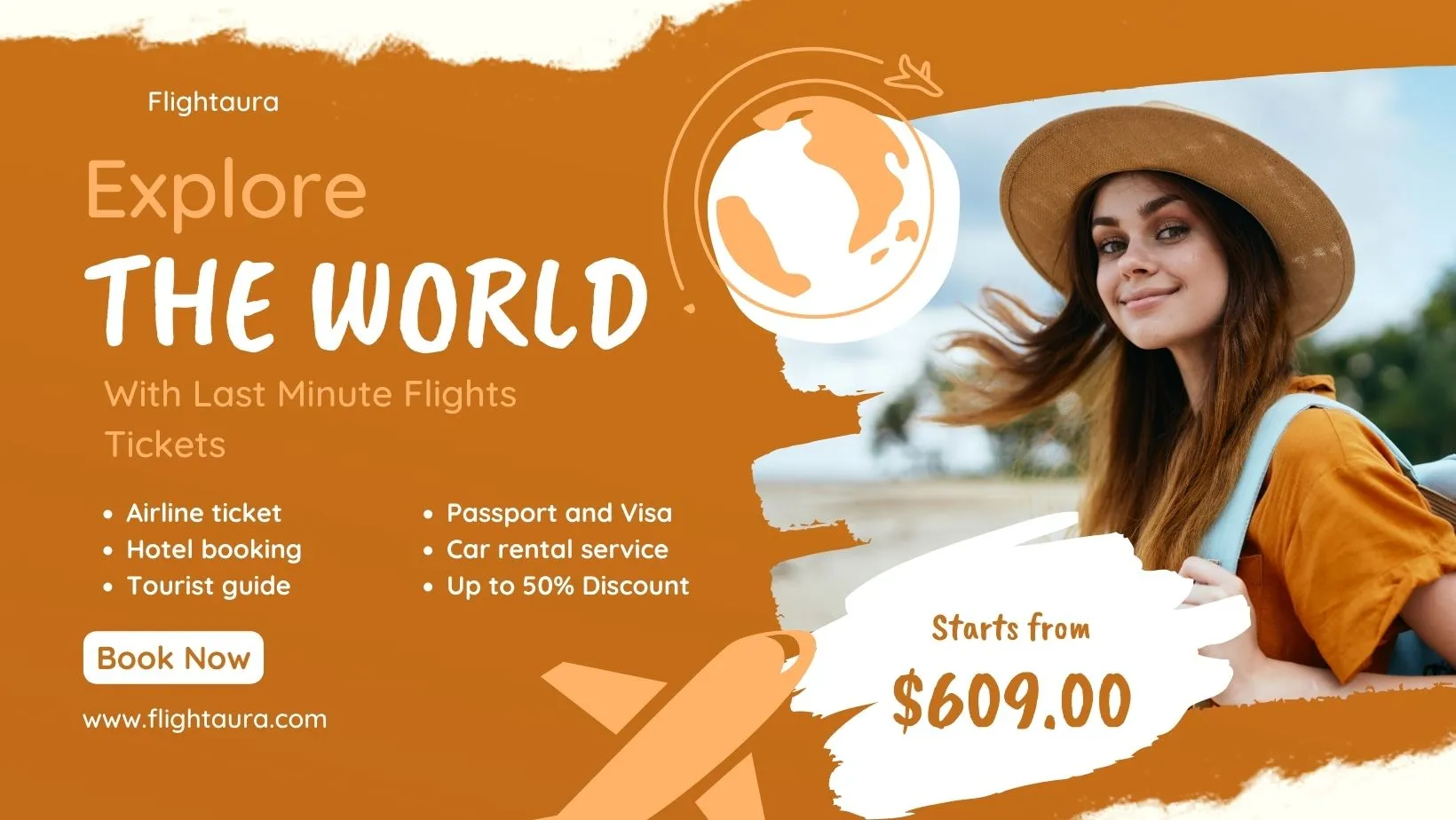 Get Cheap & Best Deals On Last Minute Flight Tickets
Are you someone who doesn't plan their trips and goes spontaneously? Then last-minute flight deals exist to save you from the hassle. 
Whether it's a business trip or a fun trip doesn't matter; You can book your flight at the cheapest rate with Flightaura for all international as well as domestic destinations. 
What do last Minute Flights mean?
All of us know that there is no specific duration to book a flight. One can grab the ticket a day before the departure or months prior to the date they desire to fly. 
However, Last minute flights include any flight booking that is made within 14 days before the departure date. In simple words flying within a few days of planning is defined as Last Minute Flights. 
There can be different reasons why people go on last-minute flights. Sometimes, it is because of the last-minute plan, whereas sometimes, it is an emergency. 
This booking is the only option available for people who don't have a proper plan for traveling. 
Is there any Ideal Time for Booking Your Last-Minute Flight Tickets?
You can book your last-minute tickets anytime within 14 days of the date of departure. However, prices vary according to your desired destinations; for a few locations, if you are booking your flight the week before departure, you may find a cheaper flight. Whereas in others, if you are doing the same, you may have to pay a bit extra. 
You can follow these instructions to grab Cheap last minute flights:
Don't be rigid about the flight Dates: Look for different dates, and book your flight on the date which is cheaper. 
Note: Check tickets for Wednesdays, Thursdays, and Fridays, as flight tickets are cheaper on weekdays.



Apply for the Price Alert: To grab the extremely cheap last-minute flight, set up the price alert option whenever you go to any site to check the price of the flight. It will help you by sending you a notification whenever the price of your flight decreases. 
Be flexible about flight timing as well: You may get a cheap flight that is really late or really early, so don't be rigid about the timing.
Call the Airlines to know about offers and discounts: You can even call the airline toll-free number and ask for the discounts and deals they are providing.
Book your Flight using miles: If you are someone who has a collection of air miles, you can definitely use them to book your flight. However, before going further with the booking, check if you can use these miles for the airline or the location you are traveling, as there are a few locations or airways that don't allow miles to use for purchasing a ticket.
Choose a less popular location: And lastly, if it is a fun trip, choose a location that is not so popular and among the people, as you can get your preferred flight at your preferred price. 
Choose Budget Airlines to Travel: Another way that you can opt to grab a great last-minute flight deal is by choosing a budget airline. 
Note: Try to avoid additional airline facilities.
Do airlines actually have cheap deals on last-minute flights?
To grab the cheapest deals, it is always recommended to purchase your flight ticket in advance, i.e., at least 3 months before your preferred date. 
But airways have some special discounts for passengers who are looking to book last-minute flights if they have empty seats. This happens because many passengers cancel their tickets due to some personal issues or losing interest. 
In such situations, these airways knew that they would not have any profit while flying with vacant seats. Thus, they open booking for those seats at an affordable rate to fill it up.
Note: If you want to travel at a cheap rate, then be flexible about the dates, and keep an eye on the airline's price rate. 
How late can I book my Last minute flight?
Every airline has its own rule for cheap last-minute tickets. However, generally one can purchase a flight ticket two hours before the time of departure of the flight.
What are the chances of grabbing a discount on last minute flight?
The chances of garbing a cheap last-minute flight deal are very handy; you just need to take care of a few things. Keep your eye on the airline's rate, and wait for the airlines to announce the discount offers. 
As soon as travelers cancel a flight, the airlines will open bookings for those seats at low rates so that they will not fly with a vacant seat. 
How do I book a Last Minute Flight?
Since almost all the airlines offer last-minute flights, there are no hard rules that you are supposed to follow when you decide to travel to your preferred location. 
But where to go to find the best deals? Look no further than flighataura.com. You can go to our website's flight section and enter your preferred destination. 
Along with that, fill in all the required information about your journey and the route, and then compare all the available options. Click for the one that suits your travel date and budget. 
Apart from this, if you are someone who is planning a spontaneous International trip, then check out the low-fare calendar to find the cheapest last-minute deals. 
We also have various discounts and offers every other day that you can grab by regularly visiting our website. So, just go through the website to get your ideal last-minute flight deal. 
Final Words!
A lot of people like you pick up their bags and make sudden travel plans, so to help those people, almost all the airways have this last-minute flight offer. 
For more information, come to Flightaura and enter the destination and date you prefer to travel and let us take care of the rest of your flying experience. 
We will offer you the lowest rate possible on your last-minute flight, no matter if it is a last-minute business class flight or economy class flight.
Matthew Baron is a seasoned travel consultant and writer, currently working with Flightaura to help travelers navigate the complexities of baggage policies, flight changes, and cancellation policies. With a deep understanding of the travel industry and a wealth of experience in travel planning, Matthew has become a trusted advisor to many travelers seeking to make the most of their trips.