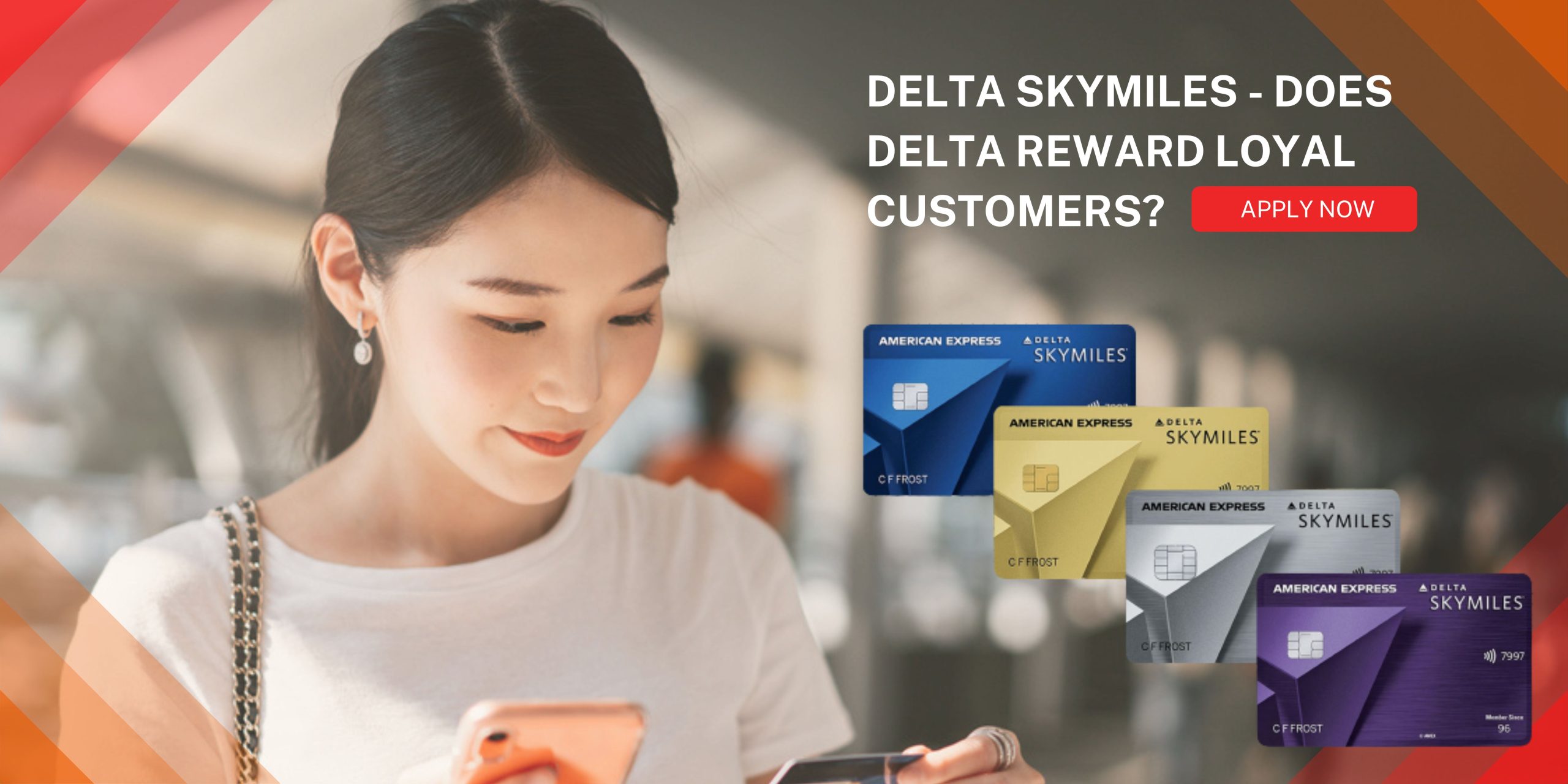 Delta SkyMiles – Does Delta Reward Loyal Customers?
You must live under a rock if you have yet to learn about Skymiles. SkyMiles is a frequent-flyer program brought to you by Delta Airlines. It provides points to its customers traveling on the most fare types, and the consumers who use Delta co-branded credit cards, which offer free rewards such as airline tickets and business and the first -class upgrades, as well as it's luxury products. 
Does Delta Rewards Their Loyal Customers?
Yes, it does. Delta SkyMiles offers many advantages on your next flight, including checked baggage, seat upgrade, and more. You only have to earn your SkyMiles Point and then redeem it. 
Best Ways to Earn Delta SkyMiles Points
Delta SkyMiles are quite easy to acquire. This section will show you ways to earn SkyMiles and increase your balance, including flying on Delta and its partners, spending on travel rewards credit cards, moving miles from other programs, and many more.
1. Earn Miles Via Flying 
The most straightforward way to earn miles is by flying, which may seem self-explanatory. But, the number of miles earned highly depends on multiple factors, and passengers will miles differently on Delta and its partner flights.
While flying on Delta-operated flights, you earn SkyMiles based on your Ticket's base price. And passengers with elite status can earn up to 5 miles per dollar spent on the Airfae, not including any taxes and additional fees.
2. Get Miles While Flying With Airline Partners
While earning miles on Delta's Partner Airlines, things can get messy. These flights can earn miles differently from the ones managed by Delta. The simplest example is that the flights booked on Delta ticket stock happen when passengers book them on Delta.com. Even though the flight is operated by another airline, it is marketed and managed by Delta. Meaning you will earn miles the same way as the standard Delta Flight.
3. Earn SkyMiles With Your Credit Cards
The easiest way to earn many Delta SkyMiles is via cobranded credit cards, welcome bonuses, and everyday spending. American Express currently issues seven Delta credit cards, including four personal and three business cards.Each of these cards will have a different suite of perks & benefits. Some of this market is toward the persistent passenger or flyer, and others are more suited for the everyday customers who want the occasional free Delta flight.
4. Transfer Your Points  
If the passenger needs SkyMiles instantly or does not want to add another credit card to their wallet, they may be able to transfer their SkyMiles from one way to another reward program. Delta Partners with the American Express Membership Rewards and the Marriott Bonvoy to make it easy to top off the award whenever the passenger wants to. 
5. Earn SkyMiles Points While Eating 
The Delta SkyMiles Dinning Program is the perfect way for passengers to earn extra miles when dining out. All you have to do is sign up for an account, link your credit account, and dine at a participating restaurant, cafe, or bar. So, whenever you swipe your registered card at these establishments, you will earn extra SkyMiles. It is an extension of the miles you formerly earn with your credit card.
How to Redeem Delta SkyMiles to its Maximum Value?
As expected, passengers can redeem their Delta SkyMiles for Delta and its Delta Connection, Delta Shuttle. However, Delta removed its awards charts at the beginning of 2015. In short, the passengers have to search for the award on Delta's main website, or they can call customer service, especially when Delta runs out of its regular award sales. 
1. Use Your Miles to Fly on Partners
Delta Airlines is an element of the SkyTeam Alliance. So, Passengers can use their Delta Miles to fly on Delta's alliance and its other partners such as Air France, China Eastern, Air Tahiti Nui, and Korean Air.
2. Utilize Your Miles to Fly Delta
There are better options in this world, but one of the best uses of your There domestically is with Delta anytime and anywhere. This benefit may be useful if you live at or near the Delta hub or the focus city.
If you are one of the eligible American Express Delta Cardholders, you can either pay for your Ticket directly with SkyMiles or use Delta's Pay with Miles Feature. With Pay with Miles, you can cut down the cost of the Ticket by $50 for 5,000 miles and $100 for 10,000 miles, and many more. 
Other than that, Delta has also added advantages to most of its co-partnered credit cards called the TakeOff15, which gets you a 15% discount on the award flight prices when you use the miles to book the Delta itinerary. 
Advantages of the Delta SkyMiles Program 
1. Elite Loyalty Advantages
Delta Airlines has four elite medallion levels: silver, Gold, platinum, and diamond. Each level offers multiple benefits, and for the casual passenger, the benefits are:
Unlimited Upgrades – If you have no vouchers to use or any miles to apply. Then you can upgrade your seat from economy to first class if there's any seat available and if you are an elite member. Furthermore, all tickets except for the E fares are eligible for upgrades.

Bonus Miles – Non-elite members can earn 5 miles present on the Delta Flights. Once you become Elite, your advantages will increase. Silver & Gold medallion members can earn up to 7 miles per $1; Gold members earn 8, and platinum members can earn 9. Diamond members can earn up to 11 miles for every $1 spent on Delta flights.

Baggage Fee Waiver – If you are an elite member, you are entitled to pay a baggage fee and will get a nice bump in your baggage allowance. All the elite members are permitted 70 pounds per bag instead of the usual 50. The silver members will get their 70 pounds bag for free; the Gold members will get two bags, and platinum and diamond members will get three bags each.
2. Earn & Redeem with Partners
Delta has over 26 partners that you can easily redeem your miles with. Of those 26 partners, 21 can be booked directly on Delta's main website. Besides Sky Member Airlines, Delta has forged relationships with Air Tahiti Nui, WestJet, Virgin Atlantic, Virgin Australia, Mandarin Airlines, Shanghai Airlines, GOL, and Hawaiian Airlines. When combined, these partners offer over 1000 destinations that you can explore.
3. Free Modifications on Almost All of Your Dometic Tickets
Delta Airlines does not impose any modifications fee on domestic tickets, except for the basic economy fares. But, passengers still have to pay the difference only if the new fare exceeds the original. But this policy provides terrific flexibility for passengers who like or need to change their change. 
4. Periodic Sales For Delta Flights
Delta Airlines frequently provides discounted award tickets for their flights starting from the lowest 2500 miles. The most common sales are; Web specials & flash sales, and finding a cross-country flight for only 6,500 miles each way is common.
5. Earn SkyMiles With Credit Cards
Delta provides both business and personal credit cards with varying bonus offers. The Passengers will earn double miles on all Delta purchases and at least 1 mile on all eligible purchases. With the help of Delta SkyMiles Gold Business American Express card, passengers can earn 2 miles on every dollar spent on eligible U.S. purchases formed straightway with Delta on every dollar spent on eligible U.S. shipping purchases. And, on every dollar you spend at the restaurants, you can earn every 1 mile on every eligible dollar spent on the other purchase. 
6. Additional Loyalty Benefits
Delta Airlines has four elite Medallion levels; Gold, Silver, Platinium, and Diamond. Each one of these levels provides passengers with increasing offers. And for casual travelers, the three most exciting elite benefits are:
Unlimited Upgrades

Bonus Within Each Miles Tier

Luggage Allowance Waiver
7. Clear Membership Discounts
Clar is a helpful time-saver that has made many of the main airports in the United States. They use advanced biometric data, allowing you to keep your ID in your wallet and breeze through the security lane. The queue is hypothetical; passengers can bypass security verification lines to expedite their TSA screening.
As the general SkyMiles member with no elite status, Delta provides a discounted membership of $119 per year. And, if you have a Delta Credit Card, the cost is reduced to at least $109 each year. The same pricing applies to the silver, Gold, and Platinium Medallion Members. The usual $189 fee will be waived entirely if you become a Diamond Medallion member.
You need to note that Delta will cut down these discounts at the beginning of February 2023, with the entrance level members paying $179, only the $10 off the actual clear price. And the members at the second discount tier pay $149 and a $40 discount, and the top-tier elites will not notice any changes. 
Concluding Thoughts
Delta Airlines has proven itself from time to time to be the finest airline to fly during the Coronavirus pandemic. It also provides its passengers with a superior flight experience alongside transparent fees. If you are one of those passengers living near the Delta hub, joining SkyMiles can make your next flight experience more enjoyable. 
If you're facing any issues with your Delta SkyMiles membership or need assistance with booking a flight using your miles, visit the Flightaura website for expert guidance and support. Alternatively, you can also call their toll-free number for immediate assistance +1-833-714-2120 from their experienced customer service team. Don't let any hurdles come in the way of enjoying the benefits of your Delta SkyMiles membership!
Matthew Baron is a seasoned travel consultant and writer, currently working with Flightaura to help travelers navigate the complexities of baggage policies, flight changes, and cancellation policies. With a deep understanding of the travel industry and a wealth of experience in travel planning, Matthew has become a trusted advisor to many travelers seeking to make the most of their trips.