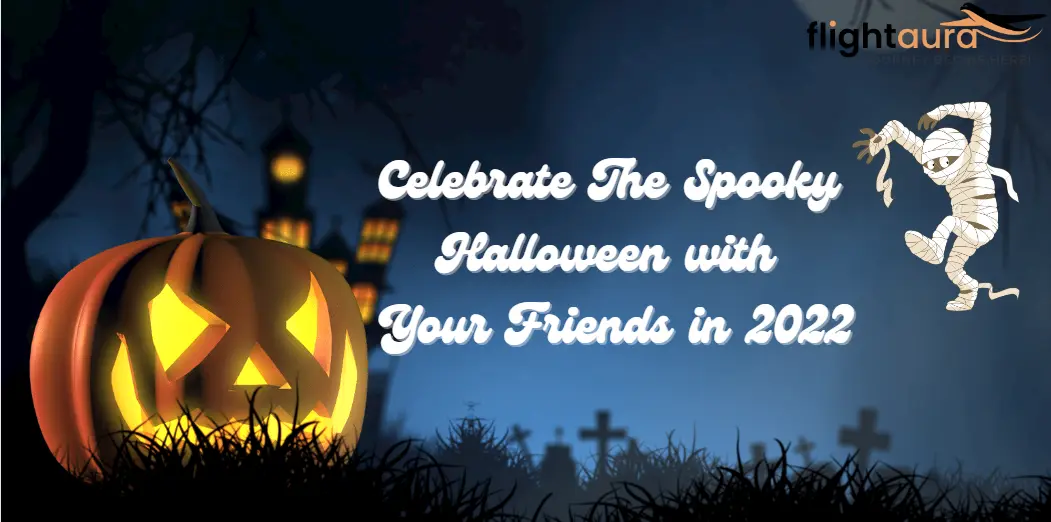 It's time to show up in your devil Avatar dressed like a demon that no one ever imagined. Carve out the pumpkins and make a creepy-smile-faced lantern out of it. Take a walk with that pumpkin in your hand and embellish yourself like an evil as Halloween 2022 is here.
And don't forget to have candies and gifts in your house as small children will come to your houses dressed up like a Deadly Dracula or a Vicious Vampire.
Halloween 2022 is approaching, which will be commemorated on October 31st on Monday. It is the day that sprays the eerie shade of darkness over the whole place, and it is celebrated to remember the departed souls. 
It is believed that Halloween has its roots derived from Christian history and religion. The term 'Halloween' comes from "All Hallows' eve," which is the previous night of the day termed "All saints day."
All Christians believe both that holy day, i.e., (All Hallows' day and All Saints day) in the memory of the saints of the Churches, whether they are known or not known.

History of the Haunted Halloween
Here is the most fascinating historical depiction of Halloween you have ever heard. Many stories related to Halloween are there in society, so to know them in real life, we have to go back in time to know why Halloween is so admired as a festival.

Samhain relevance– One of the most relevant legends behind the celebration of Halloween is Samhain. The people known as Celtic (current people of Ireland and England) celebrate the event of Samhain during All Hallows Eve. On this occasion, they light huge bonfires through which they make their connection with the dead. They thought that at this time of the year, the veil between the dead and living became so thin that a connection could be maintained between both sides.

Spiritual aspect– Celts believed that after making a connection with the dead, they had the power to predict the upcoming events or future so that they knew what would happen and prepared for that. Everyone visited the bonfire site wearing the outfits of animal look made up of their skin and made the sacrifice of food, crops, and animals for the dead.

Roman origin– After the Celtic Romans arrived, they had their festival, which they celebrated called Feralia, which they used to honor the dead souls. A festival named Pomona happened under which The Roman Goddess of trees and fruits was worshiped, which is why people use apples at the time of Halloween.

Christian emergence– A few years after Roman, some Christian Popes tried to replace Halloween with All Saints Day. On that day, they tried to honor all the saints, but later on, it was celebrated a day later than Halloween.

Association of Halloween with Bats– Whenever Halloween comes, the name of bats comes above as they have a relation. When the bonfires were lit during the Samhain festival, they attracted several bugs, which attracted bats as they came near the fire to eat the bugs. According to the legend, it is believed that when a bat settles down in a house at the roof, then the man of that particular house will die soon, and if the bat flies continuously over the house, then the woman of that house will die. Due to this reason, Bats are related to danger and disaster, and it is not good when a bat comes near your house.
Is there a national holiday on Halloween?
Though Halloween is celebrated all over the place with great energy and excitement, there is no national holiday on Halloween. In contrast, all the organizations or offices have a cool and vibrant environment that day during normal working hours they have.

Given are the facts related to Halloween, which are fascinating as well.
The popular White House of America is decorated as a Haunted place on Halloween.
Trick or treat (People give candies to the children who come to everyone's house by dressing like a ghost on Halloween) was a ritual that comes out of another ritual called Souling. In Souling, children go and beg for food or money for offerings to the dead.
In some places, the night before Halloween is termed as Mischievous Night. Forming Jack-o-lanterns out of a pumpkin is related to the ancient legend of the Irish, Stingy Jack.
The candy sales doubled at the time of Halloween as skittles remain the top candy in America, and everyone buys it to give to the children coming home on the scary day of Halloween.
Halloween Phobia is called "Samhainophobia," which has a literal meaning translated as fear of the Halloween event.
Rituals performed on the day of scary Halloween

.
In old times, people of mainly England and Ireland followed the ritual of sacrifice in which they connected with God by means of fire and then offered food, crops, and animals to the dead to get their blessing.
They visit all over the place wearing Spooky costumes and following the ritual of trick and treat.
Firstly, Halloween was only celebrated by the people of the Southern Colonies of America.
They celebrate the start of the Harvest season, try to predict the future of everyone available there, and narrate scary stories of the haunting events that had happened to anyone. It is called "play parties."
On this eerie event, several other events will take place, just like women performing some ritual hoping to find an ideal husband for themselves.
They used to put apple peels on their shoulders, and when it fell, they looked for the peels and initials on that peel. The initials that appeared on the peel are believed to indicate the initials of the future husbands.
There is also an apple-eating competition being performed, and people believe that the woman who eats the apple first will get married first.
On the other hand, all the women performed the scariest ritual in which they stood in the dark room with a candle in their hand in front of the mirror and believed that their future husband's image would appear.
As time passes, people walk on the path to perform other rituals like having parties, roaming, wearing spooky costumes, and conducting some games and social gatherings.
In the 1950s, trick or treat came into the picture, and people bought candies and chocolates, which they distributed among the children who came to their houses to wish for Halloween, appearing like ghosts and evil.
Read also Similar Kind Stuff Things to Know Before Traveling to the USA
What can be done on the night of Halloween?
If you are with your friends, then there is no chance that you are getting bored, but if so, do the following things.
Watch a scary movie and make the night darker

Held out a competition of carving the pumpkin to make a scary face.

A fancy dress competition is a perfect fit for this day.

Play the music playlist having a theme of Halloween.

Prepare dinner for leisure time with your family or friends.
Make it a thrilling night by including the Hocus Pocus game on your to-do Halloween list. Get aware of the instructions and play with your friends.
Swap some of the horror stories or incidents with you.
Play trick and treat with your party mates. If a slip comes out saying a trick, then the individual needs to perform some of the tasks, and if a treat comes, they can get candy or a gift hamper.
Summing up
Be ready to witness the darker night of all time, as Halloween 2022 is coming up on October 31st. Prepare your costumes for becoming a Bloody Dracula or a demon who can get the soul out of anyone. 
Decorate your house like a spooky mansion and host a party welcoming all the ghosts roaming that night. If you can't find a means to reach your destination for a Halloween party, then book a last-minute flight to anywhere with flightaura.
Matthew Baron is a seasoned travel consultant and writer, currently working with Flightaura to help travelers navigate the complexities of baggage policies, flight changes, and cancellation policies. With a deep understanding of the travel industry and a wealth of experience in travel planning, Matthew has become a trusted advisor to many travelers seeking to make the most of their trips.