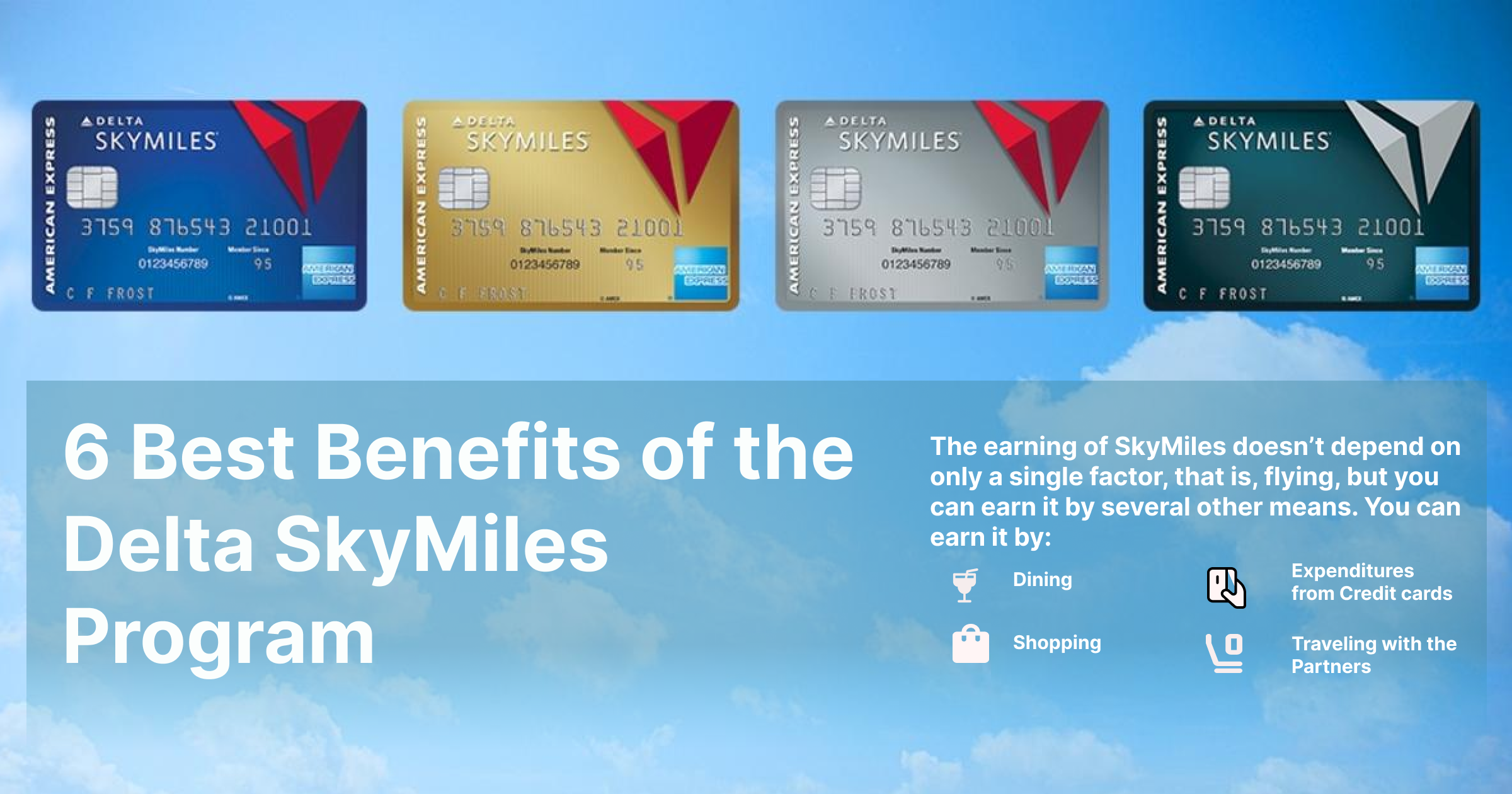 Traveling with some specific airlines will not only make you a loyal user of that airline, but they also offer some credit points in return. These credit points in Delta Airlines are called SkyMiles, and the program that runs based on those points is regarded as Delta SkyMiles Program. 
So to know it better, especially the benefits of these SkyMiles points, you need to go through this write-up completely. Don't skip any point; whoever knows you might miss the very crucially advantageous point for all of you. 
Before jumping on the Delta SkyMiles Program's Benefits, let's visit off-road and understand the meaning of SkyMiles. And how it plays a major role in Delta Airlines.
The Delta SkyMiles Program and its Benefits
Delta SkyMiles program is the loyalty function of Delta Airlines. In other words, people receive some credit points while they travel every time on Delta Airlines. 
These points in every airline have different names, but in the case of Delta Airlines, it is called SkyMiles or Miles credit points. It is really easy and free to earn SkyMiles and instead of traveling, many other paths are there as well to attain the SkyMiles point. 
How Does Delta SkyMiles Play a Significant Role?
It is not only the name of the Loyalty Program of Delta Airlines, but it also acts as another weapon that is useful enough because it is regarded as the currency. You can use these SkyMiles Points as money and redeem them to pay for the flight booking with Delta Airlines and their partners. 
Moreover, you can also use it after converting to pay for some of the selected hotel stays, at restaurants, and at many other multifunctional services provider locus. 
The earning of SkyMiles doesn't depend on only a single factor, that is, flying, but you can earn it by several other means. You can earn it by: 
Making expenditures from Credit cards (as it offers several co-branded cards for its regular customers).

Traveling with the partners of Delta Airlines.

Dining and shopping with some of the programs associated with Delta Airlines.
Note: If you didn't use your SkyMiles credit point within a long time, there is no need to stress as they didn't expire.
There is much more than earning SkyMiles points or redeeming them. So, to know exactly the prime benefits of SkyMiles, scroll down and look at the explained points. 
Benefits of the Delta SkyMiles Program
1. SkyMiles points Never Get Lapse
Until the closing of the account, if you are a member of the SkyMiles program, then be chill, as your SkyMiles credit points never expire. You can use those points at any moment in your life, and they remain as it gets collected in your account. 
In contrast, some other airlines keep the users busy by running several engaging and exciting events or activities to keep the account dynamic so that the credit points remain unscathed. 
In addition, if you are not using your account to redeem the credit points for buying tickets or any advantages, you may lose the grip of your hand on the credit points. But in Delta Airlines, nothing identical doesn't happen at all. The miles you earn will be safe and secure in your account, and no possibility can even diminish the count of the credit point in your account. 
It gives you hope and a sense of courage to save or stack up the credit points in your account for bigger instances where you can have a worthy reward. It also frees you from the fear of losing the Miles point without taking advantage of it. 
2. Have free alteration on all of your Domestic Reservation
Having a domestic flight ticket from Delta Airlines? Then you have butter on both sides of your bread. You don't have to pay any fee when you strive to change your flight itinerary. But while having the normal economy ticket, you have to pay the fee and fare difference if any arise. 
But apart from this incident, SkyMiles offers the facility and perks that are no less than an exciting offer for travelers. It also enhances the flexibility parameter for users who like to change their plans suddenly. 
3. Earn SkyMiles Easily and Conveniently with Credit Cards
Delta Airlines had tied up with too many corporations as it offers both credit and personal cards with fluctuating bonus offers. Using those cards, you can obtain double credit points on all Delta purchases minimally and one credit point on every purchase you make outside of Delta Airlines. 
All the cards that Delta Airlines provides to its customers are as follows: 
Delta SkyMiles® Blue American Express Card.

Delta SkyMiles® Gold American Express Card.

Delta SkyMiles® Platinum American Express Card.

Delta SkyMiles® Platinum Business American Express Card.

Delta SkyMiles® Reserve American Express Card.
With these cards, you can make your account of the Credit points loaded with SkyMiles points, as you can earn miles on every dollar you make on any eligible purchases. 
4. Acquire Miles and then Redeem with Partners
Clearly, everyone knows how to earn SkyMiles points while you are with Delta Airlines. You can also redeem those SkyMiles points while taking any services from all 26 partners of Delta Airlines. Out of those 26 partners, 21 are those whose services you can take directly from the official website of Delta Airlines. 
Now, Delta Airlines has broken its relationship with WestJet, Virgin Atlantic, Shanghai Airlines, Mandarin Airlines, Virgin Australia, Air Tahiti Nui, and Hawaiian Airlines. But they keep their relationship intact with all the SkyTeam member airlines. 
All of these airlines collectively offered destinations to roam that are more than 1,000 where you can go and wander freely.
5. Persistent Sales for Delta flights Reservation
Delta Airlines organize many things to bring people's excitement outward with the purpose that they spend their miles to benefit from those points. Delta announces their flight tickets at a discounted price that starts from a minimal price, i.e., 2500 miles. Exciting deals, web specials, and flash sales are normal, but when you find the International flights of Delta Airlines for the price of 6500 miles, only then is it like a shock wave. 
6. Profit of the Elite Status Loyalty
In Delta Airlines, every member has four different medallion levels: Silver, Gold, Platinum, and Diamond. The number of benefits you receive increases on each of the following specified levels. On the other hand, for all the normal travelers of our Delta Airlines, three elite status perks are as follows: 
7. No limit on Upgrades
All the vouchers and miles aren't applicable to use in this segment. If there is any seat available in the first class or you spot any other thing. Then you are on the list of the people eligible to take that seat. Every passenger except those with the ticket mark E aren't eligible for such upgrades. 
A fee for Baggage Disappears
If you are an elite member, don't take the burden of paying the fee for your baggage; it is free. You'll receive a nice hike on your baggage allowance. All the elite members have the right to take baggage of 70 pounds. Whereas Normal People have a limit of 50 pounds. All the silver medallion members can take one bag for free. While Gold members can take 2 bags. All the platinum or Diamond members are allowed to take 3 bags for free of cost. They all hold the right to carry baggage of 70 pounds weight. 
Miles in terms of Bonus at Each Tier
All the normal members, or in other words, the non-elite members. Earn 5 miles points for each $1 that you spend. But when you become an elite member, the benefit you will receive increases. For instance, all the silver medallion members attain 7 SkyMiles for every dollar. All the Gold medallion members get 8. Platinum members receive 9 SkyMiles. All the diamond medallion members attain 11 SkyMiles for every dollar they spend. 
Final words
SkyMiles are not just the credit points you can receive and store in your Miles account. You can also use them to the full extent. You can receive several benefits from your SkyMiles, which are enough to make someone's day. Call us at 1-833-714-2120 if you encounter any issues related to SkyMiles. We try our best to assist you in taking full advantage of your Miles credit points.
Matthew Baron is a seasoned travel consultant and writer, currently working with Flightaura to help travelers navigate the complexities of baggage policies, flight changes, and cancellation policies. With a deep understanding of the travel industry and a wealth of experience in travel planning, Matthew has become a trusted advisor to many travelers seeking to make the most of their trips.