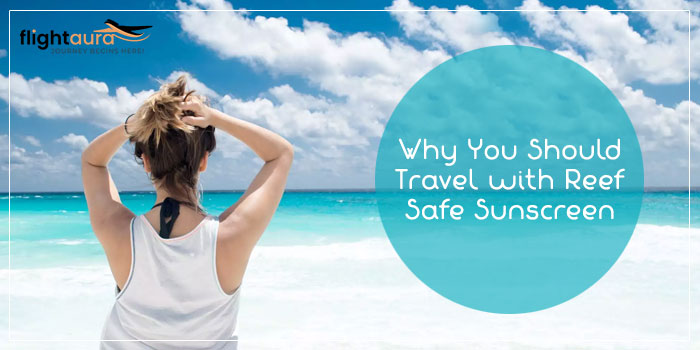 Marine sanctuaries are home to rich and affluent biodiversity. However, chemicals and non-biodegradable wastes pose a potential threat to marine biodiversity. Therefore, if you are willing to explore marine life, you should act responsibly and prevent any disruption to it. One such damage you are making unknowingly is wearing sunscreen that can deteriorate the coral reef. Therefore, you need to ensure that the SPF you are using must be safe for the reefs. Besides, using reef-safe sunscreen has a myriad of other benefits. Learn why you should travel with reef-safe sunscreen.
What Is A Reef Safe Sunscreen?
A reef-safe sunscreen is a sunscreen that does not contain the chemical ingredients and small particles that can potentially harm or kill the coral reefs in the Ocean. The list of these ingredients may include oxybenzone, octocrylene, and octinoxate. Sunscreens are essential to prevent your screen from harmful sun damage. However, when you take a dip, the sunscreen washes off from the skin and mixes with water. It leads to coral bleaching and also accelerates the process, which is why it is not recommended to use when traveling.
Read Also:  Drive From Dubai to Some of The Best Places in the UAE!
What Are The Main Reasons To Use Reef Safe Sunscreen When Travelling?
Reef-safe sunscreens are friendly to the ocean reefs as well as your screen. Below are the reasons why you should use reef-friendly sunscreen when traveling:
1: Protect Coral Reefs, Including the Great Barrier Reef
The Great Barrier Reef and coral reefs all around the world have become prone to the potential risk due to increased levels of chemicals in the Ocean. The places rich in the reefs, such as Hawaii, Maldives, and Seychelles, are at great risk. We can help in the redemption of these reefs by avoiding the use of chemicals and cosmetics that can harm them in any manner. Reef-safe sunscreens are safe to the Ocean and their diverse life sensitive to chemical exposure. Many islanders have taken the matter into their hands and developed the sunscreens safer for aquatic life.
2: Prevent Ocean from the Hazardous Effects of Chemical
When marine life is already dealing with multi-faceted challenges, don't add a new factor to the list. Climate change, chemical waste, non-biodegradable waste is causing great damage to the Ocean and its affluent biodiversity. When the chemical washes off from the skin, it melts in the water and causes damage to the reefs that are in the larval or adult stage. In addition to limiting the reef's growth, it also hampers their healthy development. Unhealthy reefs lose their ability to reproduce well.
3: Reduce the Risk of Premature Ageing & Skin Cancer
Skin is one of the biggest organs, and you don't want to leave anything untouched when it comes to your skincare. There is a broad array of skin care products available in the market. However, not all of them are safe for your skin. They give results in the short term, but they can have many hazardous effects when used continuously in the long run. They can accelerate the aging process, damage sensitive skin, and can sometimes result in skin cancer when you soak them for years. However, the reef-friendly sunscreens are safe for the skin as well, and you can apply them without worrying about the side effects.
4: Promote Natural Glow and Skin Health
Sunscreens that are reef-friendly are beneficial for your skin as well. This is because reef-friendly sunscreens are free of harsh chemicals like benzophenones, parabens, and other skin irritants that are also pollutants in the ecosystem. Sun exposure will be better tolerated by healthy, hydrated skin, which will naturally develop a healthy shine. Reef-safe sunscreens, particularly those containing zinc oxide, provide excellent broad-spectrum protection while also improving skin function. Zinc oxide is also useful for skin repair. It can be used to soothe chapped skin, cure wounds, and lessen the discomfort associated with sunburns.
5: Suitable For the Sensitive Skin
Reef-friendly sunscreens are not only suitable for the reefs but also safe in pregnancy and baby skin application. They are made of cleaner ingredients yet offer full protection against sun damage. These sunscreens often contain no harmful chemicals, so they can protect your children with a gentle application on the skin. Besides, it is safe for pregnant women and pets as well. Keep in mind that some brands deceptively claim to be "Reef-Safe," but include dangerous chemicals, so always read the label and opt for brands that use mineral filters only.
How do Sunscreens Contribute To Coral Bleaching?
Coral typically bleaches at 81 degrees; however, when the oxybenzone gets mixed with the water, it makes the coral bleach at 78 degrees. If you think this to be a minor temperature difference, think of the situation when you got fever due to a minor change of only a few degrees. The sunscreens that use oxybenzone should not contact the water otherwise can evoke serious issues to the coral reef.
What Is The Right Way To Buy A Reef Friendly Sunscreen?
When buying sunscreen, you need to keep the below-given considerations in your mind:
• Some bran falsely claims to sell the reef-friendly sunscreens. In such a case, you need to do proper research on their claims. Make sure that they don't contain ingredients like vitamin A, also known as retinyl palmitate, retinyl linoleate, retinyl acetate, or retinol.
• Avoid the use of spray sunscreens. When you spray sunscreen, it not only gets on your skin but also gets all over your surroundings. You're spraying chemicals into the air and strewing them across the beach, potentially harming even more animals and their habitats.
• It is good to use mineral sunscreens. They're usually made of zinc oxide and titanium dioxide; however, studies reveal that only a few (if any) zinc or titanium particles penetrate the skin. Most of them are safe to be applied on the skin.
What Are The Places Where Chemical Sunscreens Are Banned?
There are many tropical tourist destinations that have banned the use of chemical sunscreens. Hawaii became the first state to ban the chemical sunscreens that use oxybenzone. Some other states are The US Virgin Islands, Bonaire Island, The Pacific island nation of Palau, and Aruba.
admin is a subject matter specialist @flightaura.com Being a prolific content expert with a significant amount of experience, his writings on top directory categories in the United States are getting recognition among customers across the Globe. In addition to being a well-known writer, admin has expertise in SEO and SMO strategies.