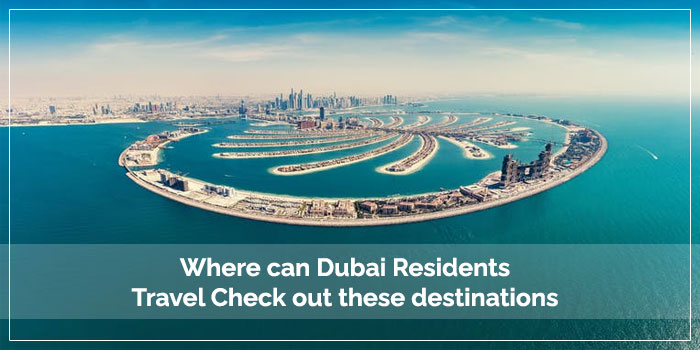 As the world opens up for travel, thousands of destinations are flooding with tourists. If you are willing to travel as well and are scouting for places to skip quarantine, there are plenty to pick from. Since countries all over the world are opening their gates for tourists, there are numerous places where you don't have to get quarantined anymore. Thankfully UAE Residents are permitted entry into a host of mesmerizing holiday destinations.
From beaches to history and amazing nightlife, there are places that fulfil every tourist's needs and desires. These destinations are letting tourists in right now. However, note that rules change every now and then due to the Coronavirus pandemic. Make sure to check out the updated rules before you book your tickets.
1. Maldives
All UAE travellers will be granted a 30-day tourist visa-free of charge, upon arrival. No minimum stay will be required but all tourists are required to have confirmed accommodation before arriving in the Maldives.
Travellers arriving in the Maldives must show a negative PCR test result upon arrival at Male International Airport. The test must be taken 96 hours prior to departure. Passengers who have transited for more than 24 hours must repeat the test. The certificate must have the name of the passenger as in the passport and the name and address of the testing laboratory.
The passengers who are fully jabbed and have received their second dose of COVID-19 vaccine at least 14 days prior to arrival are exempt from the home quarantine requirement.
2. Bulgaria
From Dubai, it takes five and a half hours to reach Bulgaria via flight. Being a beautiful destination, you can experience wildlife and beautiful Trible artwork. Unvaccinated travellers must carry a printed copy of a negative Covid-19 test result taken no more than 72 hours prior to arrival. Vaccinated travellers must have received their second jab at least 14 days before travelling. Those with proof of recovering from Covid-19 no more than six months ago can also fly to Bulgaria.
3. Egypt
Due to an uprise in the COVID-19 cases, Egypt restricted tourists into the country but after monitoring the current situations, Egypt is now welcoming international tourists across the world. The nation declared that passengers older than six years will have to produce a negative PCR test to confirm they are coronavirus free. The test must be conducted within 72 hours of arrival in the country.
4. Greece
Due to a dip in COVID-19 cases in Greece, it has reopened up the borders for all international tourists, including UAE Residents. However, those travelling must adhere to a few rules. All tourists must fill in the passenger locator form (PLF), prior to landing in Greece. In addition, travellers must also submit a negative PCR test report, taken 24 hours prior to departure. However, those who have a certificate of vaccination completed at least 14 days before their arrival in Greece need not take a PCR test.
5. Kenya
Kenya began welcoming tourists from 129 countries for quarantine-free stays. All tourists heading to the African nation must fill out this health surveillance form and present a negative PRC test that was taken within 96 hours of travel. No additional PCR tests or documents are needed to take internal flights to the national parks.
6. Lebanon
Lebanon has opened its premises for tourists while Beirut is still reeling from the massive explosion. All the passengers travelling to Lebanon must fill out a health declaration form prior to departure and provide proof of a negative Covid-19 test issued within 96 hours of travel. In addition, passengers must also undergo a PCR test at the airport, upon arrival. All passengers must have valid health insurance, which can be purchased when you arrive at Rafik Hariri International Airport.
7. Austria
A country with cultural richness and rolling hills is all set to welcome tourists. The European country of Austria melds many types of vacation into one. It has yet again started welcoming vaccinated visitors from the UAE without any quarantine protocols. Passengers will need to present a certificate of vaccination, certificate of recovery or a negative COVID-19 test result on arrival.
Final Words!
Due to the uprising pandemic, it is vital to get fully jabbed before resuming travel. Even if you are still not done with a double dose of vaccination, you can travel to a hand full of countries, but quarantine is a must. There are plenty of countries to travel to when you are a Dubai resident
admin is a subject matter specialist @flightaura.com Being a prolific content expert with a significant amount of experience, his writings on top directory categories in the United States are getting recognition among customers across the Globe. In addition to being a well-known writer, admin has expertise in SEO and SMO strategies.