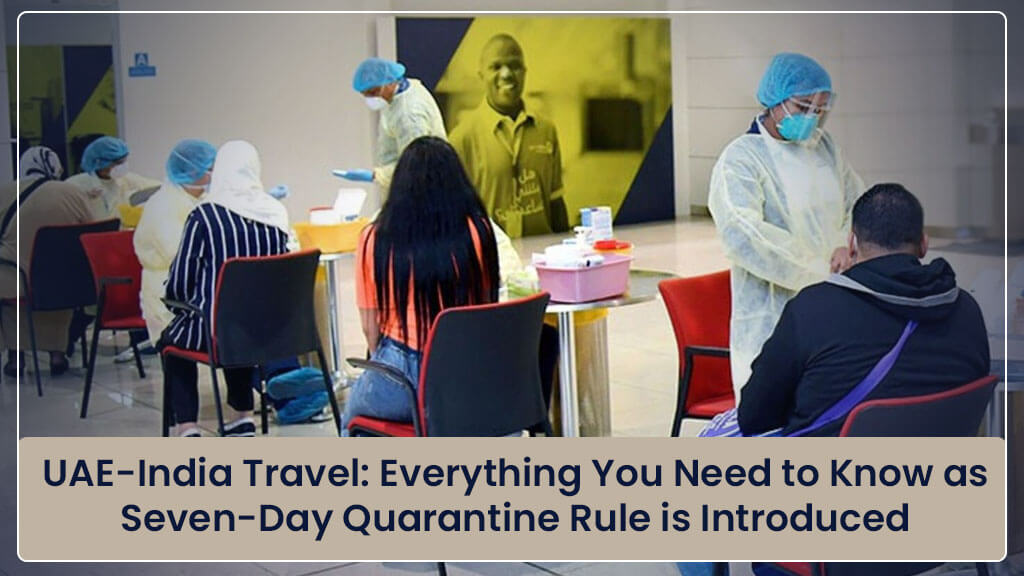 As the world has started affecting with the Omicron variant of COVID-19, India has modified its travel guidelines for anyone travelling from another nation to India. All travellers coming to India must follow a mandatory seven-day home quarantine time on arrival from Tuesday. Passengers must do an RT-PCR test and should get a negative test report after the home quarantine period. If you have planned to travel to India in the next coming days, we have detailed everything here for your assistance.
How Long You Have to Quarantine?
All international travellers coming to India have to follow a mandatory home quarantine period of seven days on arrival. On the 8th day, passengers have to do an RT-PCR test and must submit the RT-PCR test report at the Air Suvidha Portal. If the results are negative, quarantine will be over, but travellers have to keep on monitoring their symptoms for the next seven days. The new travel guidelines are applied to all international travellers regardless of vaccinated passengers. Children travelling from abroad also require a home-quarantine period for seven days with their parents. You have to take RT-PCR negative report within 72 hours before flying to India. Children below age 5 need not require an RT-PCR test but for age above 5 must-have RT-PCR negative test report for travelling to India from abroad. Any children showing COVID-19 symptoms have to do an RT-PCR test regardless of any age.
What do passengers have to do before flying to India from abroad?
A few documents are required to be submitted by travellers flying to India.
First of all, they have to fill and submit a self-declaration form regarding the previous 14 days of travel history at Air Suvidha Portal before flying to India.
A fair and complete RT-PCR test submission have to be ensured by each traveller coming to India and they must confirm if it is found false, then criminal charges would be filed up against them in India.
Passengers need to download a COVID-19 Arogya Satu app on their smartphones for tracing and tracking purposes before flying to India.
Does COVID1-9 Test Mandatory for Travellers in India on Arrival?
Travellers coming to India observed risky by authorities must undergo a COVID-19 test in India on arrival. Currently, this guideline applies to passengers coming from China, Brazil, the UK, Europe and multiple African countries. It is not mandatory for UAE passengers. Updates will be provided after the close epidemiological situations of COVID-19 on each destination. Passengers requiring COVID-19 test on-arrival have to pre-book an appointment to keep things easy with paying the appropriate test amount in India on arrival. However, all other travellers also require a mandatory test on arrival and two per cent of arriving travellers will be selected by authorities on-arrival COVID-19 test at the Airport itself. Thermal screening is also processed by the head officials at the Airport for travellers coming from all over the world.
The list of countries on India's at-risk guidelines
The most recent list is made available on the website of the Ministry of Health and Family Welfare in India for multiple countries are given below.
All European nations including the UK
Brazil
South Africa
China
Ghana
Botswana
New Zealand
Zimbabwe
Mauritius
Hong Kong
Tanzania
Congo
Ethiopia
Israel
Kenya
Nigeria
Kazakhstan
Tunisia
Zambia
Multiple states in India have their guidelines. So, travellers have to check before arriving at their destination from Airport. For more information's flightaura.com
FAQs
Ques. What is the COVID-19 test report charge in India?
Ans. The COVID1-9 test report charge in India is INR 500-800 at various labs.
Ques. Is it mandatory for children travelling to India for the COVID1-9 test report?
Ans. Children crossing age 5 are eligible to present the COVID1-9 test report before flying to India from abroad.
Ques. Where a passenger has to submit essential documents before moving to India from abroad?
Ans. Passengers travelling to India have to submit their essential COVID-19 related documents at Air Suvidha Portal.
admin is a subject matter specialist @flightaura.com Being a prolific content expert with a significant amount of experience, his writings on top directory categories in the United States are getting recognition among customers across the Globe. In addition to being a well-known writer, admin has expertise in SEO and SMO strategies.