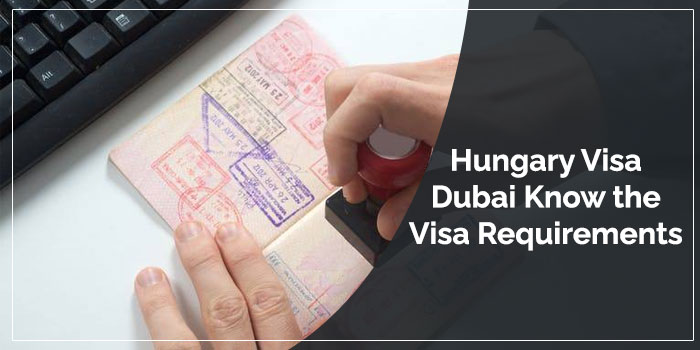 European city is one of the excellent destinations which is offered to travellers for enjoying different tourists' spots. Do you know one of the European bustling cities, the capital of Hungary, Budapest has various things that you have to check other than only official capital? This small nation is known as home to UNESCO sites, castles, lakes, and several others. The only factor behind the love of people for Hungary is the cultural heritage that it has over the years. A few of the tourist attractions to travel to Hungary are The Danube, Hungarian Parliament Building, Buda Castle, The Hungarian Open-Air Museum and many more. Travelling is the second part of travelling but the first anyone requires a visa for travelling and you must be concerned about it. In this write-up, you will know about the procedure to get a Hungary visa from Dubai.
Also Read: Cycling the World's Deadliest Road
Hungary Visa Dubai
Hungary is one of the Nations where UAE citizens can travel visa-free even without worrying about the complete procedure required for a Hungary Visa. VFS is handling all the visa procedures for the UAE citizens depending upon the conditions and locations they have to apply to either in Abu Dhabi or Dubai.
Hungary Visa For Dubai Citizens
UAE residents living in Dubai don't need a visa for travelling to Hungary but there are a few mandatory documents they must carry along with them.
• UAE passport from the date of arrival in UAE with 6 months of validity
• Financial proof
• The clear intention of the travelling
Methods to Apply for Hungary Visa Dubai
• Be too clear about your intention for the journey and select the perfect one. Selecting the wrong intention will fail your visa.
• Download the visa application and fill in every detail which is requested. An incomplete application will never be accepted. Also, kindly confirm to attach all the supporting documents.
• Take an appointment for meeting with VFS Global in person for submitting the application.
• Deposit the visa fee directly at the visa applying center using a debit or credit card. The Hungary visa fee would approximately be around 500 AED.
• Confirm you have made it on the day of the appointment or reschedule it appropriately if you can't perform it
• On the appointment day, submit the application, pay the fee and wait for fifteen calendar days for the visa processing.
• Moreover, given your VAC reference number and passport number keep a record of your application
• Collect the passport once you are prompted.
Hungary Visa Documents Requirement
• A completely filled application form must be signed by the applicant
• Recently clicked passport size photos not more than six months taken in the background, 80% face coverage or a no-smile picture.
• A copy or original Hungary Passport
• UAE resident visa
• Book returning flight tickets with proof of stay in Austria or a letter from the local sponsor.
• Financial proof
• Travel Insurance
• If you are applying for a visa, carrying your parent's passports and a letter from them is mandatory.
Now, you have to crack the significant puzzle of how to get your Hungary visa in Dubai. It's a time you need to apply for it. You must recognize how to apply, where to apply and what next? So, apply for Hungary Visa Dubai for today with the documents detail mentioned above.
Eligibility for Applying for Hungary Visa
• You must be a citizen of the nation from where you are applying for a Hungary visa.
• You can also apply from a foreign country for a Hungary visa but you must be on a temporary resident permit in the country where you are applying for it.
• You can apply for a Hungary visa if it is only the country in the Schengen territory that you are moving to for a trip to Europe.
• If you are planning to spend the better part of your journey to Europe in Hungary, then you are eligible to apply for a Hungarian Schengen visa.
• You can also apply for a Hungary visa if it is going to be the entry point of your trip to the Schengen Area.
The Primary Types of Hungary Visa
You have to go through one of the following types of visas for short-duration travel to Hungary.
• Airport Transit Visa – If you have to exit the Hungarian airport for travelling to your destination country in the Schengen area, you have to take out a Hungarian transit visa.
• Tourist Visa – You require a Hungarian tourist visa if you are planning to spend your holiday in Hungary for sightseeing and exploring the country.
• Business Visa – If you are planning to travel to Hungary for business purposes, you require to get a Hungary Schengen Business Visa.
• Official Visit Visa – If you have to travel to Hungary for official purposes, it is the type of visa you have to secure.
• Medical Visa – If you need to travel to Hungary for medical treatment, you have to apply for a Hungary Schengen Medical Visa.
Once you go through the right procedure to apply for a Hungary visa belonging to various classes, you will secure it quickly. Go through the documents requirements carefully for applying for a specific visa. For more information visit filghtaura.com
admin is a subject matter specialist @flightaura.com Being a prolific content expert with a significant amount of experience, his writings on top directory categories in the United States are getting recognition among customers across the Globe. In addition to being a well-known writer, admin has expertise in SEO and SMO strategies.