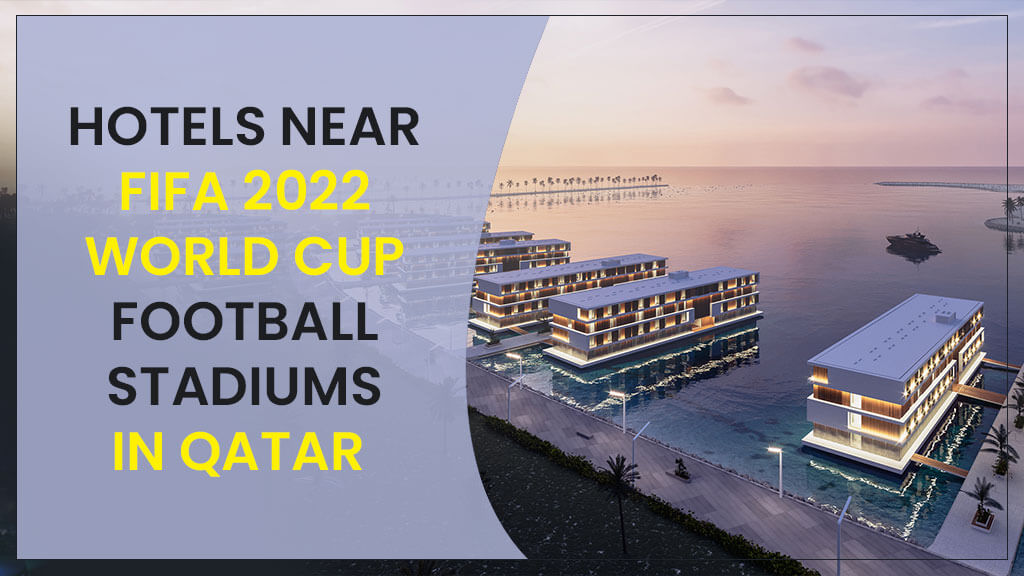 The FIFA World Cup 2022 has been one of the hot topics going on for the past several months now. It is scheduled to be the 22nd running of the FIFA World Cup competition. It is scheduled to take place in Qatar from 21st November to 18th December 2022. It will be the first-ever World Cup to be ever held in the Arab World. After the 2002 tournament, it will be the second World Cup held entirely in Asia.
Since Qatar is known for its Mediterranean climate, due to which the World Cup will be held from late November to mid-December. Therefore, making it the first tournament not to be held in May, June, or July. It is also to be played in a minimized timeframe of around 28 days.
Related Article: UAE Starts Sale of Packages for 2022 Qatar World Cup
Due to the increased hype and excitement regarding the FIFA World Cup 2022, people all over the world have started booking their hotels in advance. Since there are higher chances of not having any vacant hotel rooms as the dates of FIFA come nearer, it is advisable to book hotels from the trusted and recommended websites only.
Let's have a look at the top websites to book your hotel for FIFA World Cup 2022
In order to give our guests the very best of Qatar, we make sure that our World Cup accommodations are carefully selected and analyzed. We make sure to provide a true luxury experience. All our recommended hotels are based in the capital city of Doha. This sophisticated urban center is convenient to all of the World Cup venues and offers amazing restaurants, an abundance of items for shopping, and mesmerizing cultural attractions.
The Ritz-Carlton Doha
West Bay Lagoon, Doha, Qatar
This mesmerizing property is one of the best hotels to stay in. The Ritz- Carlton in Doha is a promising contemporary opulence with the warmth of a traditional Arabian welcome. This five-star luxury hotel allows you to experience Qatar's cultural traditions. It is situated on a small private island. The Ritz-Carlton is just a short drive from the conveniences of the city and Lusali Stadium. The amazing property and its wonderful guest accommodations provide a relaxing escape from the action.
There are various amenities to enjoy at this incredible property incorporating luxe indoor and outdoor pools, a captivating private beach, whirlpools, tennis and squash courts, a modern fitness center complete with classes, a full-service spa, seven restaurants and lounges, and much more.
St. Regis Doha
Doha West Bay, Doha Qatar
One of the luxury and five-star hotels in Qatar is the St. Regis Doha. It lets you have the perfect home for your World Cup experience. The property showcases an amazing view of the Arab Gulf, offering a resort-style experience without sacrificing the convenience of the city. With a complete luxury experience, it is the perfect destination to enjoy the world cup and scenery as well.
St. Regis offers some incredible options for foodies and other exceptional dining options as well. For those looking to relax, the sublime Remède Spa offers a variety of exclusive rejuvenating treatments. Outside, guests can enjoy the private beach and the impressive Olympic-sized outdoor pool or explore the gorgeous resort grounds.
This wonderful hotel consists of the following thing:
Wonderful beachfront location in West Bay
Qatar's Leading Resort – World Travel Awards 2018
Resort-style property with gorgeous pool area and private beach
24/7 Butler Service
Millennium Plaza Doha
Suhaim bin Hamad Street, Qatar
Millennium Plaza Hotel is situated close to shops, restaurants, and Souq Waqif (one of Doha's most famous markets). It is considered one of the best choices for the 2022 World Cup because it is located near the stadiums as well. This world-class hotel comes with a number of amenities, including a relaxing onsite spa and well-equipped fitness center.
The Millennium Plaza Hotel stands out from the rest because of these things:
TripAdvisor Certificate of Excellence
Three restaurants on site
Fitness Center, pool, and onsite spa
Complimentary wifi
FAQs
How are the accommodation facilities in Qatar?
Qatar is all set to welcome millions of visitors on the occasion of FIFA 2022. With more than 70,000 hotel rooms, the Qatar government is finding new ways to increase the accommodation facilities with luxury stays.
When will the tickets go live for the FIFA World Cup 2022?
The tickets of the eagerly awaited FIFA World Cup 2022 will go live on the official website of FIFA only, as confirmed by FIFA itself.
What date is World Cup 2022 begin?
The tickets of the eagerly awaited FIFA World Cup 2022 will go live on the official website of FIFA as confirmed by FIFA itself. FIFA World Cup 2022 will commence by the end of the month of November.
admin is a subject matter specialist @flightaura.com Being a prolific content expert with a significant amount of experience, his writings on top directory categories in the United States are getting recognition among customers across the Globe. In addition to being a well-known writer, admin has expertise in SEO and SMO strategies.