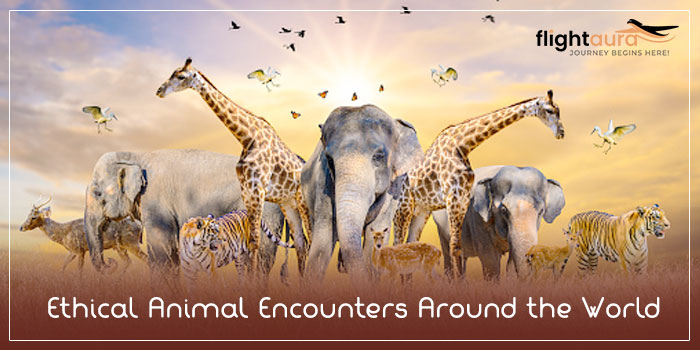 Experiencing wildlife first-hand is certainly there in the bucket-list of travel enthusiasts. However, to experience wildlife animals in their natural habitats, you need to act responsibly and make sure that the encounters should be ethical. Wen experiencing wildlife, you need to learn how to respect their privacy, comfort, and freedom. The unfortunate decline of the wildlife population has raised a major concern on the unethical treatment of the animals when entering into their habitats or experiencing them in their rawest form. The simple way to ensure an ethical wildlife encounter is to put their needs above yours. Here, you can find some of the best wildlife experiences that are completely ethical. Let's find out!
1: BONORONG WILDLIFE SANCTUARY, TASMANIA
The Bonorong Wildlife Sanctuary is located on Tasmania's island Tasmania, just outside of Hobart. It's a terrific site to go if you want to see Tasmanian wildlife closely, as well as contribute to the wildlife rescue service, wildlife hospital, and conservation activities such as seabird rehabilitation and endangered species breeding projects. Your entry ticket payments help fund all of their programs.
This park is set in the forests and features exhibits where visitors may see and learn about local wildlife. All of the animals on display have been rescued and are unable to return to their native habitat due to injuries or have been here for many years before it was made into a wildlife sanctuary.
Read Also: Insider Travel Tips for Planning to Visit the USA
2: WILD FLAMINGOS IN CELESTUN, MEXICO
The Ra Celestun Biosphere is located in the small Mexican Yucatan Peninsula fishing community of Celestun. One of the most ethical and wild animals encounters in Mexico may be found in this UNESCO Biosphere Reserve. Celestun is home to a flock of over 35,000 wild flamingos, who gather together during their mating season, which runs from November to March. Due to the city's remote location, many visitors visit on a day journey from Merida, Mexico, which is the nearest large city to Celestun.
You can take the bus to Celestun, but joining a tour from Merida or driving your rental car is faster. If you're traveling on your own, join a tour led by Celestun natives.
3: GORILLA TREKKING IN UGANDA
Gorilla trekking in Uganda is a once-in-a-lifetime experience unlike any other in Africa. The trip through the jungle mist has a surreal vibe. With each step, your excitement grows, and the reward of seeing the world's last remaining mountain gorillas is breathtaking. The location, Bwindi Impenetrable National Park, is probably one of Africa's most mysterious.
Mountain gorillas can only be found in the Virunga Mountains in the Democratic Republic of the Congo, Rwanda, and Uganda, as well as in the Bwindi Impenetrable National Park in Uganda. Uganda is home to 60% of the world's remaining mountain gorillas, with roughly 400 of them living in Bwindi Impenetrable National Park. Bwindi is Uganda's most popular gorilla trekking destination.
Read Also : Places To Visit In UAE that You Must Add In Your Bucket List
4: THE GIRAFFE CENTER, KENYA
The Giraffe Center in Nairobi is a non-profit conservation and education organization dedicated to the preservation of the endangered Rothschild Giraffe. Visitors may hand-feed the long-necked beauties from an elevated platform and even get a kiss from one of them, making it a truly once-in-a-lifetime event. Giraffe Manor is an elite hotel connected to the center, where visitors can dine and lounge in their rooms. Besides, giraffes might peep in through the hotel's many windows to say hello.
Re
5: TIGER SPOTTING SAFARI, INDIA & Nepal
Seeing tigers in their natural habitat is one of the most rewarding wildlife encounters. Seeing them in the wild is far more fascinating! In South Asia, there are various national parks where you can embark on a tiger-spotting safari. Two of the most well-known are Nepal's Chitwan National Park and India's Ranthambore National Park.
However, rather than riding an elephant, go for a jeep safari. Elephants have not tamed animals, and they are subjected to unspeakable torture in order to be broken into, allowing humans to ride them. More information on how to be an elephant-friendly tourist in this part of the world may be found here.
FAQs
What is eco-conscious traveling?
Many of us are aware of how our habits are impacting our flora and fauna through excessive greenhouse gas emissions, land degradation, and biodiversity loss. Therefore, preserving our planet should be at the forefront of our minds when traveling. It's high time that we begin to consider how we travel, as well as our carbon footprint and the experiences we choose.
What are the unethical wildlife encounters you should say no to?
Below are some of the most unethical wildlife encounters you should avoid as an eco-conscious and responsible traveler:
Feeding Wild Animals
In any place where wild animals are fed or used for tourism purposes, it disrupts the natural order of things. It's a little different if it's a sanctuary or a facility where the animals are being rehabilitated.
Riding Elephants or Camels
Elephant trekking and elephant riding exhibitions have long been famous tourist attractions in Thailand. For ages, elephant trainers and caretakers have passed down training methods based on administering pain and punishment. This training method, while successful, is unethical by Western standards. The same goes with the camels as well.
Swimming with Captive Dolphins
Families visiting Puerto Vallarta, Mexico, frequently look forward to the ultimate bucket list animal tourism experience: swimming with dolphins. Photos showing families holding on to dolphins as they swim through the ocean, kissing dolphins, and touching them may be found in brochures from local resorts and tour operators.
How to find a genuinely ethical animal sanctuary?
Not all wildlife sanctuaries are genuine, and some of them aim only on generating profits. To make sure that they actually care about the wild animals, you need to do research on a few important things, such as if they were taken from the wild and were bred in captivity. These are the main alarming signs that can make a big difference.
admin is a subject matter specialist @flightaura.com Being a prolific content expert with a significant amount of experience, his writings on top directory categories in the United States are getting recognition among customers across the Globe. In addition to being a well-known writer, admin has expertise in SEO and SMO strategies.