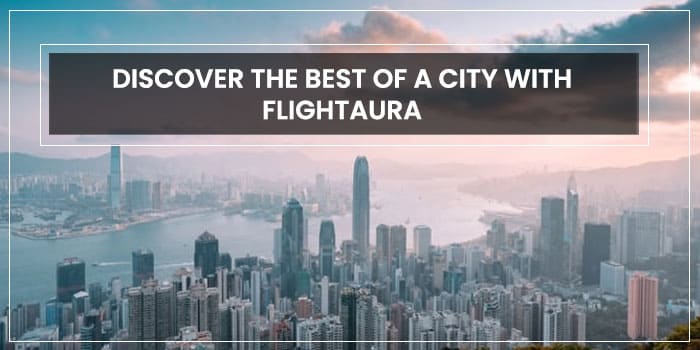 All set to explore a new city? Flightaura can help you to make the most out of a new place by covering all the important expenses in a comprehensive and cost-effective travel package. Once all the major arrangements, such as accommodation, ground services, flight booking, and others, are covered, you can explore the finest destinations of the world with the utmost peace of mind. To get an unforgettable travel experience, just reach us out and describe the specifics; we will take care of the rest. To know how it will work for you, navigate through this post until the end.
First Thing First – Planning
Before you fly, you need to plan your trip according to your specific preferences. It is a multi-faceted process that includes:
• In the first place, you will need to plan the destination you want to visit. If you have recently heard an irresistible story about a place and now your wanderlust is pulling you out, say Yes to it and start your planning.
• Once the place is decided, ask yourself what time your budget and schedule will allow you, and then decide the duration. Deciding the duration in advance can be helpful when taking your travel package.
• Book your travel package with Flightaura.com, and be ready to fly to a new city you are curious to explore.
Booking Your Package With Flightaura.com
Now that you have all the specifications handy with you, describe it to us, and we will help you with the most intelligible package that can help you to discover the best of a city. Taking a package tour will enable you to help you to access the flight and other related services assembled into one so that you can enjoy a hassle-free travel experience. These facilities may include the flight (round-trip), accommodation facilities, local sightseeing, and ground transportation, such as luxury and budget cabs.
1: Flight Booking
Leveraging on technological advancements, we make your flight booking convenient and rush-free with our well-thought-out packages. You don't need to rush to your preferred airport to stand in queues for check-in. We handle every activity so that you can get your flight booking done without leaving your couch. Choosing our low-cost package deals can help you save a bundle, which you can spend in enjoying other amusements the place has to offer.
2: Accommodations
Accommodation is one of the most crucial elements of our travel packages. It can add more value to your trips at lower prices. You can get the packages customized as per your specific needs and choose the hotels as primary or supplementary services. If you want to stay in the category of star hotels, resorts, or International hotels, choose from our comprehensive categories. Besides, you can also get budget-friendly hotels if you want to focus more on sight exploration than the stay. Other stay options may include lodges, guest houses, service apartments, or homestays. Based on your specific needs, we include the right kind of hotel in the package.
3: Local Attractions/Sightseeing
Including the most enticing tourist attractions in our package sightseeing can help you to explore the best places in the city. In less time, you can explore more if your visit is for a short duration. However, we will ensure that you will get only an amiable experience with you, devoid of the rush and unnecessary hassles. Our travel experts infuse all the local attractions in a sequence that can enhance your experience from point to point. To add a perfect climax to your curious journey, the most amazing destinations are added at the end.
4: Transportation
One of the most important aspects of tourism is transportation. The link between transportation and local sightseeing is critical since it has a substantial impact on your travel experience. The inclusion of transportation facilities in our travel packages overcomes the physical constraints of distance and meets your requirements for moving from one place to another. In addition to the air-travel ground, transport is also crucial so that you can move to your favorite malls, restaurants, or other sights. It helps you cut uncertain events, which can be a case when traveling with other transport services.
We take the time to learn precisely what you're looking for, and then we use our knowledge to design a vacation package just for you and your guests. This includes making arrangements for you at the airport, in your lodging, and at the resort itself. We provide a variety of accessible hotels and apartments to accommodate persons with varying levels of mobility, including wheelchair users, slow walkers, and their relatives and friends.
5: Events & Activities
At Flightaura, we understand tourists can visit the same city or place with a different pursuit. Some visit to explore the tourist attractions; on the other hand, some travelers want to get a first-hand experience of the major events. Big events, such as cricket or footwall world cups and other sports events, attract visitors from all parts of the globe. It is why our comprehensive travel plans also include the major events that the place hosts. Besides, the place has its own festivals and events. Our travel experts can suggest to you the right plan that can help you in discovering the best out of a city.
In a Nutshell!
Flightaura offers city travel packages that may include flights, transport, and accommodations. The low-cost deals have many upsides, such as getting all the arrangements covered in one package without needing the fuss. Feel free to connect in case of have any queries related to the packages live chat.
admin is a subject matter specialist @flightaura.com Being a prolific content expert with a significant amount of experience, his writings on top directory categories in the United States are getting recognition among customers across the Globe. In addition to being a well-known writer, admin has expertise in SEO and SMO strategies.