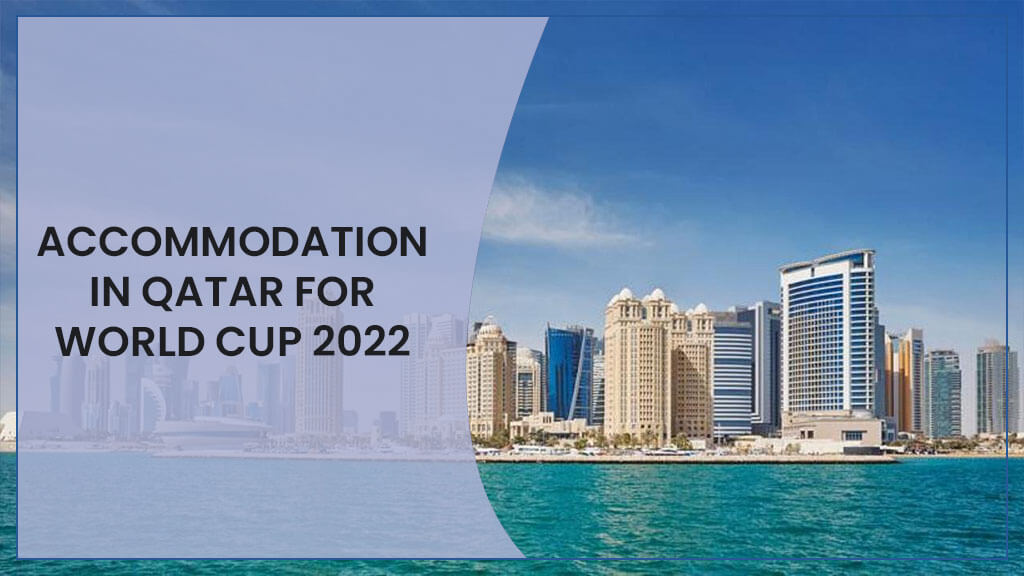 FIFA World Cup Qatar 2022 is just around the corner and everyone is really very excited to enjoy this world cup live in the stadium. Are you also a FIFA Fan and are excited about this world cup? If yes, then stay ahead and book your game tickets today itself. What! Are you worried about the accommodation? Aahhhh…. drop all your worries now as we are here to sort out your this problem as well. We want the FIFA Fans to enjoy this world cup to the fullest extent without worrying about a single thing. To server our users with the best possible accommodation during their FIFA Trip to Qatar, we have shortlisted the ideal list of the top most accommodations that are nearby the FIFA World cup Stadium Qatar. In this list, we have enlisted hotels, apartments and villas, as well as Fan Village desert camping and rooms aboard cruise ships as well. If you are craving a luxurious experience during your trip to Qatar for World Cup 2022, then there is no better option than 5 star luxury hotels based in the capital city of Doha. This city center is full of finger licking cuisine serving restaurants, incredible shopping, and an abundance of cultural attractions that you will love to explore in your free time.
List of Luxury Accommodations in Qatar:
St. Regis Doha
St. Regis Doha is counted among the topmost 5 star hotels available in Qatar and which can be a perfect luxury choice for the FIFA fans for their staycation near the stadium. During their stay at this elegant hotel, the guests will be able to enjoy the resort styled experience. From your check in to the check out, you will be able to experience the high touch service from the staff that you must have never experienced in your life. There is no end to the benefits of staying here at St. Regis Doha. Let's take a look at a few of them:
Private Beach
Olympic-sized outdoor pool
Impressive Resort Ground
High Touch Service
24/7 Butler Service
The Ritz-Carlton Doha
Want to experience the traditional culture of Qatar in 5 Star setting during your staycation at Qatar for World Cup 2022? If yes, then The Ritz-Carlton Doha is the perfect accommodation choice for you. This luxury hotel is located on a private island which adds lavishness to the staycation experience of the Guests. There are tons of amenities available for the guests to explore. Let's take a closer look at them!
Established on a private island to offer a luxurious experience
Upscale Club Lounge
Extra Level of Comfort and Privacy
Onsite Restaurants and Lounges
Modern Fitness Centre
Millennium Plaza Doha
Situated at a central location, Millennium Plaza Doha is the center of attraction for the FIFA World cup fans who are planning their staycation in Qatar to enjoy the excitement of World Cup directly from the stadium. This is a 5 Star accommodation that comes with 100s of amenities that can add more excitement to your experience. The luxurious, modern and spacious rooms and complemented with free wifi access for the Guests so that they can keep themselves updated with all the latest data and information associated with FIFA World cup 2022. let's take a look at different amenities that this accommodation have to offer to its Guests:
Three different Onsite Restaurants with various delicacies
Modern and sophisticated fitness center
well furnished onsite spa
private pool
Free WIFI Access
In this post, we have shared the total of 3 top accommodations that you must surely explore in Qatar for World Cup 2022 if you are planning your staycation during the World Cup 2022. For more information related to FIFA World cup 2022, stay connected with us! flightaura.com
Frequently Asked Questions (FAQ)
Is Qatar World cup 2022 is still taking place?
As per the current updates, it is scheduled to be held in Qatar from 21 November to 18 December 2022.
How much will it cost Qatar to host World Cup 2022?
Until now, £120bn has been spent by Qatar to host the 2022 World Cup.
How many Stadiums do Qatar 2022 have in total?
There are total 8 planned venues by Qatar to host FIFA World cup 2022.
admin is a subject matter specialist @flightaura.com Being a prolific content expert with a significant amount of experience, his writings on top directory categories in the United States are getting recognition among customers across the Globe. In addition to being a well-known writer, admin has expertise in SEO and SMO strategies.