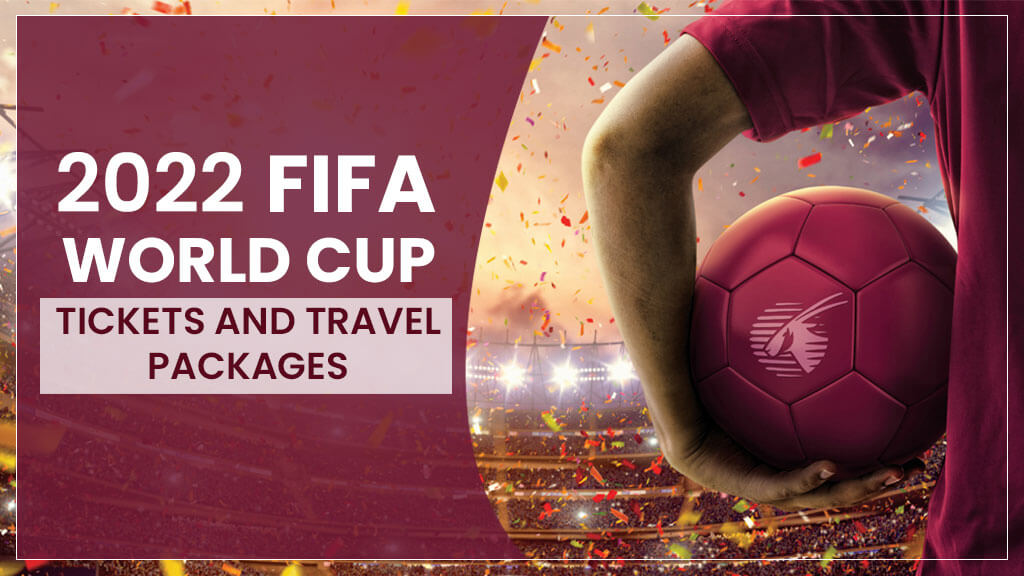 We have the Best 2022 World Cup packages that are customized as per your needs. We make sure to allow our guests to have a world-class experience when in Qatar. In order to witness the cultural richness and mesmerizing site seeing, The 2022 World Cup will offer some wonderful experiences to everyone who wants to go to Qatar. The Qatar packages are well organized and can be customized as per your needs and requirements. Since it is considered one of the most beautiful countries in the world, Qatar offers gorgeous beaches, world-class museums, enticing markets, impressive architecture, and a unique landscape.
2022 World Cup Packages, Luxury Travel & Tours in Qatar
There are various reasons to get excited about the upcoming 2022 FIFA and about the destination as well:
At the time of Qatar's bid to host the FIFA World Cup, there were approx 40,000 plus rooms available all over the country for visitors themselves. At the onset of the bid, there are more than 100 new hotels being built in order to accommodate new visitors. In the preparation of tournaments, there have been more than 100 new hotels being constructed with approximately 55,000 additional rooms.
The vast majority of hotels and accommodations will be located centrally in and around Doha. Qatar is being high-tech and advanced with each passing day. Over the past few years, it has gathered a lot of attention for its amazing tourist spots. It is resulting in being a great tourist attraction destination.
The World Cup venues
With advancements in the country, Doha is ready to accommodate a huge number of tourists who will come to see the FIFA tournaments. The Hamad International Airport and the World Cup venues are all set to welcome its guests. Qatar is equipped with a new, high-speed Metro and a well-connected rail system along with a tram system. Qatar also incorporates a vast and upgraded road network that provides easy access and connectivity all over the country.
Dazzling Array of Accommodations
The football teams and their entourages can expect to have sufficient space and world-class hotels to choose from. The FIFA delegations, fans, along the media will have a luxury stay in Qatar. With a dazzling array of accommodations to choose from, we bring you an all-in-one package. Our impeccable packages comprise luxurious stay, boutique, and first-class options. As per your budget, you can choose from the first class to standard and economy class options.
All You Have To Know About Travel Packages
We bring you customized travel packages for Qatar. As per your requirements, we make sure to personalize your travel packages and make them as economical and pocket-friendly as possible. Keeping your needs in account, we have had three package offers first-class luxury package, standard package, and economy package options to choose from. You have a large variety of options to choose from—hotels, resorts, apartments, fan villages, hostels, guest houses, and much more. You can also choose from single rooms, double rooms, triple sharing rooms, family-sized rooms. We are able to suit every taste and pocket. We make sure to take care of all your needs and budget.
Qatar's Best Hotels
With top quality accommodation facilities, it consists of some best five-star hotels. When compared to other world cup host countries, Qatar is not just reasonable but also is friendlier. The hotels, in particular, have the best accommodation facility at budget-friendly.
Once in a Lifetime Experience
The FIFA World Cup is like no other event. The size, the preparation, and the excitement is unparalleled. Millions of people around the world will have dreams of experiencing the exotic place, and with our reasonable packages, you will get the opportunity to visit Qatar with flightaura.com.
admin is a subject matter specialist @flightaura.com Being a prolific content expert with a significant amount of experience, his writings on top directory categories in the United States are getting recognition among customers across the Globe. In addition to being a well-known writer, admin has expertise in SEO and SMO strategies.